US President-elect Donald Trump has stubbornly refused calls to turn over control of his business to a "blind trust" or an independent entity after he takes office. "In theory, I could run my business perfectly and then run the country perfectly," he recently told the New York Times, signalling his intention to break a presidential tradition meant to counter conflicts of interest.
In a letter released on Wednesday, Democratic Senator Elizabeth Warren and congressman Elijah Cummings called on federal regulators to investigate Mr Trump's tangled business interests, saying they had "significant questions about the extent to which Mr Trump's conflicts of interest... are compromising the use of taxpayer funds."
Forbes puts Mr Trump's fortune at $3.7bn, while the Washington Post found that of the more than 500 Trump companies, at least 111 have done business overseas with 18 countries. Richard Painter, chief ethics lawyer in the George W Bush White House, told the newspaper that arrangement presented "many diplomatic, political, even national security risks."
"If we've got to talk to a foreign government about their behavior, or negotiate a treaty, or some country asks us to send our troops in to defend someone else, we've got to make a decision. And the question becomes: Are we going in out of our national interest or because there's a Trump casino around?" Mr Painter said.
Remarkably, the US President is exempt from federal ethics rules designed to combat conflicts of interest – it is assumed the Commander in Chief would be sufficiently honourable to avoid such conflicts without any legal incentive. "The law is totally on my side, meaning, the president can't have a conflict of interest," Mr Trump has said.
He has also tweeted: "Prior to the election it was well known that I have interests in properties all over the world.Only the crooked media makes this a big deal!"
In what he appears to consider a nod to the aforementioned ethics, Mr Trump pledged to pass control of his companies to his three eldest children during his presidency, insisting the arrangement "will comply with all applicable rules." Yet the separation is blurry: his daughter Ivanka has already sat in on political discussions with the leaders of Japan and Argentina.
With the President-elect still refusing to release his tax returns, it is impossible to know the number and nature of his business dealings with foreign partners or governments, or what he and his family stand to gain from such arrangements while he is in the White House. Some of his conflicts of interest are so glaring, however, as to be a matter of public record. 
Washington DC
Before the election, Mr Trump's spanking new hotel in Washington DC was subject to vandalism and reportedly struggling to attract bookings. But just days after his unexpected win, the property on Pennsylvania Avenue – yards from the White House – held an event for foreign diplomats, intended to solicit their business. It appears to have worked.
"Why wouldn't I stay at his hotel blocks from the White House, so I can tell the new President, 'I love your new hotel!'" one Asian diplomat told the Washington Post. "Isn't it rude to come to his city and say, 'I am staying at your competitor'?
Mr Trump leases the building, a former Post Office, from the General Services Administration, a federal agency for which he will soon be asked to name a new administrator. On the lease, it is stipulated that "no... elected official of the Government of the United States... shall be admitted to any share or part of this Lease, or to any benefit that may arise therefrom."
Of course, if it's Ivanka, Eric and/or Don Jr's name on the documents, Mr Trump can – and will – claim no conflict of interest.
Scotland 
The first UK politician Mr Trump met after his election victory was not the Prime Minister, nor the Foreign Secretary, but erstwhile Ukip leader and seven-time failed parliamentary candidate Nigel Farage.
In that meeting at Trump Tower in New York, Mr Trump reportedly urged Mr Farage and a handful of fellow Brexiteers to oppose the building of an offshore wind farm that could spoil the coastal view from Turnberry, his Scottish golf course. He lost a legal battle to block its construction last year.
"He did not say he hated wind farms as a concept; he just did not like them spoiling the views," Andy Wigmore, a media consultant and member of the Farage entourage, told the New York Times. He "did suggest that we should campaign on it," Mr Wigmore added.
Days later, Mr Trump once again exerted inappropriate pressure on the UK Government, suggesting on Twitter that Mr Farage was a suitable candidate for ambassador to the US.
India
Mr Trump also took time out from the White House transition process to meet with three Indian executives to discuss expanding his business on the subcontinent, where he is presently involved in five residential development projects.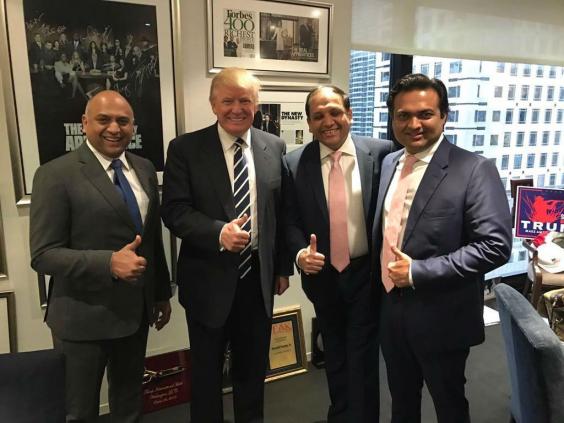 Sagar Chordia, Atul Chordia, and Kalpesh Mehta are all involved in a new, Trump-branded luxury apartment complex in Pune, near Mumbai. The President-elect is also involved in building a block in Mumbai proper, in partnership with the Lodha real estate group, whose founder, Mangal Lodha, is a major figue in India's ruling, right-wing Bharatiya Janata Party.
Argentina
The construction of a 35-storey, $100m office building in the heart of Buenos Aires – a project in which Mr Trump is a partner – has long been held up by permitting and other financial issues.
One of Argentina's most prominent journalists claimed that when the country's President Mauricio Macri called Mr Trump to congratulate him on his shock election triumph last week, Mr Trump asked him for help in securing the necessary permits.
The Argentinian government denied the claims. Yet by sheer coincidence, local media reported that the YY Development Group – Mr Trump's partners on the project – was granted permission to break ground the day after the call. Construction will commence next June.
Turkey
The Trump Organisation has been paid as much as $10m to lend its name to a luxury complex in Turkey's largest city. Trump Towers Istanbul is owned by a major oil and media conglomerate, with close ties to the country's authoritarian government.
Turkish President Recep Tayyip Erdoğan, whom Mr Trump praised for his aggressive suppression of an attempted coup earlier this year, was one of the first foreign leaders to offer his congratulations to Mr Trump on his election victory.
Saudi Arabia
On the campaign trail, Mr Trump repeatedly attacked Hillary Clinton over donations from the Saudi government to the Clinton Foundation, accusing her of accepting gifts from repressive regimes with poor human rights records. During the presidential campaign, Mr Trump's own organisation registered a total of eight new companies in Saudi Arabia, reportedly related to planned hotel projects there.
Reuse content