A scenic picture of wide open countryside on a US government website was replaced with an image of a giant coal face after Donald Trump took office.
Until 5 April, visitors to the Bureau of Land Management (BLM) site were greeted by the image of two young boys looking over a rolling hillside. Now, they see a photo of the North Antelope Rochelle coal mine — the largest coal seam in the world.
The federal agency is charged with protecting more than 245 million acres of public land for a variety of uses, from energy harvesting to outdoor enjoyment. Their mission statement — which has now been scrubbed from the website — was "to sustain the health, diversity, and productivity of America's public lands for the use and enjoyment of present and future generations".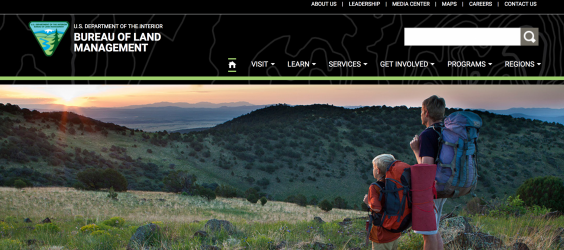 Activists say the switch mirrors Mr Trump's desire to use the BLM for production, rather than protection.
Shortly after taking office, Mr Trump repealed an Obama-era regulation that restricted the amount of mining debris allowed in nearby streams. He also nominated Scott Pruitt, a former Oklahoma attorney general with close ties to the fossil fuel industry, as administrator of the Environmental Protection Agency. 
More recently, the president signed an order reversing a wide array of Obama-era environmental protections, equating them to a "war on coal." Among other things, the order rolled back a three-year moratorium on leasing federal lands for coal mining.
"My action today is the latest in steps to grow American jobs," Mr Trump said upon signing the order, echoing his campaign promise to "save" the coal mining industry.
Mr Trump's support for coal earned him backers in blue collar states like West Virginia and Ohio — states that usually vote Democratic. Experts, however, say Mr Trump may not be able to deliver on his promise of new mining jobs.
Sheldon Stone, a partner at the investment banking firm Amherst Partners, LLC, told Bloomberg Politics the demand for coal has been decreasing for some time. He pointed to cheaper natural gas, wind and solar power, and declining energy demands, for the reduced popularity of coal.
"The reality is that the demand for coal has been decreasing for a while and it's going to continue to decrease," Mr Stone said. "Even [rolling back restrictions] you are not going to be bringing mining jobs back."
In fact, 32 of the United States' biggest power generating companies told Reuters they had no plans to change their years-long shift away from coal.
Activists such as Travis Nichols, a spokesman for Greenpeace, are concerned that the new BLM background image suggests Mr Trump will ignore experts' advice and charge ahead with coal production.
"Putting a giant pile of coal on the BLM page won't bring back coal jobs" he told Mashable in an email. "...Empty promises and PR won't change the fact that the world has moved on from dirty polluting coal power."
Responding to these concerns, BLM spokeswoman Kristen Lenhardt told the Huffington Post that the coal mine is just one in a rotation of images planned for the site.
"As part of the BLM's transition to a new website design, we will be regularly rotating the banner with photos that reflect the many uses our public lands have to offer," she said.
Reuse content