They've attacked him for weeks and weeks and said his presidency would be a disaster, but now Donald Trump's rivals have admitted they will back the billionaire if he wins the Republican nomination.
The mud-slinging continued at Thursday night's GOP debate, where Ted Cruz claimed the property mogul was "part of the corruption in Washington" and Marco Rubio accused him of manipulating the American public by "telling people whatever you think you need to get them to do what you want them to do".
But when the last question of the night asked the four remaining Republican candidates whether they would support Mr Trump in the likely event of him winning the nomination, they pulled together for an awkward show of unity.
Mr Cruz said he would prefer Mr Trump to either of the Democratic contenders, Hillary Clinton or Bernie Sanders, describing the latter as a "socialist".
"I'll support the Republican nominee," said Mr Rubio, who has repeatedly described his rival as a "con man".
John Kasich, the Governor of Ohio, was the most hesitant, but ultimately said that while "sometimes (Trump) makes it a little bit hard," he would support him if he is the nominee.
Mr Trump was also asked if he would support someone other than himself, and hesitated briefly before saying he would back whoever the Republican nominee is.
It came after a series of senior Republicans attacked Mr Trump, including the party's two most recent presidential nominees, Mitt Romney and John McCain.
Donald Trump's most controversial quotes
Donald Trump's most controversial quotes
1/14 On Isis:

"Some of the candidates, they went in and didn't know the air conditioner didn't work and sweated like dogs, and they didn't know the room was too big because they didn't have anybody there. How are they going to beat ISIS?"

Getty

2/14 On immigration:

"I will build a great wall — and nobody builds walls better than me, believe me —and I'll build them very inexpensively. I will build a great, great wall on our southern border, and I will make Mexico pay for that wall. Mark my words."

Reuters

3/14 On Free Trade:

"Free trade is terrible. Free trade can be wonderful if you have smart people. But we have stupid people."

PAUL J. RICHARDS | AFP | Getty Images

4/14 On Mexicans:

"When Mexico sends its people, they're not sending their best. They're sending people that have lots of problems. They're bringing drugs. They're bringing crime. They're rapists."

Getty

5/14 On China:

"I just sold an apartment for $15 million to somebody from China. Am I supposed to dislike them?... I love China. The biggest bank in the world is from China. You know where their United States headquarters is located? In this building, in Trump Tower."

Getty Images

6/14 On work:

"If you're interested in 'balancing' work and pleasure, stop trying to balance them. Instead make your work more pleasurable."

AP

7/14 On success:

"What separates the winners from the losers is how a person reacts to each new twist of fate."

8/14 On life:

"Everything in life is luck."

AFP

9/14 On ambition:

"You have to think anyway, so why not think big?"

Getty Images

10/14 On his opponents:

"Bush is totally in favour of Common Core. I don't see how he can possibly get the nomination. He's weak on immigration. He's in favour of Common Core. How the hell can you vote for this guy? You just can't do it."

Reuters

11/14 On Obamacare:

"You have to be hit by a tractor, literally, a tractor, to use it, because the deductibles are so high. It's virtually useless. And remember the $5 billion web site?... I have so many web sites, I have them all over the place. I hire people, they do a web site. It costs me $3."

Getty Images

12/14 On Barack Obama:

"Obama is going to be out playing golf. He might be on one of my courses. I would invite him. I have the best courses in the world. I have one right next to the White House."

PA

13/14 On himself:

"Love him or hate him, Trump is a man who is certain about what he wants and sets out to get it, no holds barred. Women find his power almost as much of a turn-on as his money."

Getty Images

14/14 On America:

"The American Dream is dead. But if I get elected president I will bring it back bigger and better and stronger than ever before and we will make America great again."

GETTY
Mr Romney, who lost to Barack Obama in 2012, made a rare public appearance to denounce Mr Trump as "a phoney" who is "playing the American public for suckers".
It highlighted the unprecedented way the party's most prominent leaders are feuding, as panicking Republican officials realise there is little they can do stop Mr Trump's march towards the presidential nomination.
Mr Rubio said the businessman had "basically mocked everyone" and criticising his businesses for making clothes in China and Mexico, rather than the US.
Mr Cruz, from Texas, claimed that 40 years Mr Trump had been "part of the corruption in Washington" that people were angry about, citing previous campaign contributions to leading Democrats, including Mrs Clinton when she was a senator.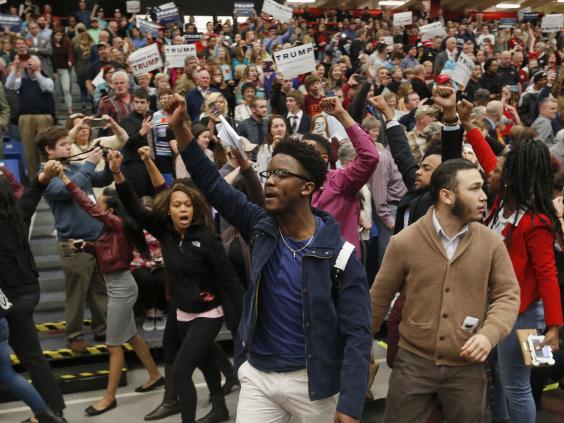 "I've supported Democrats and I've supported Republicans, and as a businessman I owed that to my company, to my family, to my workers, to everybody to get along," Mr Trump said.
He responded to Mr Rubio's comments by retorting: "This little guy has lied so much about my record."
Pressed on when he would start making more clothes in the US, he said that would happen when currency valuations were not biased against manufacturing garments in America.
Mr Trump came a step closer to winning the Republican nomination on Super Tuesday, when he won primaries in seven states, compared to Mr Cruz's three and one for Mr Rubio.
For the Democrats, Mrs Clinton has a strong lead against Mr Sanders but much could change as states continue to vote in primaries that will continue until June.
Additional reporting by AP