Donald Trump's policy advisers are discussing plans to establish a registry for Muslim immigrants in the US, a man believed to be a key member of the President-elect's transition team has revealed.
Kris Kobach, the secretary of state for Kansas, said the President-elect's advisers were looking at how to implement a proposal suggested by the billionaire businessman that would force immigrants from Muslim countries to register on a database.
Mr Kobach, who helped devise tough immigration laws in a number of US states and claims to have participated in regular conference calls with Mr Trump's immigration advisers, also said the Trump administration could push ahead rapidly on construction of a US-Mexico border wall without seeking immediate congressional approval.
The hardline immigration official, whose role has not been confirmed by the President-elect's transition team but who is thought to be a favourite for the role of Attorney General, said the immigration group had discussed drafting executive orders for the President-elect's review "so that Trump and the Department of Homeland Security hit the ground running".
The Muslim registration scheme, which would reportedly see Muslims given a form of identification that notes their religion, reflects policies Mr Trump put forward during his campaign to introduce "extreme vetting" of Muslims through tougher security measures.
Such a programme would echo a registration system created under Mr Bush's presidency, which Mr Kobach also helped design, and which required thousands of Arab and Muslim visitors and temporary US residents to register with the state, but was abandoned in 2011 after it was criticised for unfairly targeting immigrants from Muslim-majority nations.
Donald Trump's most controversial quotes
Donald Trump's most controversial quotes
1/18 On Mexicans

"When Mexico sends its people, they're not sending the best. They're not sending you, they're sending people that have lots of problems and they're bringing those problems with us. They're bringing drugs. They're bring crime. They're rapists… And some, I assume, are good people."

AFP/Getty Images

2/18 On Senator McCain

"He's not a war hero... He was a war hero because he was captured. I like people who weren't captured."

Getty Images

3/18 On Megyn Kelly

"You could see there was blood coming out of her eyes. Blood coming out of her wherever."

AFP/Getty Images

4/18 On Vladimir Putin

"He's running his country, and at least he's a leader, unlike what we have in this country."

Getty Images

5/18 On his popularity

"I could stand in the middle of Fifth Avenue and shoot somebody and I wouldn't lose any voters."

AFP/Getty Images

6/18 On torture

"I would bring back waterboarding and I'd bring back a hell of a lot worse than waterboarding."

Getty Images

7/18 On his body

"Look at those hands, are they small hands? And, [Republican rival Marco Rubio] referred to my hands: 'If they're small, something else must be small.' I guarantee you there's no problem. I guarantee."

AFP/Getty Images

8/18 On president Obama

"He is the founder of Isis."

Getty Images

9/18 On the Second Amendment

"Hillary wants to abolish — essentially abolish the Second Amendment. By the way, if she gets to pick, if she gets to pick her judges, nothing you can do, folks. Although the Second Amendment people, maybe there is, I don't know."

AFP/Getty Images

10/18 On Hilary Clinton's emails

"Russia, if you're listening, I hope you're able to find the 30,000 emails that are missing."

AFP/Getty Images

11/18 On sexual assault

In a statement regarding the release of a 2005 video in which he can be heard boasting about sexual assault: "This was locker room banter, a private conversation that took place many years ago. Bill Clinton has said far worse to me on the golf course."

Getty Images

12/18 On tax loopholes

"I absolutely used it, and so did Warren Buffett, and so did George Soros and so did many people who Hillary is getting money from."

AFP/Getty Images

13/18 On his accuser

"Believe me, she would not be my first choice, that I can tell you."

Getty Images

14/18 On Hillary Clinton

"Such a nasty woman"

Getty Images

15/18 On his pro-life stance

"Based on what she's saying ... you can take the baby and rip the baby out of the womb in the ninth month, on the final day, and that's unacceptable"

Getty Images

16/18 On his accusers

"Total fabrication. The events never happened. Never. All of these liars will be sued after the election is over."

Getty Images

17/18 On the 'rigged' election system

"I will totally accept the results of this great and historic presidential election — if I win."

Getty Images

18/18 On Hillary Clinton

"I hate to say it but if I win I'm going to instruct my attorney general to get a special prosecutor to look into your situation. There has never been so many lies, so much deception. You ought to be ashamed of yourself."

Getty Images
Created in 2002 following the 9/11 attacks, the National Security Entry-Exit Registration System (NSEER) required Muslims from countries where extremist organisations were active to provide information about themselves, undergo interviews with officials and periodically notify the government of their whereabouts.
The registration programme, which focused on visitors and non-citizen men over the age of 16 from more than 24 designated countries, caused widespread controversy and was deemed redundant in 2011, following complaints from civil libertarians. 
In the interview, Mr Kobach said immigration advisers were also looking at how the Homeland Security Department could move rapidly on Mr Trump's plans to build a wall between the US and Mexico without approval from Congress, acknowledging that "future fiscal years will require additional appropriations".
Mr Trump presented a hardline stance on Muslims in the US during his election campaign, making a call to temporarily ban all Muslims from entering the country and proposing the introduction of special identity cards for American Muslims during a debate over Syrian refugees entering the country.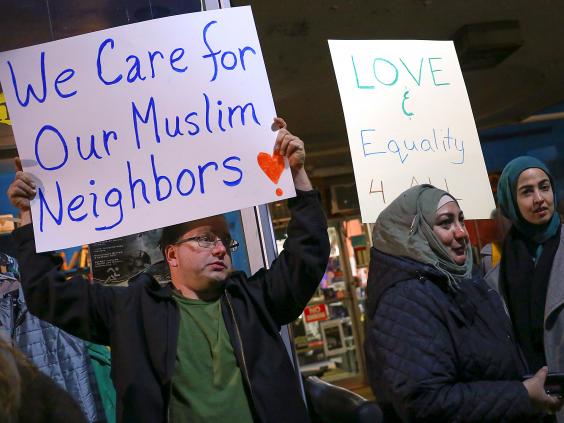 While Mr Trump appeared to have pulled back on the anti-Muslim rhetoric immediately after he was elected, he has since indicated he still plans to follow through on his plans.
In an interview on Sunday Mr Trump told CBS's 60 Minutes show he would deport two to three million undocumented immigrants "immediately" upon taking office, and confirmed he still planned to "build a wall", although he added that some parts of the barrier would in fact be a fence.
The President-elect is also reportedly considering appointing as his deputy security advisor the vice-president of a think-tank that has said Muslims are infiltrating the American government.
Mr Kobach reportedly said in the interview that he believed that illegal immigrants in some cases should be deported before a conviction if they have been charged with a violent crime, echoing Mr Trump's recent pledge to remove immigrants with criminal records who are in the country illegally.
The immigration hardliner also said the President-elect's immigration advisers had discussed ways of overturning President Barack Obama's 2012 executive action that has granted temporary deportation relief and work permits to more than 700,000 undocumented people who came to the US as children of illegal immigrants.