A US politician has introduced plans to protect Muslims from having to register their religion in a national database under Donald Trump's presidency.
Washington Congresswoman Suzan DelBene said her proposed legislation would counter "xenophobic and hateful rhetoric" and safeguard civil liberties for people of all faiths.
It comes days after a potential Trump cabinet member, Kansas secretary of state Kris Kobach, was photographed carrying files recommending the updating and reintroduction of a national immigration registry that was created following the September 11, 2001 attacks.
Representative DelBene, a Democrat, said: "President-elect Donald Trump is breaking his promise to be a President for all Americans by supporting the creation of a Muslim registry.
"This kind of xenophobic and hateful rhetoric has no place in our government.
"We cannot allow our country to disregard the civil liberties enshrined in the Constitution.
"My bill would prohibit the administration from violating the constitutional rights of Americans because everyone should be treated equally under our laws."
If passed, the legislation would cover US citizens, visa applicants and foreigners living in the country legally.
Donald Trump's most controversial quotes
Donald Trump's most controversial quotes
1/18 On Mexicans

"When Mexico sends its people, they're not sending the best. They're not sending you, they're sending people that have lots of problems and they're bringing those problems with us. They're bringing drugs. They're bring crime. They're rapists… And some, I assume, are good people."

AFP/Getty Images

2/18 On Senator McCain

"He's not a war hero... He was a war hero because he was captured. I like people who weren't captured."

Getty Images

3/18 On Megyn Kelly

"You could see there was blood coming out of her eyes. Blood coming out of her wherever."

AFP/Getty Images

4/18 On Vladimir Putin

"He's running his country, and at least he's a leader, unlike what we have in this country."

Getty Images

5/18 On his popularity

"I could stand in the middle of Fifth Avenue and shoot somebody and I wouldn't lose any voters."

AFP/Getty Images

6/18 On torture

"I would bring back waterboarding and I'd bring back a hell of a lot worse than waterboarding."

Getty Images

7/18 On his body

"Look at those hands, are they small hands? And, [Republican rival Marco Rubio] referred to my hands: 'If they're small, something else must be small.' I guarantee you there's no problem. I guarantee."

AFP/Getty Images

8/18 On president Obama

"He is the founder of Isis."

Getty Images

9/18 On the Second Amendment

"Hillary wants to abolish — essentially abolish the Second Amendment. By the way, if she gets to pick, if she gets to pick her judges, nothing you can do, folks. Although the Second Amendment people, maybe there is, I don't know."

AFP/Getty Images

10/18 On Hilary Clinton's emails

"Russia, if you're listening, I hope you're able to find the 30,000 emails that are missing."

AFP/Getty Images

11/18 On sexual assault

In a statement regarding the release of a 2005 video in which he can be heard boasting about sexual assault: "This was locker room banter, a private conversation that took place many years ago. Bill Clinton has said far worse to me on the golf course."

Getty Images

12/18 On tax loopholes

"I absolutely used it, and so did Warren Buffett, and so did George Soros and so did many people who Hillary is getting money from."

AFP/Getty Images

13/18 On his accuser

"Believe me, she would not be my first choice, that I can tell you."

Getty Images

14/18 On Hillary Clinton

"Such a nasty woman"

Getty Images

15/18 On his pro-life stance

"Based on what she's saying ... you can take the baby and rip the baby out of the womb in the ninth month, on the final day, and that's unacceptable"

Getty Images

16/18 On his accusers

"Total fabrication. The events never happened. Never. All of these liars will be sued after the election is over."

Getty Images

17/18 On the 'rigged' election system

"I will totally accept the results of this great and historic presidential election — if I win."

Getty Images

18/18 On Hillary Clinton

"I hate to say it but if I win I'm going to instruct my attorney general to get a special prosecutor to look into your situation. There has never been so many lies, so much deception. You ought to be ashamed of yourself."

Getty Images
But Mr Trump's incoming chief of staff Reince Priebus has said the President-elect's team is not planning a religious registry, while declining to "rule out anything".
He told NBC's Meet The Press: "We're not going to have a registry based on a religion.
"What I think what we're trying to do is say that there are some people, certainly not all people... there are some people that are radicalized.
"And there are some people that have to be prevented from coming into this country.
"I'm not going to rule out anything."
The Republican National Committee chairman also called for more a stringent vetting system for immigrants.
Mr Kobach's briefing sheet was spotted by news photographers as he posed for pictures with Mr Trump on Sunday.
His plans for the Department of Homeland Security included creating "extreme vetting questions for high-risk aliens" to cover their views on Sharia law, jihad, gender equality and the US Constitution.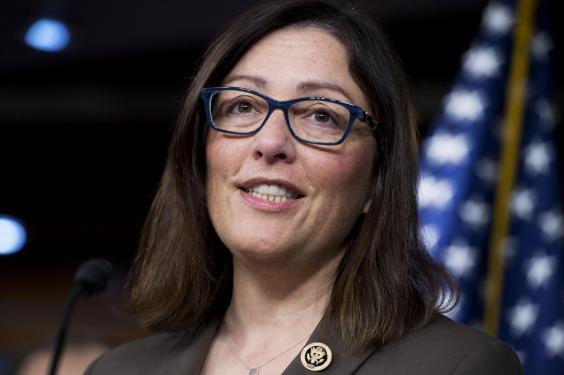 Mr Trump's administration should also reduce the intake of Syrian refugees to zero, he proposed.