A senior Republican adviser said there is something "deeply wrong" about President Donald Trump after watching his first solo press conference in office.
"Something is deeply wrong with our president and the country is in danger," wrote Gabriel Schoenfeld, former adviser to Mitt Romney during the 2012 presidential campaign, in an op-ed for New York Daily News.
"The danger will only be averted when the Republican leadership in Congress publicly acknowledges what they and the rest of the entire world already know: America's president is not wearing any clothes."
Mr Schoenfeld listed the controversies that Mr Trump has sparked or dealt with during four weeks in the White House. This included his immigration executive order being blocked by a federal court, his open feud with intelligence agencies and his national security adviser Michael Flynn resigning over his calls to the Russian ambassador. 
The Republican adviser concluded that the President was "delusional" if he really believed his statements that his government was a "fine-tuned machine", or that his Muslim ban had enjoyed a "perfect roll-out".
Mr Schoenfeld's remarks follow a press conference on Thursday in the White House - described by the adviser as "an avalanche of boulders" - where the President fielded questions for over an hour, declaring leaks from intelligence to the media were "real" but that media headlines about Russia were "fake".
The President he had "inherited a mess at home and abroad" but that no government had done so much in such little time and incorrectly stated that he had won the biggest electoral college landslide since Ronald Reagan.
"Yet even if he is not suffering from outright delusions, and is simply attempting to cover his obvious failures with glorious adjectives, his mind, as it was put on display today, clearly has wires crossed," insisted the adviser.
Mr Trump had dinner with Mr Romney, the former Massachusetts governor, shortly after he won the election, prompting speculation that Mr Romney might be nominated as secretary of state.
A photograph of their candlelit dinner, with Mr Trump grinning and Mr Romney smiling sheepishly, went viral. Mr Romney had loudly condemned Mr Trump as a "conman" on the campaign trail.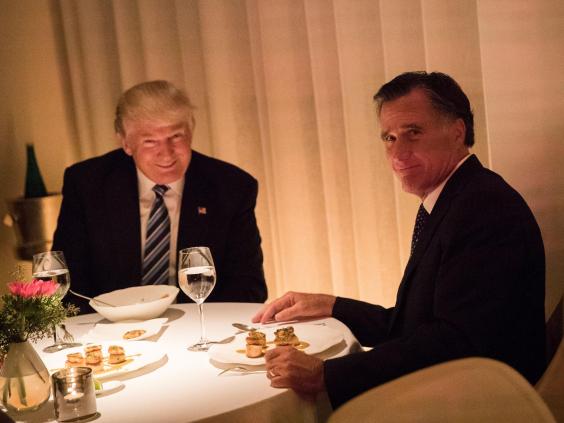 Despite many comments that the President may be mentally unwell after displaying erratic behaviour, psychiatrist Professor Allen Frances said that label was an "insult" to people who have genuine mental health problems. 
Mr Frances, the man who wrote the defining clinical characteristics for narcissistic personality disorder, said the President may be a "world-class narcissist" but he does not display signs of having the disorder.