Donald Trump is being lambasted for describing refugees the Obama administration agreed to resettle from Australian detention camps on Pacific islands as "illegal immigrants".
His predecessor pledged to house up to 1,250 of the most vulnerable asylum seekers held in "inhumane" centres on Papua New Guinea and Nauru, while Australia agreed to resettle refugees from Central America.
Mr Trump called the agreement struck last year a "dumb deal" on Twitter in an unprecedented public attack on one of America's closest allies.
The President had reportedly aired his grievances in an angry phone call with Malcolm Turnbull on Wednesday, when the Australian Prime Minister attempted to confirm whether the arrangement still held.
Describing it as the "worst deal ever", Mr Trump accused his ally of attempting to export the "next Boston bombers", the Washington Post reported.
He followed up the call by tweeting: "Do you believe it? The Obama Administration agreed to take thousands of illegal immigrants from Australia. Why? I will study this dumb deal!"
Critics quickly pointed out that the men, women and children to be resettled could not be illegal when their transfers had been organised and facilitated by the US government.
To be defined as an illegal immigrant, people must have violated a country's laws by either crossing the border irregularly or overstaying their visas.
The vast majority of migrants arriving in Europe in the ongoing refugee crisis initially fulfil the definition but then become asylum seekers by exercising their right under the 1951 Refugee Convention to apply for international protection.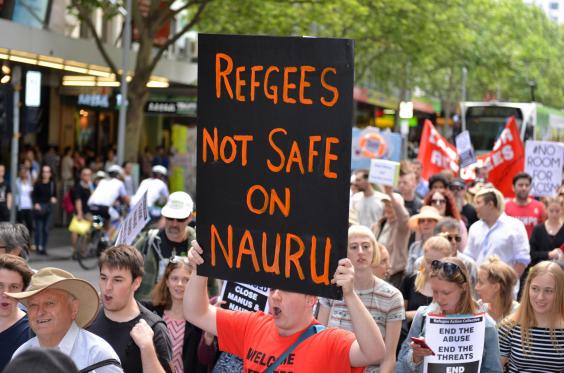 The US agreement with Australia, by contrast, sees men, women and children who have already been vetted by the Department of Homeland Security legally transferred into the country by the American government.
The United Nations and humanitarian groups have raised concern over Australia's camps in Papua New Guinea and Nauru, where all asylum seekers attempted to reach the country by sea are held indefinitely as part of the controversial "stop the boats" policy.
Refugees have set themselves on fire in protest at dire conditions at the processing centres, where physical, mental and sexual abuse has been reported.
Most are Muslims from the Middle East, Africa and Asia, including the persecuted Rohingya minority, meaning their arrival would contravene Mr Trump's executive order suspending the US refugee programme and immigration from seven Muslim-majority "countries of concern".
He claimed the move would prevent "bad dudes" coming to the US, despite the fact countries linked to previous terror attacks were not on the list, and warnings the "Muslim ban" would fuel propaganda efforts by Isis and other jihadi groups.
The controversial orders Donald Trump has already issued
The controversial orders Donald Trump has already issued
1/9 Trump and the media

White House Press Secretary Sean Spicer takes questions during the daily press briefing

Getty Images

2/9 Trump and the Trans-Pacific Partnership

Union leaders applaud US President Donald Trump for signing an executive order withdrawing the US from the Trans-Pacific Partnership negotiations during a meeting in the Roosevelt Room of the White House in Washington DC. Mr Trump issued a presidential memorandum in January announcing that the US would withdraw from the trade deal

Getty

3/9 Trump and the Mexico wall

A US Border Patrol vehicle sits waiting for illegal immigrants at a fence opening near the US-Mexico border near McAllen, Texas. The number of incoming immigrants has surged ahead of the upcoming Presidential inauguration of Donald Trump, who has pledged to build a wall along the US-Mexico border. A signature campaign promise, Mr Trump outlined his intention to build a border wall on the US-Mexico border days after taking office

Getty Images

4/9 Trump and abortion

US President Donald Trump signs an executive order as Chief of Staff Reince Priebus looks on in the Oval Office of the White House. Mr Trump reinstated a ban on American financial aide being granted to non-governmental organizations that provide abortion counseling, provide abortion referrals, or advocate for abortion access outside of the United States

Getty Images

5/9 Trump and the Dakota Access pipeline

Opponents of the Keystone XL and Dakota Access pipelines hold a rally as they protest US President Donald Trump's executive orders advancing their construction, at Columbus Circle in New York. US President Donald Trump signed executive orders reviving the construction of two controversial oil pipelines, but said the projects would be subject to renegotiation

Getty Images

6/9 Trump and 'Obamacare'

Nancy Pelosi who is the minority leader of the House of Representatives speaks beside House Democrats at an event to protect the Affordable Care Act in Los Angeles, California. US President Donald Trump's effort to make good on his campaign promise to repeal and replace the healthcare law failed when Republicans failed to get enough votes. Mr Trump has promised to revisit the matter

Getty Images

7/9 Donald Trump and 'sanctuary cities'

US President Donald Trump signed an executive order in January threatening to pull funding for so-called "sanctuary cities" if they do not comply with federal immigration law

AP

8/9 Trump and the travel ban

US President Donald Trump has attempted twice to restrict travel into the United States from several predominantly Muslim countries. The first attempt, in February, was met with swift opposition from protesters who flocked to airports around the country. That travel ban was later blocked by the Ninth Circuit Court of Appeals. The second ban was blocked by a federal judge a day before it was scheduled to be implemented in mid-March

SANDY HUFFAKER/AFP/Getty Images

9/9 Trump and climate change

US President Donald Trump sought to dismantle several of his predecessor's actions on climate change in March. His order instructed the Environmental Protection Agency to reevaluate the Clean Power Plan, which would cap power plant emissions

Shannon Stapleton/Reuters
Despite the President's statements, the White House and the US Embassy in Australia both said Mr Trump would honour the agreement, while Mr Turnbull reiterated that he believed the deal stood in media appearances following the tweet.
Australia has refused to resettle any refugee arriving by boat since July 2013, whatever their circumstances, instead paying Pacific nations to detain them while searching for other countries to take the arrivals permanently.
After the transfer deal was struck with the US in November, Mr Turnbull said: "Our priority is the resettlement of woman, children and families.
"This will be an orderly process. It will take time. It will not be rushed."
He has declined to comment on his phone call with Mr Trump but said he would "stand up for Australia".
Reuse content