Now even royalty, of a sort, is turning on Donald Trump. Two weeks into to the ugly ruckus that began when he described  Mexican immigrants as drug dealers and rapists while announcing his run for president, Paulina Vega, the reigning Miss Universe, has condemned his comments as "unjust and hurtful".
The fallout from his comments had already begun to seriously damage his business interests. New York City, which has a golf course and a skating rink bearing the Trump name, is reviewing all ties with him. Macy's, the giant retailer, is dropping his fashion lines. Hispanic leaders have derided him and are demanding that other Republican presidential hopefuls call him out too.
"Donald Trump's remarks were disgusting and offensive, and this hateful language has no place in our city," New York Mayor Bill de Blasio said on Wednesday. America's top golfing bodies, including the PGA, were moved to issue a joint statement after he suggested that the sport somehow shared his outlook. "We feel compelled to clarify that those remarks do not reflect the views of our organisations," it said.
Donald Trump's most controversial quotes
Donald Trump's most controversial quotes
1/14 On Isis:

"Some of the candidates, they went in and didn't know the air conditioner didn't work and sweated like dogs, and they didn't know the room was too big because they didn't have anybody there. How are they going to beat ISIS?"

Getty

2/14 On immigration:

"I will build a great wall — and nobody builds walls better than me, believe me —and I'll build them very inexpensively. I will build a great, great wall on our southern border, and I will make Mexico pay for that wall. Mark my words."

Reuters

3/14 On Free Trade:

"Free trade is terrible. Free trade can be wonderful if you have smart people. But we have stupid people."

PAUL J. RICHARDS | AFP | Getty Images

4/14 On Mexicans:

"When Mexico sends its people, they're not sending their best. They're sending people that have lots of problems. They're bringing drugs. They're bringing crime. They're rapists."

Getty

5/14 On China:

"I just sold an apartment for $15 million to somebody from China. Am I supposed to dislike them?... I love China. The biggest bank in the world is from China. You know where their United States headquarters is located? In this building, in Trump Tower."

Getty Images

6/14 On work:

"If you're interested in 'balancing' work and pleasure, stop trying to balance them. Instead make your work more pleasurable."

AP

7/14 On success:

"What separates the winners from the losers is how a person reacts to each new twist of fate."

8/14 On life:

"Everything in life is luck."

AFP

9/14 On ambition:

"You have to think anyway, so why not think big?"

Getty Images

10/14 On his opponents:

"Bush is totally in favour of Common Core. I don't see how he can possibly get the nomination. He's weak on immigration. He's in favour of Common Core. How the hell can you vote for this guy? You just can't do it."

Reuters

11/14 On Obamacare:

"You have to be hit by a tractor, literally, a tractor, to use it, because the deductibles are so high. It's virtually useless. And remember the $5 billion web site?... I have so many web sites, I have them all over the place. I hire people, they do a web site. It costs me $3."

Getty Images

12/14 On Barack Obama:

"Obama is going to be out playing golf. He might be on one of my courses. I would invite him. I have the best courses in the world. I have one right next to the White House."

PA

13/14 On himself:

"Love him or hate him, Trump is a man who is certain about what he wants and sets out to get it, no holds barred. Women find his power almost as much of a turn-on as his money."

Getty Images

14/14 On America:

"The American Dream is dead. But if I get elected president I will bring it back bigger and better and stronger than ever before and we will make America great again."

GETTY
But it is possible that Ms Vega's rather mild reprimand (Colombian-born, she did go on to say that she would not be surrendering her crown) that will get under his very thick skin the most.
A joint venture between Mr Trump and NBC Universal, the Miss Universe Organisation is itself imperiled after NBC said it was pulling the plug on the partnership. On top of that, Univision, the biggest Spanish-language network in the US, said it would not broadcast the upcoming Miss USA Pageant, a spin-off of Miss Universe. 
The debacle, which threatens to scramble all attempts by  the Republican Party and its other presidential candidates to appeal to Hispanic voters in 2016, began when Mr Trump turned to the issue of illegal immigration in his announcement speech on 16 June. He spoke of building a "great, great wall" along the US-Mexican border. Mexican immigrants, he barrelled on, were "bringing drugs. They're bringing crime. They're rapists. And some, I assume, are good people".
If Mr Trump is destined to be merely a side-show, or possibly freak-show, in the 2016 campaign, that cannot be said of his candidacy right now, with multiple new polls showing him running second nationally among the 14 Republicans who have so far declared, and doing equally well in some critical primary states such as New Hampshire. These numbers embolden him as he declines to back away from his comments.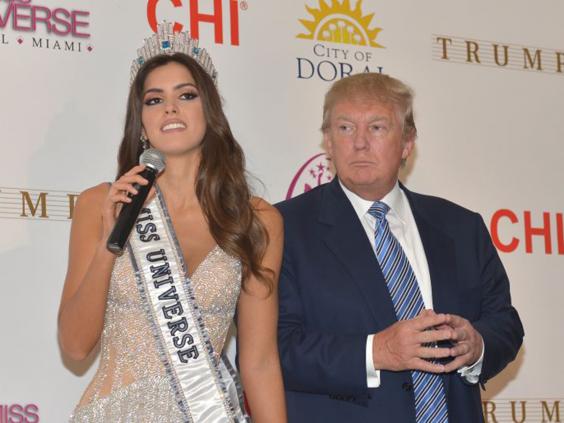 History suggests that his success may be fleeting, caused in part by high name recognition. In the meantime, however, by further harming the image of his party among Hispanics, an increasingly crucial voting bloc in America, he may be doing Democrats an enormous favour. If Hillary Clinton and the other Democrat hopefuls have said nothing, it's because they don't have to.
His rivals for the Republican nomination seemed determined at first also to stay mum. But aware that saying nothing might look like an endorsement of the Trump rant, they are slowly stepping forward. Senator Marco Rubio, who his himself Hispanic, said: "Trump's comments are not just offensive and inaccurate, but also divisive." Jeb Bush, the front-runner in several polls, limited himself to saying that Mr Trump was "wrong".
Reuse content