The majority of Donald Trump's re-tweets are reportedly from accounts linked to white supremacists and neo-Nazi sympathisers.
An analysis of the Republican presidential frontrunner's Twitter page revealed more than 60 per cent of people he chose to retweet over the last week followed multiple accounts which promote the notion of "white genocide".
Twenty eight per cent of the commentators shared by the ultra-conservative US candidate follow at least one of the most prominent "white nationalist" accounts active on the social media site.
And 62 per cent of those re-tweeted by Mr Trump follow at least three other people who have used the hashtag #whitegenocide recently - a reference to the idea that "white" people are being overtaken by "non-white" people.
#WhiteGenocide is not "supremacy" - that's leftspeak. @realDonaldTrump reads @AnnCoulter - has raised issue in past. pic.twitter.com/qRU1THsube

— Emily Clark (@princessladyz) January 23, 2016
The findings, which were compiled by marketing and research company Little Bird, analysed the biographies and networks of all the accounts the US presidential hopeful retweets to his 5.87 million followers.
Many follow other users who tweet the idea of "white genocide", a notion promoted by the new "alternative right" in America which sees diversity and multiculturalism as the result of "cultural Marxism".
The hashtag #whitegenocide first appeared on a major road in Alabama, reading: "Diversity means chasing down the last white person. #whitegenocide."
An earlier billboard had appeared in the same area saying "anti-racist is a code word for anti-white".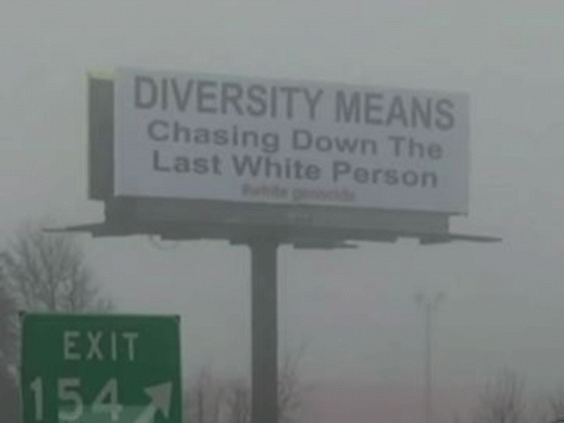 According to Little Bird, 1,055 people have used the #whitegenocide and Mr Trump's name in the same Tweet in recent weeks.
And while Mr Trump does not follow any of the white supremacists who follow him, he been accused of derogatory and racist remarks to a number of communities.
In November, the Republican frontrunner retweeted a graphic with inaccurate statistics about murders of white people by black people in the US, according to ThinkProgress.
The graphic said 81 per cent of white people murdered in America had been killed by a black person - when the real figure is closer to 14 per cent.
At the time Mr Trump, who more than two-thirds of Republicans believe will win the party's presidential election, reportedly said: "I re-tweeted somebody that was supposedly an experts. Am I going to check every statistic?"