Moments before he was sentenced to die for the 2013 Boston Marathon bombing, Dzhokhar Tsarnaev rose to his feet at the defence table and attempted to offer remorse to the surviving victims and the families of those who were killed. "I pray for your relief, for your healing," he said.
He made his apology at his formal sentencing after several of those survivors read their own statements about the horror of the April 2013 attack which left three people dead and injured 260 more, many of them grievously.  In an atmosphere thick with emotion, some looked at Tsarnaev in the face describing their pain and calling him "cowardly" and "disgusting".
Throughout the statements by victims, Tsarnaev appeared barely to listen and few experts, or indeed survivors, had expected him to take up the opportunity to make his own statement before receiving sentence. But breaking a silence of more than two years, the 21-year-old former student and immigrant from Chechnya spoke for five minutes, peppering his remarks with references to his Muslim faith.
Dzhokhar #Tsarnaev: "I am guilty of the bombing, let there be no lingering question about that."

hyphen; Independent US (@IndyUSA) June 24, 2015
"I am sorry for the lives that I've taken, for the suffering that I've caused you, for the damage that I've done, irreparable damage," he told the hushed court.  "I pray to Allah to bestow his mercy on you.  I pray for your relief, for your healing, for your well-being, for your health."  He added: "I am guilty of it. If there is any doubt of that, let there be no more."
The jury from his trial had already concluded that Tsarnaev should pay for his crimes with his life. He and his brother, Tamerlan Tsarnaev, unleashed carnage close the marathon's finishing line with bombs made with pressure cookers.  His brother was later killed during a shoot-out with Boston police.
For District Judge George O'Toole Jnr, imposing the sentence was thus a formality. "I sentence you to the penalty of death by execution," he said, adding that Tsarnaev, who looked down and rubbed his hands together, had "murdered and maimed innocent people" and "did it wilfully and intentionally".
#BREAKING: Judge O'Toole officials imposes death penalty on Dzhokhar #Tsarnaev. #BostonMarathonBombing

hyphen; Nick Delgado (@NickDelgadoKWTX) June 24, 2015
Judge, to #Tsarnaev: no one will mention that your teachers liked you, or you were a good athlete..you murdered and maimed innocent people.

hyphen; Carl Stevens (@carlwbz) June 24, 2015
Judge O'Toole also quoted Shakespeare, saying "the evil that men do lives after them. The good is often interred with their bones". He went on: "So it will be for Dzhokhar Tsarnaev".
In their statements earlier, most survivors had offered only disdain and disgust for Tsarnaev and his actions.  "He can't possibly have had a soul to do such a horrible thing," offered Karen Rand McWatters, who lost a leg in the attack and whose best friend, 29-year-old Krystle Campbell, was killed.
Ms Campbell's mother, Patricia Campbell, also addressed him. "What you did to my daughter is disgusting. I don't know what to say to you. I think the jury did the right thing."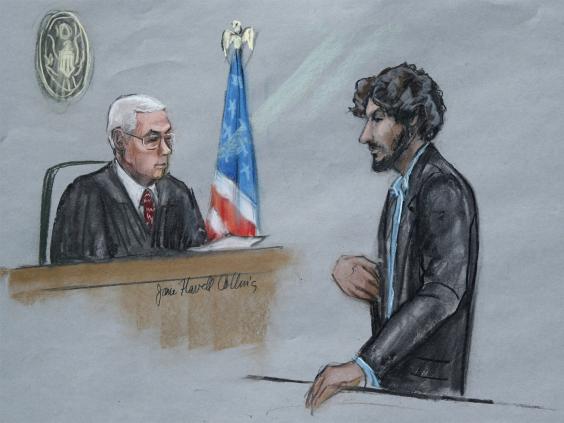 In his statement, Tsarnaev offered no explanation for what he had done. Nor did he renounce terrorism.
Some of the survivors later said they had little reason to accept his statement of regret. "I find that hard to believe, I never really saw that from him," said Scott Weisberg. "This was one last moment for him to kind of just put things aside. I don't think he was genuine. It's not going to change my impression of him or what he did to us."
What is for sure is there will be no early appointment for Tsarnaev with an executioner. All federal capital cases have an automatic right of appeal built in. It is likely that process will last years.
The US is increasingly facing obstacles in carrying out the death penalty because of shortages of drugs for lethal injections and associated legal challenges.
Reuse content