A rare grey wolf, the first of her species to be seen in the area in more than 70 years, who was shot dead after a US poacher mistook the animal for a coyote has been confirmed as a female named Echo.
The three-year-old wolf was the same animal spotted near the Grand Canyon in October and November before her death in December last year.
DNA testing confirmed it was the same animal, named Echo by schoolchildren in a national competition, with wildlife rights groups calling her killing shameful.
"It's very sad," conservation advocate with the Centre for Biological Diversity Michael Robinson, told Mail Online.
Echo had roamed more than 500 miles in her life, searching for a mate. Conservationists had tagged her with an electronic collar, enabling them to track her movements.
The hunter, who has not been named, claims he mistook Echo for a coyote responsible and immediately reported the killing to local authorities when he realised his mistake.
Although hunting and shooting coyotes is legal, wolves are listed under the US Endangered Species Act, which bans killing certain animals without a special permit.
The rarest animals in the world
The rarest animals in the world
1/23 Goblin shark

Dubbed the "alien of the deep", the goblin shark was caught by a commercial fisherman off the coast of Eden, New South Wales. The carcass of the terrifying looking creature was then donated to the Australian Museum in Sydney so that it could be dissected

YouTube/Australian Museum

2/23 Glass frog

Scientists in South America have discovered a brand new species of frog – and he's a dead ringer for Kermit the frog. Hyalinobatrachium dianae is an inch-long glass frog with identical bright green skin, a translucent belly, and bulging white eyes with black pupils. The new species found by Costa Rican Amphibian Research Center on the Talamanca hills of the country, was named after the senior researcher's mother Diane and brought the total known species of glass frogs on the island to 14

BBC via YouTube

3/23 Walking fish (climbing perch)

A bizarre and seemingly super-powered fish which can walk out of water and breathe on land for up to six days could spell a 'major disaster' for wildlife, scientists have warned. The aggressive climbing perch, which has lungs as well as gills, has been discovered in northern Australia

YouTube

4/23 Frilled shark

A rare and terrifying frilled shark has been pulled from the water by fishermen near Lakes Entrance in Victoria, Australia. Also known as the "living fossil", the frilled shark is named for its six pairs of frill-like gills. The shark's origin dates back 80 million years, and is one of two species that is still alive from this period

SETFA

5/23 Black Sea Devil anglerfish

Researchers in the US have released what they believe to be the first video footage showing a bizarre-looking Black Sea Devil anglerfish in the wild. As anglerfish live in the deep sea, they are very rarely seen in their natural habitat, and fewer than half a dozen have ever been captured on film or video in the wild, according to experts at the Monterrey Bay Acquarium Research Institute (MBARI)

Monterey Bay Aquarium Research Institute

6/23 Blue lobster

A rare blue lobster was caught off Pine Point in Scarborough, Maine. The crustacean is being donated to the Maine State Aquarium

AP Photo/Meghan LaPlante

7/23 Two-headed dolphin

A con-joined dolphin found on the beach of the Aegean Sea coastal town of Dikili, Izmir province of Turkey

AP

8/23 Conjoined whales

A pair of conjoined gray whale calves have been found off the coast of Mexico, in what scientists believe could be the first discovery of its kind

CONANPHO/AFP/Getty Images

9/23 Fish-eating spider (Dolomedes facetus)

Dolomedes facetus captured pond fish (genus Xiphophorus) in a garden pond near Brisbane, Queensland, Australia. The number of spiders who catch and eat fish is on the rise across the world, scientists believe

Peter Liley, Moffat Beach, Queensland

10/23 Dancing frogs

A frog couple from one of the 14 new species of so-called dancing frogs

AP/Satyabhama Das Biju

11/23 Kakapo

Conservationists in New Zealand are celebrating after an extremely rare kakapo chick hatched from a cracked egg held together by nothing more than tape and glue. The bird joins a global kakapo population of just 125 birds

Creative Commons. Photo: jidanchaomian, via Flickr.

12/23 Migaloo the white whale

Migaloo the white whale, sighted at the Bernard Islands

Twitter/Migaloo the Whale

13/23 Domed land snail

Living in complete darkness more than 900 metres below the surface has left this tiny snail with no pigmentation in its shell. Discovered in the caves of western Croatia the Zospeum tholussum is also a slow mover, creeping just a few centimeters each week.

14/23 Leaf-tailed gecko

The mottled colouring on this gecko helps it blend in with the rain forests and rocky habitats of eastern Australia. It also has an extremely wide tail (from which it gets its name) to further confuse predators

Conrad Hoskin

15/23 Flying frog

A Giant green flying frog which is among the new species found by scientists in the Greater Mekong region

PA

16/23 Megamouth shark

An extremely rare female deep-water megamouth shark has been caught off the coast of Shizuoka, Japan, and is believed to be only the 58 sighting of the animal on record

17/23 A Maui's dolphin

Fears grow for Maui's dolphins after New Zealand government opens west coast block for oil and gas drilling

youtube

18/23 Geep

A rare goat-sheep hybrid has been born on an Irish farm, much to the surprise of a farmer who said the 'geep' is thriving since its birth

Irish Farmers Journal

19/23 Omani owl

An Omani Owl, a species completely new to science

PA

20/23 Albino dolphin

A rare albino calf being herded into Japan's notorious Taiji 'killing' Cove, where hundreds of dolphins are slaughtered during its annual hunt

Sea Shepherd/EPA

21/23 Stone curlew

The stone curlew is one of the UK's most threatened birds and has recently returned from their wintering grounds in Africa and Spain

Getty Images

22/23 Mascarene Petrel

A unique photograph has been taken of a bird with a visible egg showing after experts sent to study a critically endangered Mascarene Petrel on a remote Indian Ocean tropical island encountered an undeniably pregnant member of the species

Hadoram Shirihai

23/23 Albino cobra

A "very dangerous and venomous" albino cobra has been found in a suburban Los Angeles neighbourhood after escaping from a home there

Dept. of Animal Care and Control, County of Los Angeles
Although the two species have similar colouring, wolves are usually larger than coyotes and have longer legs, bigger feet, rounder ears and snouts.
The identity of Echo was confirmed by geneticists at the University of Idaho who compared DNA samples taken from the body with scat samples collected after the animal was seen near the Grand Canyon in November.
The death is particularly upsetting for animal campaigners as Echo was the first wolf seen in the Canyon since an extensive eradication programme during the 1940s.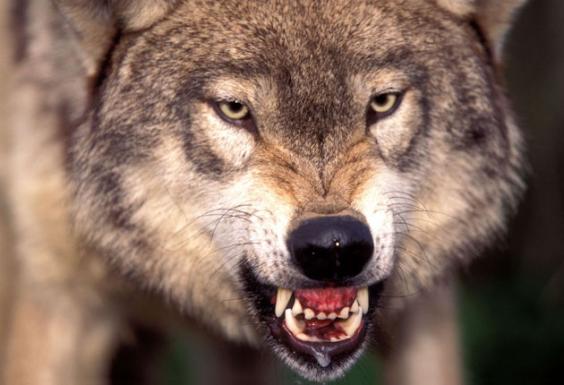 The Centre for Biological Diversity said there have been 11 incidents since 1981 when hunters have claimed to have killed wolves after mistaking them for another animal.
It remains unclear what – if any – penalties the hunter could face.
Reuse content