A teenage boy is recovering in hospital after suffering serious injuries and possible permanent damage to his eye while playing the popular "Duct tape challenge".
Fourteen-year-old Skylar Fish suffered severe head injuries, a brain aneurysm and damage to his eye socket after his attempt at the challenge went awry. He has been recovering in hospital since 16 January.
The "challenge" involves a person wrapping someone in duct tape who is then filmed trying to escape. Some videos uploaded to YouTube showing people attempting the challenge have millions of views.
Skylar, who had played the game before with school friends, decided to undertake the challenge again while at Renton Academy in Washington.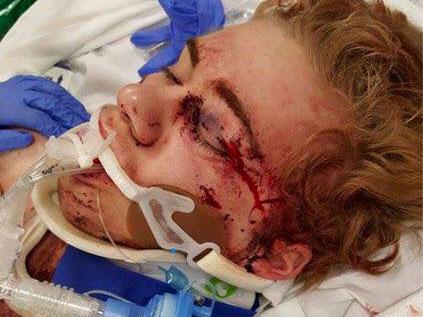 His friends wrapped Skylar in the tape while he was standing up causing the teen to lose his balance and slam his head into a window frame.
The fall crushed Skylar's eye socket and caused him to suffer a brain aneurysm, KIRO 7 reports. Skylar has had 48 staples in his head to correct the injuries.
The most controversial internet crazes
The most controversial internet crazes
1/7 Gun Selfies

Where it actually came from remains a mystery, but the 'Selfie' remains a popular feature on the internet - it was even named word of the year by Oxford Dictionaries in 2013. However, a number of gangs in America have taken it a step further, posting 'gun selfies' of themselves. Last year, two men were charged for 142 counts of possession of a firearm and were bailed by police after posting numerous photos. The craze has led to several calls for photos to be taken down, with parents fearing that children could try and create their own poses.

Instagram

2/7 Planking

Originating in Australia in 2008, the trend of 'planking' swept Britain a year later. The craze, in which people form a straight figure with hands down by their sides, had thousands of participants uploading their efforts on to Facebook. While most were harmless enough, the more daring have been known to plank across railway tracks and between buildings, causing major health concerns. In 2011, a 20-year-old man died after 'planking' on a seven-story building in Australia.

Twitter

3/7 Twerking

Twerking, a mixture of twisting and jerking, has been around since the late 1990s, but its popularity dramatically increased after Miley Cyrus 'twerked' at the 2013 MTV VMA awards with Robin Thicke, prompting fans to upload their own versions on Youtube - we've even had twerking stormtroopers. It's since been accused of corrupting the minds of young people and, last year, 33 students were suspended after making a video of themselves 'twerking' using school equipment.

Machinima

4/7 Happy Slap

It's been almost a decade since the Happy Slap craze broke out in the UK, but what started out in as a small joke between friends in Lewisham in 2004 eventually became a nationwide phenomenon. Happy Slapping involved a victim being filmed on a camera phone getting slapped. As the craze spread, incidents became more and more vicious and it was linked to a rise in bullying in school playgrounds. In 2008, a teenage girl was sentenced to two years' detention after filming the fatal beating of a man.

nydailynews.com

5/7 Tombstoning

'Tombstoning' emerged in 2012 as a much more dangerous fad. It involved finding the highest rock to leap from, giving jumpers sufficient time to change their body position to resemble a tomb falling into the sea. It was invented initially as a way to keep cool during sizzling temperatures, but as the challenges became more daunting, some experienced horrific injuries as a result of jumping into shallow or rocky waters.

Twitter

6/7 McDiving

While not as dangerous as other internet fascinations, McDonald's staff are now finding themselves on the receiving end of another internet craze. 'McDiving' started last year and normally comes at the end of an alcohol-fuelled night out, where it is then customary for a 'McDiver' to go to the nearest McDonald's and launch themselves over the counter. McDonald's franchises have even started hiring bouncers at peak times of the day to deal with any mischief makers.

YouTube

7/7 Gallon Smashing

Given that glossy floors are prominent in supermarkets, it would be deemed acceptable to see the occasional person slip over. But this is no accident. Gallon smashing started to appear on Youtube last year and has becoming increasingly popular in the US. It sees agile teenagers throw gallons of milk in the air as well as hurtling themselves on to the ground. However, with the mess, cost and inconvenience that is caused, the 'gallon smashing' craze has seen security stepped up in supermarkets.

YouTube
Skylar's mother, Sarah Fish, told BuzzFeed doctors had called the incident a "freak accident" and said they usually see similar injuries in car crash victims.
Ms Fish said: "He is really lucky to be alive, he is really lucky not to have brain damage."
Skylar is recovering but may not regain vision in his eye.
He was transferred to Seattle Children's Hospital on Monday where he will undertake the rest of his recovery. Speaking from his hospital bed, the teenager told KIRO 7: "I'm just, actually, really lucky to be alive."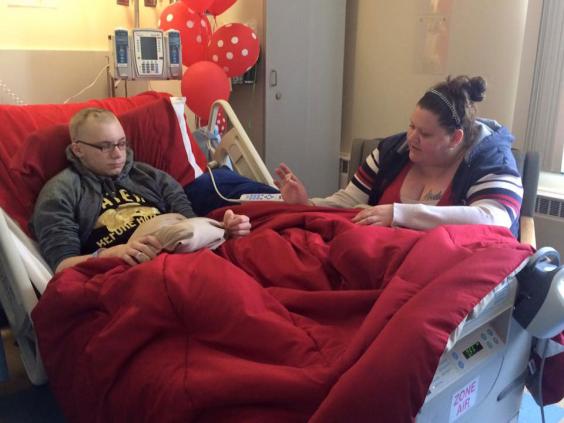 Police launched an investigation into the incident due to the severity of Skylar's injuries, but later found it to be an accident after reviewing school surveillance tape.
Ms Fish who also watched the footage said: "They were being stupid. They made a stupid choice."
Ms Fish said her main priority is now to warn others "there are consequences" to trending online games.
"All I can do is bring awareness so other parents can look and see what kids are getting into".
Reuse content