Eduardo Ochoa was 19 when he was deployed to Patagonia in Argentina in case the Falklands War spread to the mainland. More than three decades later he is a stalwart at a protest camp in the historic Plaza de Mayo, demanding recognition – and benefits – for his service. It's seems a forlorn cause and the protesters hopes of success have become as tattered as their banners and ragged, flapping tent.
Yet he, like many others here, harbours hopes of a different kind – that the imminent departure of President Cristina Fernandez de Kirchner from the nearby pink palace, or Casa Rosada, will help end the cantankerous sparring between Argentina and Britain and allow them to make progress towards solving the seemingly endless dispute over the future of the South Atlantic archipelago. "Here the politicians all know they have talked to England in the wrong way for the past many years," he said.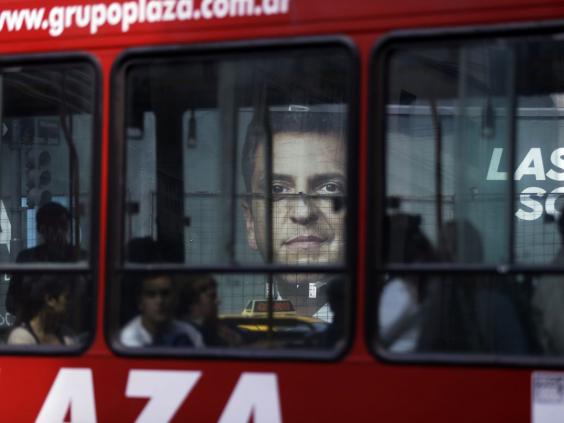 "They pretend that it's good politics, but underneath they all know it's the wrong approach. They need to find a new way to deliver advantages for both sides. We can settle this."
In her eight years in office, Ms Kirchner has consistently baited Britain over the disputed islands, including the day she ambushed the Prime Minister David Cameron at the United Nations and thrust a letter into his hand demanding the start of status negotiations.
What happens now will depend in part on the outcome of the presidential election. The only non-Peronist contender, Mauricio Macri, has already pledged to turn down the rhetoric and symbolically abolish the junior minister position in the foreign ministry that exists purely to pursue Argentina's goal of reclaiming the islands, known in the country as Las Malvinas.
Polls suggest, however, that it is Ms Kirchner's preferred choice, Daniel Scioli, who will prevail, if not today then in a run-off with Mr Macri in November. He, like Ms Kirchner, is of the populist, Peronist movement. Yet there is widespread expectation that he too would seek to adopt a fresh and less belligerent tone in the hope of bringing Britain to the table.
Falklands War: A look back in 50 photographs
Falklands War: A look back in 50 photographs
1/50

May 1982 - Some of the 3000 troops leaving from Southampton aboard the QE2

Getty Images

2/50

May 1982 - An Evening Standard headline announces the troops move in

Getty Images

3/50

A piper plays as members of the Gurkha Rifles board the QE2 at Southampton

Getty Images

4/50

Lance-Corporal Gary Hearn of the Signals Regiment gives his brother's girlfriend Sandra Kelly a farewell kiss before before boarding the QE2

Getty Images

5/50

Weeping families watch from the quayside as the Cunard liner QE2 carries British troops from Southampton

Getty Images

6/50

1982 - Staff of HMS Hermes sunbathe on deck as they head towards the Falklands

Getty Images

7/50

1982 - A Londoner reads the Evening Standard for the latest updates

Getty Images

8/50

1982 - British soldiers come ashore from landing craft

John W. Jockal/Rex Features

9/50

1982 - British Army Gurkhas on their way to the Falklands

John W Jockal/Rex Features

10/50

1982 - British soldiers marching through Port Stanley

John W Jockal/Rex Features

11/50

1982 - Argentine troops at Port Stanley

John W Jockal/Rex Features

12/50

1982 - British Task Force prepares in San Carlos

John W Jockal/Rex Features

13/50

1982 - Journalists being winched down to cover the Crisis

Rupert Nichol/Rex Features

14/50

1982 - Harriers taking off at sea

Rupert Nichol/Rex Features

15/50

1982 - Argentine crowd protesting against British forces

Sipa Press/Rex Features

16/50

A sign on the Falklands with a bullet-ridden Union Jack with the words "Now...To The Death (I'm Sorry)"

Denis Cameron/Rex Features

17/50

1982 - British soldiers at base camp on the Falklands

John W Jockel/Rex Features

18/50

British soldiers search captured Argentine troops

Sipa Press/Rex Features

19/50

1982 - Argentine soldiers are taken aboard HMS Fearless

John W Jockel/Rex Features

20/50

1982 - British soldiers in a Port Stanley in flames

John W Jockel/Rex Features

21/50

Medical orderlies wearing anti-flash gear tend a wounded survivor of HMS Sheffield aboard HMS Hermes

Getty Images

22/50

1982 - ITN Footage of POWs during the Falkands crisis

GTV/Rex Features

23/50

A dejected Argentinian prisoner sits behind barbed wire in a compound

Getty Images

24/50

May 3 1982 - The Argentine ship, the General Belgrano is sunk

Sipa Press/Rex Features

25/50

The famous Sun front page following the sinking of the General Belgrano in May 1982

Rex Features

26/50

1982 - Atlantic Conveyor, a British merchant navy ship requisitioned during the Crisis

Rupert Nichol/Rex Features

27/50

May 1982 - The HMS Antelope sinks after heavy hits

Rex Features

28/50

May 1982 - HMS Antelope sinking

John W Jockal/Rex Features

29/50

1982 - British soldiers escaping on lifeboat after their boat is hit

John W Jockal/Rex Features

30/50

1982 - HMS Hermes Sea Warrior landing

Rupert Nichol/Rex Features

31/50

1982 - British Royal Marines watching over captured Argentine soldiers

John W Jockal/Rex Features

32/50

An Argentine soldier seen on his way to occupy the captured Royal Marines base in Puerto Argentino

Getty Images

33/50

June 8 1982 - The Sir Galahad, part of the Royal Fleet Auxiliary shows extensive air strikes damage

Sipa Press/Rex Features

34/50

May 1982 - Captured Argentine POWs receive Mass aboard HMS Invincible

Getty Images

35/50

June 1982 - Copy of the Argentine surrender of the Falkland Islands, made between British and Argentine forces

Rex Features

36/50

July 1982 - Prime Minister Margaret Thatcher greets supporters in London after news of the Argentine surrender

Ivor Leonard/Rex Features

37/50

HMS Hermes makes its return to Portsmouth

Tom Stoddart/Rex Features

38/50

Families of soldiers who served in the Falklands War, in Portsmouth waiting to greet returning British soldiers

Getty Images

39/50

The Canberra returns to port from the Falklands

Nick Rogers/Rex Features

40/50

A returning Royal Marine greets his daughter

Nick Rogers/Rex Features

41/50

A family reunites as the 2nd Battalion Parachute Regiment return to Britain

David Hartley/Rex Features

42/50

Soldiers march through London in the Victory Parade

Rex Features

43/50

Soldiers march through London in the Victory Parade

Rex Features

44/50

Prince Phillip meets with war wounded

Photonews Scotland/Rex Features

45/50

Prince Phillip meets Simon Weston, who later went on to gain fame for his charity work

Photonews Scotland/Rex Features

46/50

1983 - A soldier at the 2nd Parachute Regiment Memorial on the Falkland Islands

Robin Anderson/Rex Features

47/50

1992 - Margaret Thatcher visits Victory Green Port Stanley to mark the 10th Anniversary of the Falklands War

Keith Waldrave/Mail on Sunday/Rex Features

48/50

1999 - Prince Charles lays a wreath in the sea at the Falklands in remembrance of those who lost their lives in the Crisis

Tim Rooke/Rex Features

49/50

May 2007 - Margaret Thatcher inspects the first striking of Falkland Islands coins

Steve Malsey/Rex Features

50/50

May 2007 - Memorial in the Falkland Islands to Lieutenant Colonel H. Jones VC OBE of the 2nd Battalion Parachute, who died in combat

Eddie Mulholland/Rex Features
"I think he [Mr Scioli] will try to put all this nationalistic posturing and discourse in a new perspective," Marcos Novaro, the director of a Cipol, a political think tank in Buenos Aires, suggested. "There is a strong sense of frustration with the hard policies" of Ms Kirchner. "Everyone has the sensation that Argentina gets into these quarrels for no reason ... and that's true with the Malvinas."
Ms Kirchner – who cannot run this time, having served two consecutive terms – certainly gained a reputation for her combative style. It was this that led to a stand-off with US hedge funds that own tens of billions of pounds in loans on which Argentina defaulted in 2001. Ms Kirchner labelled the funds "vultures" and has refused to compromise. Whether to negotiate on the loans will be a key issue for the new leader, as will the economy, with inflation around 25 per cent. 
With Mr Scioli the continunity candidate, it is believed he may have more luck getting such economic changes through the country's Congress, but any attempt to reach an accord over the Falklands, especially one short of full sovereignty, would be a tough sell with Congress and with voters. But the door may just be open a crack, Mr Novaro said. "It's possible a new government with little effort can show that if you ... don't offend, and don't insult, Argentina can take the right direction and everyone will applaud him."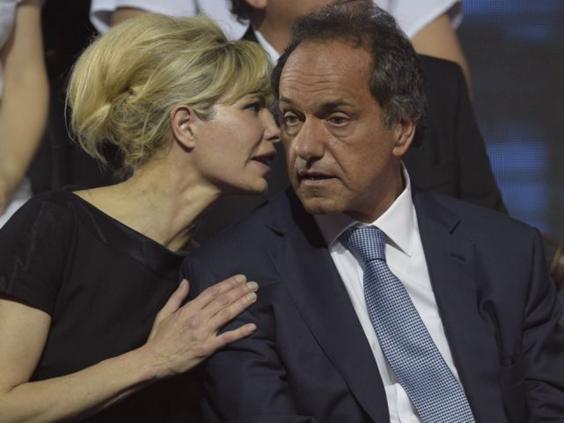 Ernesto Justo Lopez, a retired ambassador to Guatemala and Haiti, and chief of staff at the defence ministry a decade ago, has a slightly different perspective on Ms Kirchner's record on the islands, arguing that her aggressive stance has been successful at least in terms of garnering support for the cause from neighbours in Latin America and the Caribbean and from delegates at the Special Committee for Decolonization at the UN.
"This has been very important for us," said Mr Lopez, who spends part of each Friday chewing the cud with other former diplomats at the Café con Peron in downtown Buenos Aires under the gaze of a life-size figure of former President Juan Domingo Peron himself. And while he agrees that Mr Scioli as president might seek a less cantankerous approach with London, he isn't certain how much it will help.
"Do you think there will be results because of changed manners, or will it come again to substance?" he asks. "Maybe Scioli's approach will be gentler, but the issue at heart has to do with content. Great Britain defends the principle of self-determination [for the population of the islands] and we defend the principle of territorial integrity… it's difficult for us to agree."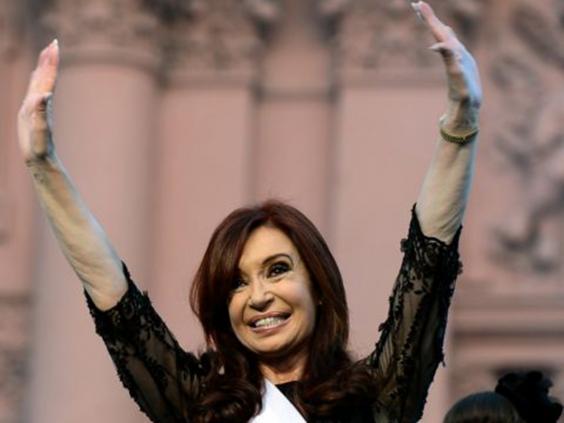 Enrique del Percio, a professor at a local Jesuit university, recalls that the Malvinas issue is the only one that unites all Argentines. It even brings warring football fans together when they break into Malvinas songs, especially the one where they all jump up and down and cry: "Whoever doesn't jump is an Englishman!" 
Regaining the islands was included as a national goal in the last constitutional reforms of 20 years ago.
It is a third member at the table, Luis Tibiletti, who served as Homeland Security Secretary under Nestor Kirchner, the late former president and husband of Ms Kirchner, who suggests one "very crucial" new factor has not come into consideration: the election as Labour Party leader of Jeremy Corbyn, who, he knows, has been less than clear on whether he would have sent troops to defend the islands in the 1982 war.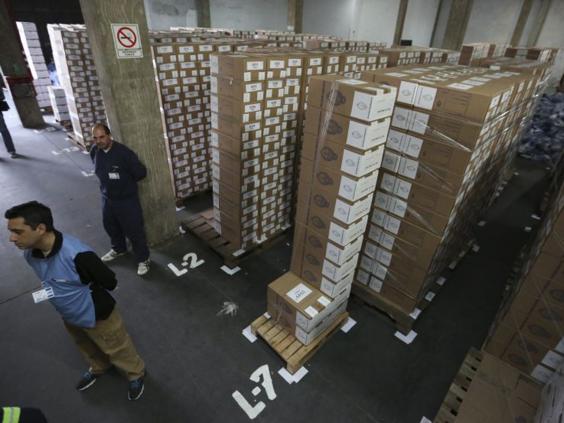 "Cristina is leaving so maybe the Argentine manners will change and maybe with the arrival of Mr Corbyn ... the manners of British Prime Ministers will change also," he offers with a twinkle that suggests he knows that this may be grasping at straws. 
He recalls that before the war, relations between Argentines and island residents were mostly cordial and that for years London and Buenos Aires had wrestled with compromise proposals, including one that envisioned a kind of shared sovereignty and so-called "double flagging".
"It is not impossible to resolve this," Mr Lopez suggests, inciting vigorous nods around the table. Not impossible, but difficult.
"If the politicians want it, they can make it happen," Mr Ochoa back at the protest camp insists. "But they are not talking right now."
Reuse content