Activists in Delaware have demanded an independent investigation into the fatal shooting by police of a paralysed man in a wheelchair who was carrying a gun and may have been trying to kill himself.
Police have claimed officers shot Jeremy McDole, 28, after he refused to obey their commands to show his hands and that he was killed as he began to remove a handgun from his waistband. His family has said the police could have used non-lethal force and that he was "shot like road-kill".
Video footage taken at the scene of Wednesday's incident in Wilmington, shows officers moving towards the man and shouting out commands. Mr McDole can be seen to move before shots ring out and he falls from the wheelchair.
Police shoot armed man in Wilmington http://t.co/jfGOS2XyPH pic.twitter.com/ltdYIkYHug

— The People's Report (@PeoplesReport) September 25, 2015
Police have said a new unit set up by state officials to try and instil public trust in the government is looking into the shooting, but the local chapter of  the National Association for the Advancement of Coloured People (NAACP) has called for an independent probe.
Richard Smith, head of the Delaware branch of the NAACP, said he did not trust the state officials to conduct a fair and impartial investigation.
"There've been so many shootings, and every time it comes out it was a justified shooting. We cannot continue having all our folks being shot and nobody held accountable," Mr Smith told the Associated Press.
"Every time there was a shooting, it came back justified shooting. Everything can't be justified."
The Wilmington City Police Department failed to respond to enquiries from The Independent.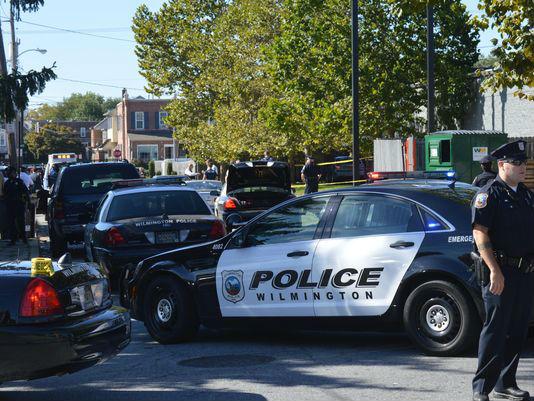 But Police Chief Bobby Cummings told the AP that Mr McDole, who was left paralysed by a shooting 10 years ago, failed to obey officers' commands to show his hands. He did not know if Mr McDole pointed the gun at any of the four officers.
"Only our thorough investigation will reveal that," said Mr Cummings, who said he did not know whether Mr McDole was depressed or suicidal, or why he might have shot himself. Police said they recovered a .38 calibre handgun next to his body.
The shooting is being investigated by the police department's criminal investigation and professional standards units, as well as the Delaware Department of Justice's Office of Civil Rights and Public Trust, which will determine whether any officers will be charged. The state agency investigates all police shootings that result in injury or death.
Mr McDole's mother, Phyllis McDole, described her son's shooting as "unjust."
"He was in a wheelchair, paralysed from the waist down," she said. "There's video showing that he didn't pull a weapon … I need answers."
She added: "This was murder. He shot my son like he was roadkill."
Reuse content