Two police officers have been shot in Ferguson, Missouri, during a protest outside the police station in the troubled St Louis suburb.
At least three shots rang out from the hill opposite the station, witnesses said, in the early hours of Thursday morning as numbers at the protest started to dwindle.
One of the officers was hit in the face, the other in the shoulder, in what St Louis Police Chief Jon Belmar described as "very serious gunshot injuries".
Neither officer was from the Ferguson police unit itself, Belmar said. He identified them as a 32-year-old officer from Webster Groves and a 41-year-old from St Louis County, and said both were conscious in hospital.
Journalist Bradley Rayford Witnesses described "three or four muzzle flashes" coming the crest of Tiffin Avenue Hill opposite the station - not from the group of peaceful protesters themselves.
Rifles drawn. Ferguson PD. pic.twitter.com/bX5YW78ZJ4

— deray mckesson (@deray) March 12, 2015
PHOTO: Officers take cover outside #Ferguson PD after two officers were shot. (credit: @bobhoehn_stl) pic.twitter.com/VawAaC5MiV

— Cassidy Moody (@CassFM) March 12, 2015
Two officers shot in Ferguson. First ambulance leaving from scene. pic.twitter.com/ihWLYzuwQX

— Bob Hoehn (@bobhoehn_stl) March 12, 2015
Second officer being loaded into ambulance. pic.twitter.com/BVwvla7azO

— Bob Hoehn (@bobhoehn_stl) March 12, 2015
Free-lance journalist @BradleyRayford said he saw 3-4 muzzle flashes from crest of Tiffin Avenue hill in #Ferguson. pic.twitter.com/Bxwx04IunH

— Paul Hampel (@phampel) March 12, 2015
Police ask few remaining protesters in #Ferguson to back away from yellow tape. "This is a crime scene," cop said pic.twitter.com/64zB5LGa3s

— Paul Hampel (@phampel) March 12, 2015
"Two cops were shot in Ferguson tonight," he wrote on Twitter. "I was standing close to them when they were shot. The bullets went right past [my] head."
As of 2.30am local time (7.30am GMT), a small number of protesters remained at the scene, held back by police tape and officers declaring "this is a crime scene".
Peaceful demonstrations have become routine at the police station on South Florissant Road, ever since the shooting of black teenager Michael Brown by Ferguson police officer Darren Wilson in August last year.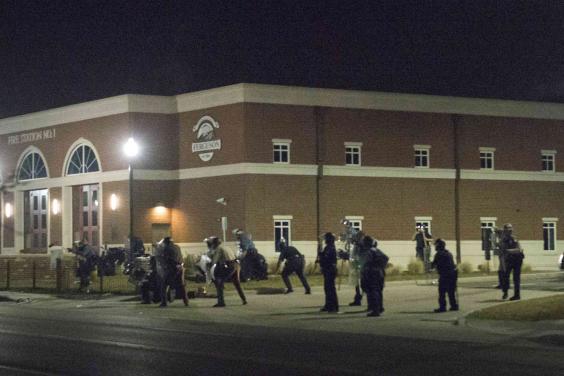 The latest incident came at the end of a day when Ferguson police Chief Tom Jackson announced he would resign his post effective 19 March, in the wake of a damning report from the US Department of Justice, which found evidence of systematic bias against Ferguson's black population in the city's police department and courts.
Jackson was the sixth employee to resign or be fired after a Justice Department report cleared white former Ferguson police officer Darren Wilson of civil rights charges in the shooting of 18-year-old Brown in Ferguson last summer. A separate Justice Department report found a profit-driven court system and widespread racial bias in the city police department.
Jackson oversaw the Ferguson force for nearly five years before the shooting that stirred months of unrest across the St Louis region and drew global attention to the predominantly black city of 21,000.
Jackson took nearly a week to publicly identify Wilson as the shooter and then further heightened tension in the community by releasing Wilson's name at the same time as store security video that police said showed Brown stealing a box of cigars and shoving a clerk only a short time before his death.
During a 12-minute news conference, Ferguson Mayor James Knowles III said Jackson resigned after "a lot of soul-searching" about how the community could heal from the racial unrest stemming from the fatal shooting last summer.
"The chief is the kind of honourable man you don't have to go to," Knowles said. "He comes to you when he knows that this is something we have to seriously discuss."
Ferguson police shooting
Ferguson police shooting
1/8 Ferguson police shooting

AP

2/8 Ferguson police shooting

The immediate aftermath of the shots being fired

AP

3/8 Ferguson police shooting

Later officers closed the area

EPA

4/8 Ferguson police shooting

It is thought that the shots came from a hill overlooking the station

AP

5/8 Ferguson police shooting

AP

6/8 Ferguson police shooting

AP

7/8 Ferguson police shooting

AP

8/8 Ferguson police shooting

EPA
The acting head of the Justice Department's civil rights division released a statement saying the US government remains committed to reaching a "court-enforceable agreement" to address Ferguson's "unconstitutional practices," regardless of who's in charge of the city.
A US law enforcement official said on Wednesday the Justice Department had not pressured or encouraged Jackson to resign during meetings with him but had also not resisted the idea. The official spoke on condition of anonymity because of the ongoing meetings between the Justice Department and the police department.
Besides Jackson, Ferguson's court clerk was fired last week and two police officers resigned. The judge who oversaw the court system also resigned, and the City Council on Tuesday agreed to a separation agreement with the city manager.
Additional reporting by AP
Reuse content