A building of an Islamic centre is destroyed after a suspected arson attack, that investigators believe could be a hate crime.
A fire broke out at around 5am on Friday at the Quba Islamic Institute in Houston, Texas, just two days after three young Muslims were shot dead in Chapel Hill, near the University of North Carolina.
In pictures: the Chapel Hill shooting
In pictures: the Chapel Hill shooting
1/8 Chapel Hill shooting

Deah Barakat (centre)

2/8 Chapel Hill shooting

Deah Barakat posted this image to Facebook writing: 'Tonight we provided free dental supplies and food to over 75 homeless people in downtown Durham'

3/8 Chapel Hill shooting

A 46-year-old man, named by police as Craig Stephen Hicks, has been arrested on suspicion of three counts of first-degree murder

Chapel Hill Police

4/8 Chapel Hill shooting

Deah Barakat, pictured here with his wife Yusor, was a keen basketball player

5/8 Chapel Hill shooting

The victims of the shooting, from left to right: Deah Shaddy Barakat, 23, his wife Yusor Mohammad, 21, and her sister, Razan Mohammad Abu-Salha, 19

6/8 Chapel Hill shooting

Deah Barakat was a dental student at UNC who worked for a charity giving dental care to Palestinian children and refugees

7/8 Chapel Hill shooting

Deah Barakat and his wife Yusor at an American football match

8/8 Chapel Hill shooting

One of the victims, Razan Abu-Salha, pictured in a post by Deah Barakat describing her as 'the best third wheel ever'
The incident appears to be the latest attack on followers of Islam in the US following the murders of newly-wed couple Deah Barakat and Yusor Mohammad Abu-Salha, and her sister Razan Mohammad Abu-Salha.
An investigation monitored by the FBI has been launched to find out how the blaze started in one of the three buildings at the centre, according to Reuters.
Computers and renovation materials were reduced to cinders and the roof started to cave in. No one was hurt in the attack.
Around $100,000 (£65,000) worth of damage was caused according to Ahsan Zahid – the 25-year-old son of the imam at the institute, where prayer sessions and events for children are often held.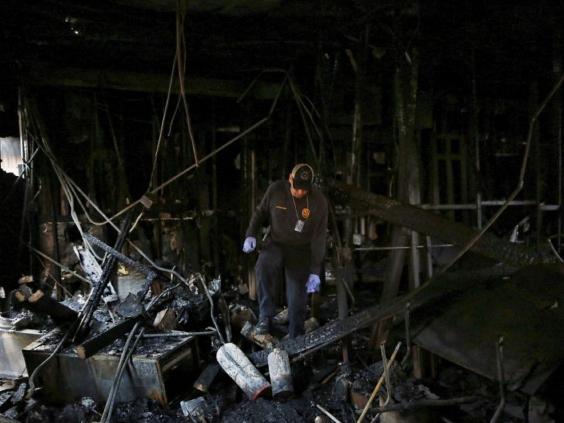 Investigators and Houston Fire Department crews said that they suspect the fire was not an accident and that the centre was likely to have been the target of a hate crime.
The day before the attack, a man drove by the institute yelling, chanting Arabic phrases and repeating the name of Allah in a mocking way, Zahid said according to Reuters.
Earlier in the week, a man who had his face covered and was acting suspiciously had to be chased away from the property.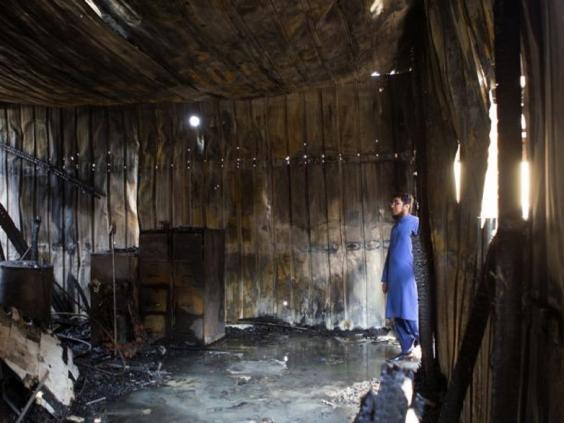 Zahid, in a video posted on the Quba Islamic Institute's Facebook page, said: "Now the investigation is going on, we want to make sure that we do not point fingers at anyone, blame anyone or spread hate towards any group, whether they be Muslim, whether they be non-Muslim, whatever they are.
"We want to love everyone, we want support and we want help and get better through this, inshallah."
The suspect of the Chapel Hill shooting, Craig Hicks, was said to have been angered over a parking dispute.
However, commentators and family members of the victims said they believe the staunch self-proclaimed anti-theist was motivated by race and religion.
The father of the killed women said: "This was not a dispute over a parking space; this was a hate crime."
The FBI say that hate crimes – which are partly or fully motivated by race, religion, disability or sexual orientation bias – carry far harsher penalties.
Reuse content