A one-year-old baby has died in New York state after drinking from what is thought to have been an e-cigarette refill bottle, prompting calls to change how the liquid nicotine products are presented.
The death was described by local police as a "tragic accident", and is thought to be the first to involve a child and e-cigarettes.
An ambulance was called to a home in Fort Plain, New York, to reports of an "unresponsive" child last Tuesday, ABC News reported. He was rushed to hospital, but pronounced dead a short while later.
In a statement, Fort Plain police's Sgt Austin Ryan confirmed that the child had drunk from a glass bottle containing liquid nicotine that did not have a childproof cap. Officers declined to say whether or not the liquid was linked to e-cigarette use.
But the death has prompted a huge backlash in the state, where the local assembly and senate have already passed a bill requiring child-resistant containers on liquid nicotine. Governor Andrew Cuomo is yet to sign through the bill, but is expected to do so by the end of the month.
Among the chief concerns is that many e-cigarette refills are marketed in a very similar way to fruit juices and sweets, inadvertently making them attractive to children.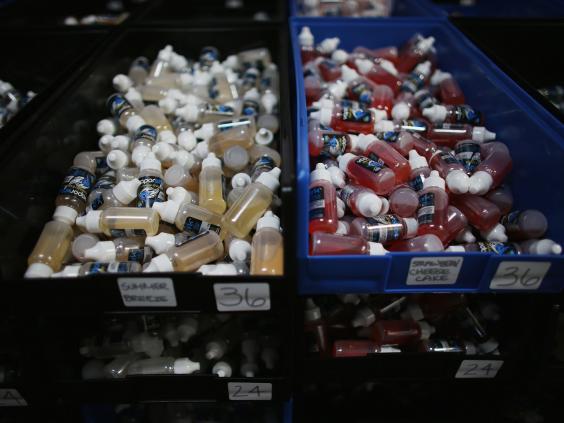 "We certainly know that liquid nicotine is toxic," Judy Rightmyer, director of the Capital District Tobacco-Free Coalition, told Albany's Times Union newspaper. "They are marketing this liquid nicotine in candy and fruit flavors, so they can be appealing to young people. And with no childproof caps on them, they're lethal, as we unfortunately saw."
Reported incidents of exposure to liquid nicotine have risen in the US from 271 in 2011 to 3,638 this year to 30 November. In a statement released on Friday, the American Association of Poison Control centers expressed concern that there are "currently no standards set in place that require child-proof packaging".
According to the US Centers for Disease Control and Prevention (CDC), more than 16 million children across 10 states and the District of Columbia have legal access to electronic cigarettes.
Since 2010, a total of 40 states have banned e-cigarette sales to those under 18. Health officials say that the underage use of e-cigarettes is concerning because nicotine can be addictive and harm adolescent brain development.
Reuse content