On 10 April, Barack Obama ended a political stalemate that has lasted half a century when he shook hands with President Raúl Castro of Cuba.
The President described the meeting, which was almost universally hailed as a positive breakthough, as "historic" – but not everyone was pleased.
The not-quite-presidential-candidate and accidental Latino, Jeb Bush, took to Twitter to ask: "Why legitimize a cruel dictator of a repressive regime?"
In pictures: Timeline of US and Cuba relations
In pictures: Timeline of US and Cuba relations
1/19 Cuba timeline

July 1953: Fidel Castro begins a revolutionary campaign against the regime of Cuban President Fulgencio Batista

2/19 Cuba timeline

January 1959: Castro and Che Guevara enter Havana after a successful final offensive. Batista flees, and Castro becomes prime minister, ruling by decree

3/19 Cuba timeline

October 1960: Castro's reforms sees hundreds of US businesses in Cuba nationalised and their owners not compensated. In December, US US breaks off diplomatic relations and imposes a trade embargo

4/19 Cuba timeline

April 1961: Cuban exiles launch the Bay of Pigs invasion with US backing

5/19 Cuba timeline

October 1962: A 13-day confrontation known as the Cuban missile crisis begins when Castro allows the USSR to deploy nuclear missiles on the island. Generally regarded as the closest the world has come to nuclear war

6/19 Cuba timeline

1962: US President John F Kennedy signs off a naval blockade

Getty Images

7/19 Cuba timeline

April 1980: A sharp downturn in the Cuban economy and Castro temporarily lifting restrictions sees around 125,000 people, many of them released convicts, flee to the US

8/19 Cuba timeline

February 1996: Cuba shoots down two US aircraft operated by Miami-based Cuban exiles, prompting the US to make its trade embargo permanent

9/19 Cuba timeline

June 2001: The case of the "Cuban Five" begins, as five spies in Miami are convicted of providing intelligence to the Havana government

10/19 Cuba timeline

Nov 2001: US sells $30m of food to the Cuban government to assist in the aftermath of Hurricane Michelle, which killed 22 people, the first food export between the countries for more than 40 years

11/19 Cuba timeline

Oct 2003: US President George W Bush announces fresh anti-communist measures, including tightening the travel embargo and creating a new government body, the Commission for Assistance to a Free Cuba

12/19 Cuba timeline

Aug 2006: President Bush seizes the opportunity of President Castro's illness and a handover of powers to Raul Castro, urging Cubans to work towards democratic change

13/19 Cuba timeline

Feb 2008: Raul Castro officially takes over as president. Washington responds by saying its trade embargo will remain in force unless free and fair elections are held

14/19 Cuba timeline

Dec 2008: A poll by Florida International University suggests for the first time that a majority of Cuban-Americans living in Miami want an end to the embargo

15/19 Cuba timeline

April 2009: President Obama lifts restrictions on family travel to Cuba

16/19 Cuba timeline

Dec 2009: US aid worker Alan Gross is detained in Cuba on suspicion of spying for Washington

AP

17/19 Cuba timeline

Nov 2010: American Ballet Theatre performs in Cuba for the first time in 50 years, the most high-profile in a series of cultural exchanges

18/19 Cuba timeline

Sep 2012: Cuba hints at its willingness to do a deal with Washington on the Gross case

19/19 Cuba timeline

December 2013: President Obama and Raul Castro shake hands at the memorial service for Nelson Mandela. Castro says in English: "Mr President, I am Castro." It was hailed in Cuba as "the beginning of the end" for what were then described as "US aggressions"
Rather than asking his 175,000 followers this question, Jeb could have looked for answers closer to home, starting with his brother, George W, who met with repressive regimes on more than one occasion...
King Abdullah of Saudi Arabia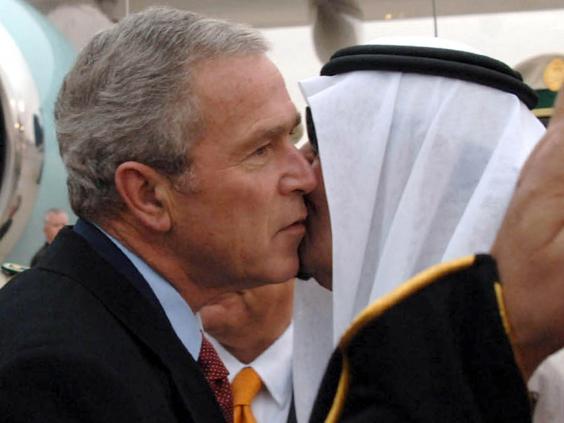 The relationship between the Bush family and the House of Saud is well documented but still unsettling, given the Saudi Royalty's penchant for fundamentalism and abusing power.
During his presidency Bush met with King Abdullah of Saudi Arabia many times and was papped in a number of intimate situations with the man.
The king ascended to the throne in 2005. During his reign he set up a secretive committee to ensure the transfer of power within the family, oversaw the Al-Yamamah arms deal and imprisoned hundreds of reformers during the Arab Spring.
Ilham Aliyev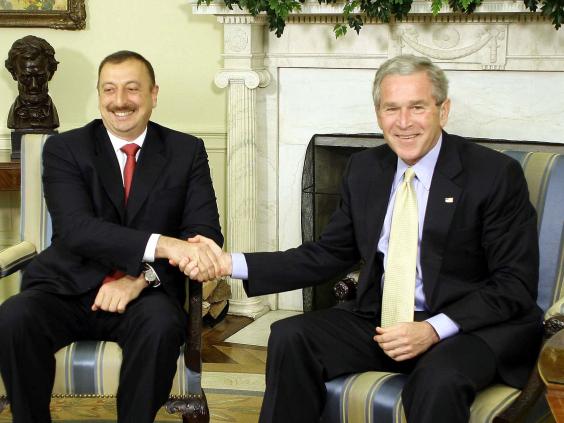 In 1996 Governor Bush made Ilham an honorary Texan for all the good work he did allowing US oil companies into Azerbaijan.
Their relationship remained on good terms when Aliyev was voted to replace his ex-KGB father in 2003. Non-government organizations were banned from monitoring the votes and the election was widely held to be corrupt.
Secretary of State Donald Rumsfeld visited Azerbaijan six weeks after the election and toasted his victory.
Years of human rights abuses failed to make Bush rethink his friendship with Aliyev. When he was re-elected in another corrupt election in 2008, Bush congratulated him and said: "We support Azerbaijan's efforts directed in strengthening democratic institutions."
Hosni Mubarak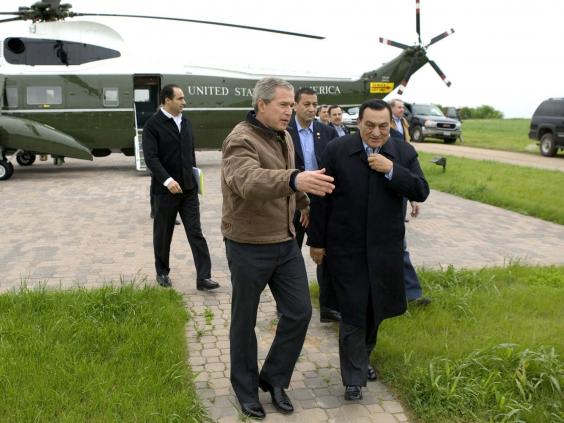 Mubarak had been in power for nearly thirty years before he was ousted during the 2011 Arab Spring.
After the Egyptian uprising, Human Rights Watch said that torture and police abuse under Mubarak were one of the main factors in the protests.
Between 1993 and 2008 there were 460 reported cases of torture and 167 deaths due to ill-treatment.
When Bush met Mubarak in 2008 he said ""I appreciate the example that your nation is setting."
General Pervez Musharraf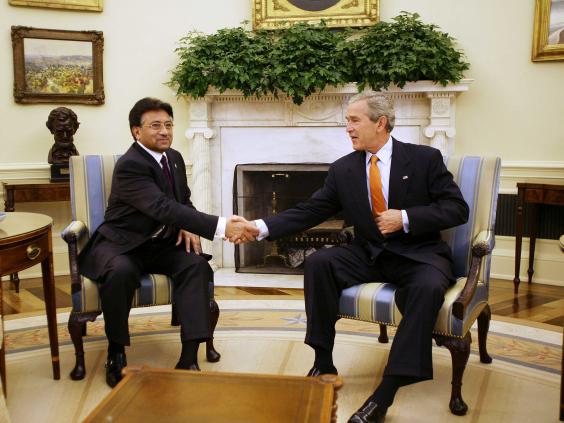 General Pervez Musharraf took control of Pakistan in a coup. He suspended constitutional rule twice during his time in office and ordered the detention of 10,000 critics. He has been charged with involvement in the murders of a Baloch leader and Pakistan's former prime minister, Benazir Bhutto.
George W managed to look past all this, though, calling the general "a leader with great courage and vision". Bush stayed a night in Pakistan at the general's request and invited him to Camp David in 2003.
Islam Karimov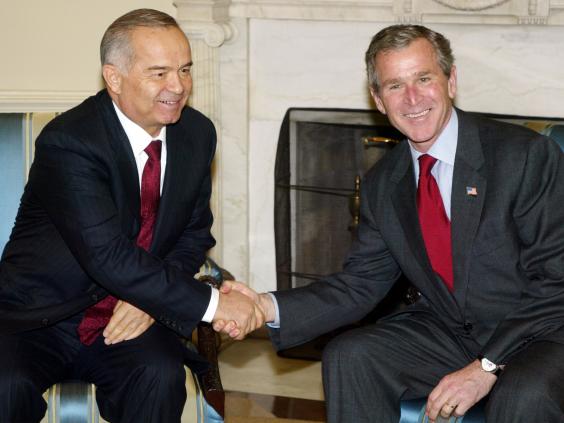 For many years the US condemned Islam Karimov's regime in Uzbekistan. The country's economy relies heavily on child and forced labour and its security service is infamous for its brutality and widespread powers. 
All that changed after 9/11 and in 2002 Bush pledged $500m in aid to Uzbekistan, $79m of which went to the security services.  Bush went on to sign a declaration of support for Uzbekistan's law enforcement agencies.
Reuse content