The candidate isn't quite pinching bums, but he is an Olympic flirt.
To the blonde who tells him she's running for the local school board for a third term: "You must have been 18 when you ran the first time". To the brunette making a bid to be a Justice of the Peace: "It would be fun to be sentenced by someone looking like you do."
Yet, this being Louisiana, no one is taking offence. Edwin Edwards, who has stopped by a volunteer fire station on its annual open day, might as well have "scoundrel" branded on his age-mottled brow. And his being a ladies' man is the least of it. Of all the races about to unfold in the midterm congressional elections in the United States this one surely stands apart just because of his presence on the ballot. Unexpected might be the right word. Or is it deluded?
Running to be the next US Congressman from Louisiana's Sixth District, a ragged horseshoe of bayous, small towns and refineries stretching east and south from Baton Rouge, Mr Edwards does have some things going for him, not least name recognition – he was Governor of the state four times between 1972 to 1996.
And he can still draw a crowd, frequently obliging the organisers of small local events he attends to find larger venues at the last minute. But this new bid for office might seem like, well, a stretch. Consider the difficulties. He has just turned 87. He has five children, four of whom are over 60 years old while the youngest, Ely, is barely one. He had the little one with his new wife, Trina, a blonde Republican 51 years his junior who became a pen pal with him during his recent 8.5 years spent in federal prison. They married in the French Quarter in New Orleans upon his 2011 release.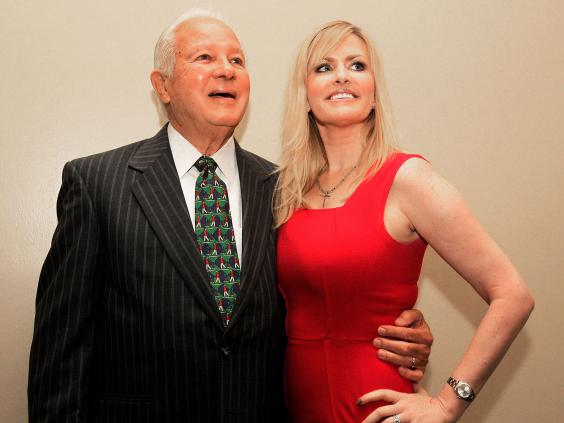 "Of course it's a stretch," Mr Edwards says an interview in the fire station's rec room. He is a little deaf but he still charms with his mahogany eyes and Cajun lilt, reaching when he can for those little phrases that have made him famous over the years, as during the 1991 governor's race that pitted him against the former Ku Klux Klan leader David Duke.
"We do have one thing in common," he tells a reporter. "We are both wizards under the sheets." With this correspondent there is his observation that his third and presumably last marriage has bestowed fresh energy on him: "You are only as young as the woman you feel."
But it's the penitentiary thing that might normally make his candidacy seem preposterous. Variously nicknamed the Silver Fox and the Silver Zipper, Mr Edwards was accused of malfeasance by the feds 24 times during his career on assorted corruption charges but managed always to come up roses even if that meant long and distracting trials. But then the feds prevailed and he was sent to prison in 2002 after being convicted of fraud, racketeering, money laundering and extortion in connection with the awarding of a riverboat gambling licence.
He was 75 when he went behind bars and if most Americans didn't assume that Louisiana's last great populist Governor was going to die there, they surely thought his political career was over. He didn't. "I am a very stoic person. I told my children, 'don't worry, I'll survive, I am not going to die here. My creator has not finished with me'. I spent my time in prison not whining and complaining and wringing my hands in despair."
Actually he continued to be a politician, ingratiating himself to other prisoners, teaching some to read.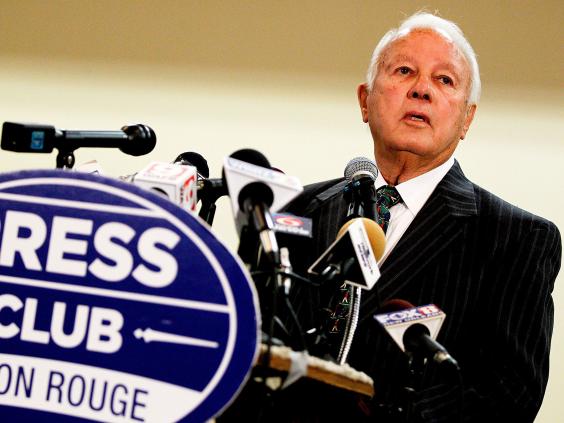 Press Mr Edwards and he'll admit that what he'd really like to do is run next year to replace the current Governor, Bobby Jindal, at the of his second term. Even some Republicans say that that's a race Mr Edwards could win. He would be a blast from the state's populist past and an antidote to Mr Jindal's Republican, right-wing rectitude.
"He'd probably win hands down because everyone knows that those charges against him were all trumped up," says Jerry, a large man in his seventies, who is also at the fire station and a long-time friend of the Governor. He can't give his full name: "I'm on too many committees." 
Like others, he notes that everything Mr Edwards was accused of doing at trial occurred after he left office for the last time. Beside him, the aspiring Justice of the Peace who had caught his eye earlier, Lynelle Johnson, agrees. "He's an icon of Louisiana. He'd be governor again in a heartbeat."
He has a problem, though. Soon after Mr Edwards' incarceration, the state passed a new law barring convicted felons from running for governor for at least 15 years after concluding their time. That would mean his waiting until he is 99. He says he was "flattered" by the law's passage and that he may yet see if there is a legal way to challenge it. But for now, going to Washington is the only route back to office and the limelight. He was first elected in 1965. He would be returning exactly 50 years later.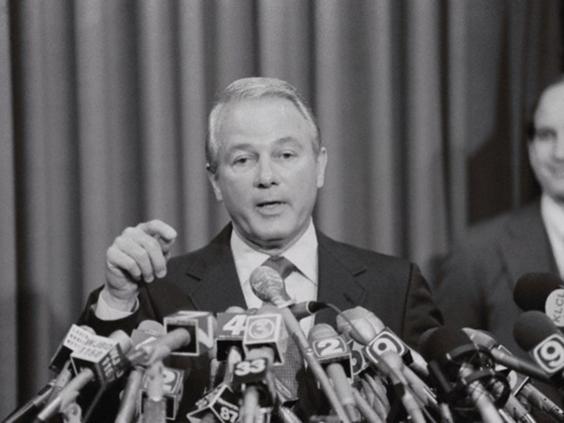 "Not only would Edwards return to Congress after half a century but he'd be accompanied by a woman the same age as the one he was married to in 1965," James Carville, the legendary Democrat consultant from this state, told New York magazine. "He comes out of prison, and he's not only not bitter but he's got a beautiful young wife and brand-new baby. Talk about carrying your punch into the late rounds! What's not to like about that story?"
To win, Mr Edwards must divide his Republican opponents and win more than 50 per cent of the votes on 4 November. But this is a conservative district that went heavily for Mitt Romney two years ago. More likely, under Louisiana rules, is a scenario where he fails to get beyond 50 per cent and is forced into a run-off vote in early December. Defeating whoever comes out of the mix as his sole Republican foe will be a very tall order.
In the more than 20 elections he has fought for a variety of offices, he lost only once (to Buddy Roemer for governor in 1988) so you have to ask, why risk that record now? "Because it is what I feel like doing. I have been in public service all my adult life. I like to think I was a successful public servant," he says, adding that it has nothing to do with getting past his prison time. "I don't consider that I am looking for redemption, because I know what I did and didn't do. Nothing that I was charged with or convicted of has anything to do with my career. Nothing." 
Maybe his style of politicking should never have been allowed to go out of style and Mr Edwards is just what Washington needs to get past its constant state of partisan gridlock. "I told a fella, 'don't worry, old man, I can't make it any worse, I may make it a little bit better'. I am good at that. I am the kind of guy who can sit with people, in principle compromise and work things out. That's what politics is all about, isn't it?" That, and flirting on the hustings.
Reuse content