The coastal Massachusetts town of Gloucester was in the middle of a quiet Friday evening this March when a phone call disturbed the police chief relaxing at home. Another deadly heroin overdose had just hit the city, the chief learned. It marked Gloucester's fourth that year. Leonard Campanello put down the phone. He turned the grim math over in his head — four deaths, three months, in a city of 30,000 people.
Then Campanello, a stout commander who more growls than talks, stood up and rumbled over to the computer. He's the sort of police chief who maintains an active presence on social media. He posts frequent "Gloucester Police Chief Updates" — episodic fireside chats delivered from his desk — to the police department's Facebook page. Most of those remarks barely ripple — a dozen 'likes' at most.
But that was about to change. "Since January of this year, we have responded to dozens of opiate-related overdoses and, unfortunately, the City has seen 4 deaths in this time that are heroin related," he wrote, adding: "4 deaths is 4 too many." Then in a moment Campanello now recalls as extemporaneous, he continued. "If you are a user of opiates or heroin, let us help you. We know you do not want this addiction. We have resources here in the City that can and will make a difference in your life. Do not become a statistic."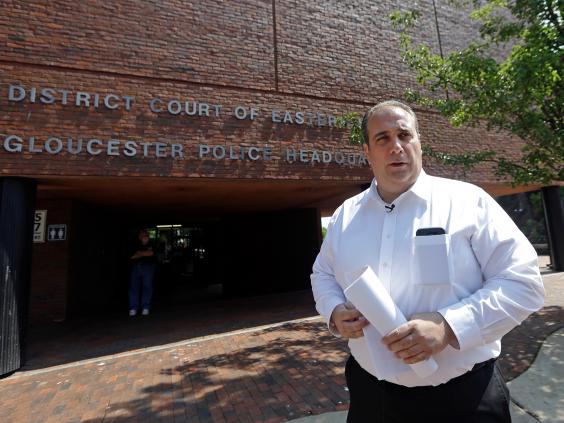 The response was staggering. The post collected 1,226 "likes" and more page views than there people in the city. It was then Campanello knew he was onto something. The community, he said, was hungry for different ideas. The number of heroin-related overdoses quadrupled between 2002 and 2013, when more than 8,200 people died, according to the Centers for Disease Control and Prevention. The trend has hit Massachusetts — and Gloucester — especially hard.
"The war on drugs is over," Campanello said in an interview. "And we lost. There is no way we can arrest our way out of this. We've been trying that for 50 years. We've been fighting it for 50 years, and the only thing that has happened is heroin has become cheaper and more people are dying."
So he started making calls. He got in touch with the local mayor. He wanted to talk about a plan that experts say is unique across the country — and would ultimately bring a national debate over the criminalization of addicts to this small, coastal town. It was simple, Campanello said. He didn't want to arrest more drug addicts battling what he calls the "disease of addiction." He'd been doing that for too long. Seven years he spent as a narcotics officer, watching drugs or the system swallow families.
Instead, he said, he wanted to turn Gloucester's police station into an oasis of amnesty in the drug addict's perilous world. No heroin addict who entered the police seeking help — unless they had outstanding warrants — would face charges or arrest. Even if they toted their drugs and paraphernalia. Instead, they would get help. "Our argument was you don't cut off the head of the snake," he said. "You cut off its food chain."
In another Facebook post in early May, he laid it out. "Any addict who walks into the police station with the remainder of their drug equipment (needles, etc) or drugs and asks for help with NOT be charged," he wrote. "Instead, we will walk them through the system toward detox and recovery. We will assign them an "angel" who will be their guide through the process. Not in hours or days, but on the spot."
No one was quite sure what would happen. Think about it, said communications director John Guilfoil. The chief was asking a bunch of addicts who until that point had violated the law to suddenly walk into the police station — armed with drugs. It was crazy. It was madness. It worked.
The post collected more than 30,000 "likes," an additional 30,000 shares and millions of clicks, the chief said. Things then happened fast. The force opened a non-profit called the Police Assisted Addiction and Recovery Initiative. Addicts started flooding the police station — dozens of them. And reporters arrived to a curious sight of cops greeting addicts rather than charging them.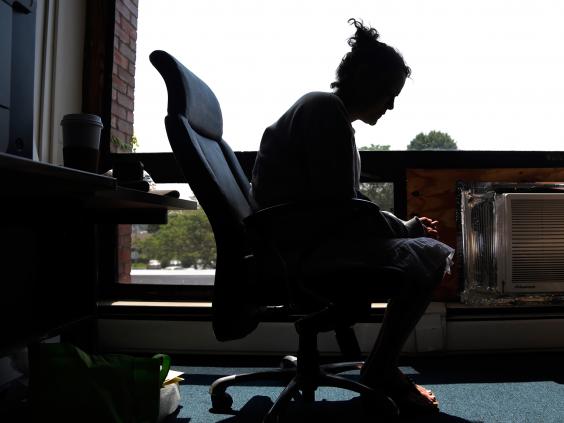 "A reporter asked one of my officers last night, 'Do you see a common thread in all addicts?' one Facebook post said. "Without hesitation, the officer responded: 'Absolutely. They're all human beings."
The chief approached a local CVS to talk about a drug that reverses overdoses.  Nasal Narcan administers a burst of a drug that binds with the brain's opiate receptors and can reverse an overdose. Without insurance, it costs $140. But Campanello told the CVS about the agency's new program, and it lowered the cost to $20 per pack. He then started providing it to the addicts for free. "The police department will pay the cost of the Nasal Narcan for those without insurance," Campanello wrote in a post. "We will pay for it with money seized from drug dealers during investigations. We will save lives with the money from the pockets of those who take them."
So far, Campanello said, 109 addicts have sought help at the police station. And some traveled a long way for it. One in six came from out of state. One person even journeyed from California for help. Those who showed up have been young. Eighty percent of them, in fact, were younger than 30.   Many later vanished into 20 centers across six states as part of what the station now calls the "Gloucester Initiative" — a non-profit that also links addicts with free detox and recovery services.
Drug addiction, overdoses, and a very brief history of Heroin
Drug addiction, overdoses, and a very brief history of Heroin
1/14 Heroin – the chemical name for which is diacetylmorphine – was originally synthesized by British chemist C.R.Alder Wright (pictured overleaf) in 1874, by adding two acetyl groups to the molecule morphine, which is naturally found in the opium poppy.

2/14 Bayer, the German pharmaceutical company behind Alka-Seltzer and Aspirin, bought the rights to diacetylmorphine, marketing it under the name "Heroin" in 1895 because early testers said that it made them feel "heroisch" or "heroic".

3/14 By 1898, it was ready for mass marketing. It was originally sold as an over-the-counter cough suppressant that didn't have problematic side effects, like addiction (the irony) - while alternative treatments morphine and codeine did. This was before they realised that, when taken into the body, it actually converts into morphine, and is ferociously addictive. Thus defeating the object and defining what was to become a historically embarrassing moment for the company in later years.

4/14 By 1899 Bayer was producing a ton of Heroin and exporting the drug to 23 countries, while free samples sent to doctors and studies appeared in medical journals. It was also around this time that early reports of addiction began to surface. The company wisely released Aspirin this year, which would go on to become one of the most popular and widely used pain relief drugs in the world.

5/14 US medicines containing heroin were available over the counter from 1907, after the American Medical Association gave it its stamp of approval.

6/14 As Heroin dependency became a torrent and overdoses began to be reported, Heroin was made illegal to obtain without a prescription from a doctor in the US in 1914. Bayer lost some of its trademark rights to Heroin and Aspirin under the Treaty Of Versailles in 1919, after the German defeat in World War I.

7/14 In the early 1920s, a number of addicted users in New York supported themselves by collecting and selling scrap metal retrieved from industrial dumps. It was from this that the label "junkies" was born. The behavior of Heroin addicts was soon, however, to cause a concern to the public and the authorities. In 1924, it became completely illegal, and doctors were told they could no longer prescribe the drug.

8/14 By this point, Heroin had become popular among creative industries. Pictured left is famed actress Jeanne Eagels, who died of a Heroin overdose in 1929. Its outlawed use had pushed manufacturers underground, and the purity of the product illegal traders now used varied in quality.

9/14 In the UK, the Rolleston Committee Report in 1926, illegal Heroin dealers were prosecuted, but doctors could prescribe diacetylmorphine to users when they were withdrawing from it, if it would cause harm or severe distress to the patient to go without it. This would be the law until 1959 when the number of diacetylmorphine addicts doubled every 16 months between 1959 and 1968.

10/14 The Brain Committee recommended that only selected, specially approved doctors at specialized centres were allowed to prescribe diacetylmorphine to users in 1964. The law was further restricted in 1968, and by the 1970s, the emphasis shifted to encouraging abstinence and the use of substitute methadone.

11/14 In the 1980s, the UK experienced a surge in Heroin supply because of a sudden cheap influx from Pakistan (the main supplier had been – and is now – Afghanistan). Cues from popular culture – and a social downtown caused by the economic and industrial crisis in the late 1970s – created the perfect environment for the Trainspotting generation.

12/14 In the 1990s, Heroin use was again popularized by the rise of grunge and Britpop, while the emergence of 'the waif' in fashion, of which Kate Moss is often cited as the originator, would give rise to the term 'Heroin chic'. In 1994, the Swiss began to trial a diamorphine maintenance program for users who had failed multiple withdrawal programs. It aimed to maintain the health of the user, by discouraging the use of illicit street Heroin. It was deemed a success.

Kate Moss and Johnny Depp, together in 1994

13/14 Today, the largest producer of opium, needed to create Heroin is Afghanistan. This is closely followed by Mexico, who increased their rate of production sixfold between 2007 and 2011. Diacetylmorphine is a controlled, Class A substance in the UK, but continues to be used in palliative care for the treatment of acute pain, such as in severe physical trauma, post-surgical and chronic pain, as well as relieving sufferers of terminal illnesses.

14/14 Key figures continue to campaign for greater sympathies and better treatment of Heroin addicts as they attempt to rehabilitate themselves and re-enter society. Russell Brand's Give it Up Fund, run in conjunction with Comic Relief, aims to provide financial aid to help people remain free from substance abuse by setting up support groups. "It's integral that people entering a life of abstinence after the chaos of addiction have stability, support and a role to play in the wider community," he said.
Other cities have taken note of the unusual initiative. Three cities in Massachusetts will soon launch programs based on Campanello's. The same goes for two more cities in Illinois. But for now, according to John Rosenthal, co-founder and chairman of the newly-founded non-profit, Gloucester remains the only town in the nation offering this kind of service.
It's too early to determine the program's success. It's too early to know whether more addicts will come. But it's not too early, Campanello said, to hope. Heroin killed four Gloucester residents in the first three months. How many have died since? Campanello was fast with the answer. "Just two," he said.
©Washington Post
Reuse content