Colorado is getting ready to become the first state in the US to allow anyone over the age of 21 to buy marijuana over the counter from New Year's Day.
At the 14 licensed retail shops, 17 growers and three makers of cannabis-infused products, last minute preparations are being made for an expected rush in sales after the permits were issued only on Friday.
The state is already covered in pot shops as, like in California, sale of the drug for medical use has been legal for a number of years - at one point the city had more marijuana dispensaries than Starbucks coffee shops.
Only existing stores with medical licenses have been allowed to transition to holding recreational ones, in an apparent effort to prevent the further growth of the cannabis shops
"I think it's about time that adults can imbibe in marijuana," said Donald Andrews, who works at one of the newly licensed retail shops, LoDo Wellness Center in downtown Denver.
"We are building an impressive showcase for the world, to show them this is an industry," said Andy Williams, owner of Medicine Man, who is preparing for the expected boost in sales by filling a new warehouse with 40,000 square feet (3,700 square meters) of cannabis strains.
"It's going to be all white and beautiful," added Mr Williams, a 45-year-old ex-industrial engineer. The two floors of growing rooms will have windows showing shoppers in the connected store how the plant is grown.
Colorado residents voted for the legalisation of recreational cannabis use in 2012, but had worried that the federal government would sue to block laws flouting federal drug law.
Colorado Gov. John Hickenlooper famously warned residents not to "break out the Cheetos or Goldfish too quickly," and activists predicted a legal showdown.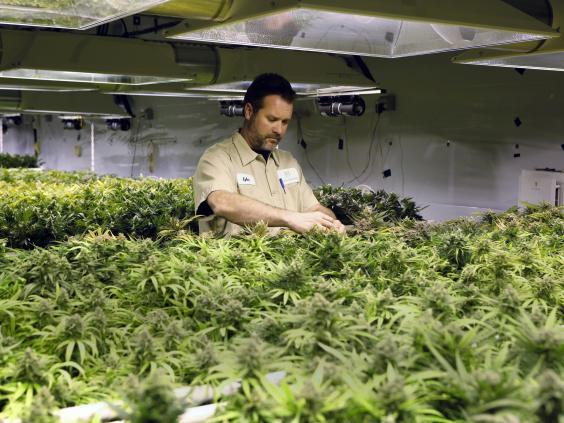 But that didn't happen and in August, the Department of Justice said it wouldn't sue so long as the states met an eight-point standard that includes keeping pot out of other states and away from children, criminal cartels and federal property, paving the way for over the counter sales for all.
"These are big businesses that have been operating in good standing in our city for a long time," said Amber Miller, spokeswoman for Denver Mayor Michael Hancock.
Closely watching what the New Year will bring for Colorado will be Washington state, the only other to allow recreational pot use by adults, which plans to have stores open by the late spring of 2014.
Further reading:
Mile high city: Inside Denver's billion-dollar marijuana industry
As Colorado welcomes legal marijuana, The Denver Post has appointed a 'weed editor'
Reuse content