A guide dog has been hailed a hero for trying to save the life of its blind owner by jumping on to the tracks at a Manhattan underground station as a train was approaching.
Cecil Williams had been travelling to visit the dentist when he began to feel unwell at the subway platform.
Mr Williams, 61, and black labrador-retriever Orlando escaped serious injury when Orlando tried to stop him from falling by barking frantically as Mr Williams lost consciousness and fell in front of an oncoming train.
The pair survived when two of the train carriages passed over the top of them by lying between the tracks. 
Speaking from his hospital bed, Mr Williams said Orlando had been trying to hold him up before he fell.
"The dog saved my life," Mr Williams told The Associated Press. "(He) gets me around and saves my life on a daily basis."
Witness Matthew Martin told the New York Post Orlando jumped down and tried to rouse Mr Williams after he fell despite the approaching train.
"He was kissing him, trying to get him to move," Mr Martin said.
Commuters called for help and the train driver slowed his approach as Mr Williams and Orlando lay in the trench between the rails.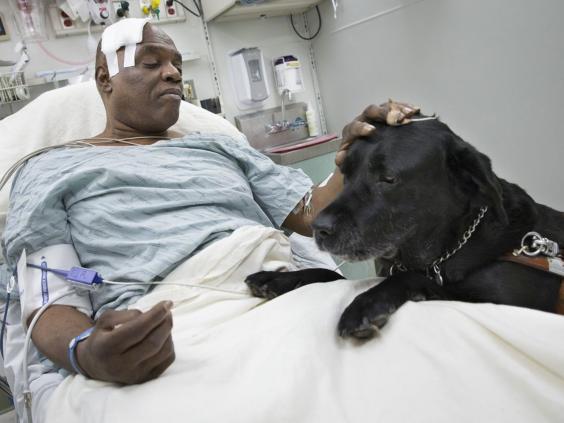 Mr Williams then regained consciousness and emergency crews put him on a stretcher and pulled him from the station. He sustained a minor head injury. Orlando was completely unhurt in the incident.
"I'm feeling amazed," he said. "I feel that God, the powers that be, have something in store for me. They didn't take me away this time. I'm here for a reason."
Mr Williams was treated at St Luke's Hospital in New York where Orlando remained at his bedside. He said he was not sure why he lost consciousness, although he is taking insulin and other medication.
Mr Williams, of Brooklyn, has been blind since 1995 and Orlando is his second dog. Eleven-year-old Orlando will be retiring soon. Sadly, Mr Williams said his health insurance will not cover the cost of a non-working dog, and he will soon be looking for a home for him.
If he had the money, Mr Williams said, "I would definitely keep him.
Additional reporting by Associated Press