Speculation is growing that a dispute one of the largest divorce awards on record in the US could finally be settled after the ex-wife of Oklahoma oil magnate Harold Hamm allegedly deposited a handwritten $975 million (£645 million) cheque.
Arnall, 58, deposited the cheque after earlier this week declining the payment and pledging to pursue her appeal of a ruling in the divorce of oil tycoon Harold Hamm she considered unfair, Reuters reports.
The $974,790,317.77 figure on the cheque, which was available to cash immediately, was so big it barely fits on the paper.
The cheque represents the entire remaining balance of what Mr Hamm owes Ms Arnall based on the November ruling, including interest.
Mr Hamm's divorce lawyer, Craig Box, said he believes Arnall's deposit of the cheque will end her efforts to appeal the case.
"We have received confirmation that the cheque was deposited in an Oklahoma City bank," Mr Box said. "We feel this is the end of the case from her perspective. It means she's done and should dismiss her appeal."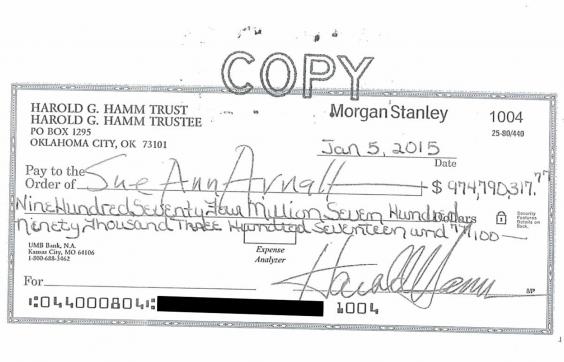 A person familiar with the case confirmed the deposit, according to Reuters. Arnall could not be reached directly for comment. It was not clear whether she intends to pursue an appeal after the cheque clears.
Arnall, a lawyer and former Continental executive who was married to Hamm for 26 years, had initially rejected the sum and contended his fortune was worth around $18 billion (£11.8 billion).
Hamm claims he lost billions in the value of his 68 per cent stake in the drilling company Continental after the recent fall in US oil prices.
In an appeal document, Arnall contended a trial judge wrongly allowed Hamm to keep more than 90 per cent of the wealth the couple accrued during their marriage.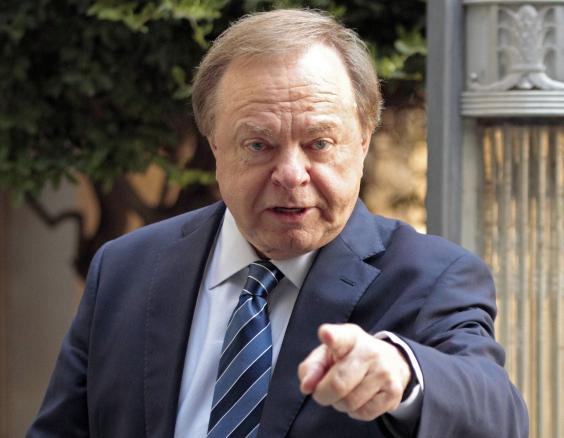 Although Hamm owned Continental before the marriage in 1988, the value of his shares surged 400-fold during the union. Arnall has been seeking a multi-billion dollar portion of those gains.
Hamm's defence had sought to show that his company's growth during the marriage resulted mostly from "passive" factors beyond his control, such as rising oil prices.
Under Oklahoma law, only the growth in wealth stemming from the active efforts and skills of either spouse during the marriage is split in a divorce. Arnall argued that Hamm's deft management of the firm led to its growth.
Hamm has already paid Arnall more than $20 million (£13 million) during the case, and the parties have spent millions in legal fees.
Reuse content