An expedition to locate the legendary 'City of the Monkey God' has announced the discovery of a mysterious culture's ancient city, according to National Geographic.
Objects have been documented but are yet to be excavated so it is too early to tell if this is the city of legend that has been discussed and sought out for centuries.
The team, which consisted of American and Honduran archaeologists, soldiers and a National Geographic writer and photographer, undertook the journey into the Mosquitia region of eastern Honduras to try and locate the site, also know as 'The White City' or 'Ciudad Blanca.'
They had been inspired after signs of past inhabitation were identified by an Airbourne Laser Mapping Team. They produced a topological map that detected man made plazas in the area in 2012.
Travelling into the previously uncharted territory, the expedition confirmed the site to be an ancient city full of artifacts. Archaeologists now believe Mosquitia may harbour many lost cities which taken together may represent an ancient civilisation.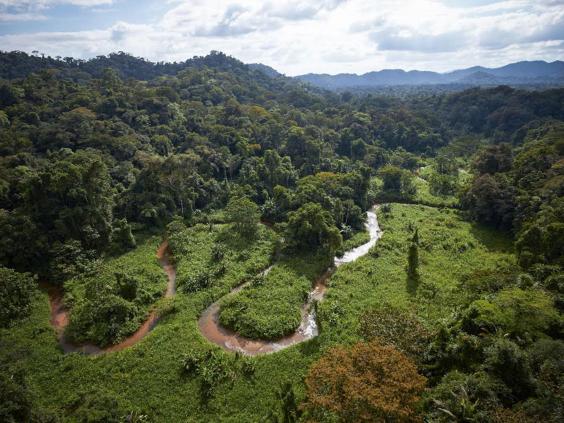 The National Geographic's Douglas Preston, who was part of the group, wrote that "the tops of 52 artifacts were poking from the ground. Many more evidently lie below ground, with possible burials. These include stone ceremonial seats (called mutates) and finely carved vessels decorated with snakes, zoomorphic figures and vultures."
Christopher Fisher, a Mesoamerican archaeologist on the team from Colorado State University, said that he thought the most striking object was a "were-jaguar" that may represent a shaman in a ritualized, transformed state.
The exact location of the site is not being revealed to protect it from looters.
In pictures: Biggest threats to the rainforests
In pictures: Biggest threats to the rainforests
1/10 Borneo

Destruction of the rainforest, deforestation in Borneo

2/10 Brazil

Aerial view af an area devastated by clandestine gold mining in the Jamanxim National Forest, state of Para. With 1,3 million hectares, the Jamanxim National Forest is a microsm that replicates what happens in the Amazon, where thousands of hectares of land are prey of illegal woodcutters, stock breeders and gold miners

3/10 Amazon rainforest

Intensive logging makes rainforest fires more likely as the Earth warms

Rex

4/10 Peru

Miners known as "Maraqueros" ready a rustic type of hydraulic jet known locally as a "Chupadera," after hauling the device about 16-meters deep into a crater at a gold mine process in La Pampa in Peru's Madre de Dios region. A new threat now looms for the estimated 20,000 wildcat miners who toil in huge scar of denuded rainforest known as La Pampa

5/10 Peru

A rope hangs around the trunk of a tree at a illegal gold mining process in La Pampa in Peru's Madre de Dios region. An estimated 20,000 miners toil in this malarial expanse of denuded rainforest known as La Pampa

6/10 Amazon rainforest

The extent of the environmental damage in the Amazon rainforest

afp/getty images

7/10 Indonesia

Destruction remains from tropical rainforest in Kuala Cenaku in Riau Province, Sumatra. Norway entered a partnership with Indonesia to support Indonesia's efforts to reduce emissions from deforestation and degradation of forests and peat lands. The business of pulp, palm oil and wood are causing the deforestation of Sumatra, the largest island owned by Indonesia, and is contributing global climate change to the extinction of many of the world's rare species

8/10 Malaysia

An area that has been cleared of rainforest to make way for a palm oil plantation in Sabah, Malaysia

CORBIS

9/10 Indonesia

Regenerated palm oil trees are seen growing on the site of destroyed tropical rainforest in Kuala Cenaku

GETTY IMAGES

10/10 Brazil

Brazil launched the Amazon Fund, aimed at protecting the rainforest so vital to the world's climate, and at combating climate change. In December 2008 Brazil launched a national climate change plan which proposed to cut the country's deforestation rate in half by 2018

Getty Images
The ancient civilisation, as yet unnamed by archaeologists, has been the subject of rumours amongst local tribes people and Spanish explorers for hundreds of years. Conquistador Hernando Cortes first made reference to them in a letter to Charles V in 1526. He said that the province would "exceed Mexico in riches."
It was frequently associated with the myth of El Dorodo in the time of the Conquistadors and Spanish Bishop Cristobal de Pedraza wrote that he had seen a great city from a mountaintop in the jungles and had been told by guides that the people there ate from plates of gold, according to archaeologist Dr Christopher Begley.
Aviator Charles Lindbergh reported flying over it in 1927 before adventurer American Theodore Morde was the first to claim that he had found the city.
Following an expedition in 1940, according to The New Yorker, he returned from Mosquitia with thousands of artefacts, claiming to have entered 'The White City', or as he called it, 'The City of the Monkey God,' due to the fact that indigenous people told him that the civilisation had worshipped a giant, now buried statue of a monkey god.
However, Morde never divulged the location of the site as, like the archaeologists today, he feared it would suffer looting. He killed himself in 1954 before he ever returned.
Ciudad Blanca has played a central role in Central American mythology. Texts cite it as the birthplace of the Aztec god Quetzalcoatl and if the discovery were to be confirmed it could rival that of the ancient Inca city of Macchu Picchu, the ancient Inca city in modern Peru, by Hiram Bingham in 1911.
Reuse content