A hate crime charge has been filed against a Chicago teenager accused of abusing and beating a Skih taxi driver whom he allegedly called "Bin Laden".
Prosecutors in DuPage County, Illinois, announced on Tuesday they were bringing the additional hate crime charge against the young man accused of attacking cabbie Inderjit Singh Mukker, 53.
"Terrorist","Bin Laden", "Go back to your country," the youngster allegedly yelled at the father-of-two.
Inderjit Singh Mukker speaking now @ #TakeOnHate press conference live streaming now: http://t.co/tBnjUhmuQd

— Sikh Coalition (@sikh_coalition) September 15, 2015
On Tuesday, as details of the new charge were announced, Mr Mukker and his supporters gathered for a press conference where he urged people to turn their backs on bigotry.
"I was attacked because of my brown skin, turban and beard. I was assaulted in my car because I am a Sikh," he said.
"My attacker saw me driving on this road and instead of seeing my turban and beard for what they are – articles of my faith that stand for values like equality, selfless service, and faith in God, he twisted them into symbols of hate.
He added: "He called me 'Bin Laden'. He told me to go back to my country. This is my country. This is my home. I am an American – and no American should be judged or attacked because of the colour of their skin or their religion."
A spokesman for DuPage County State's Attorney Robert Berlin told The Independent that after additional inquiries a further charge had been added to the defendant. The teenager, who is aged 17 or less and has not been named, had already been charged with battery.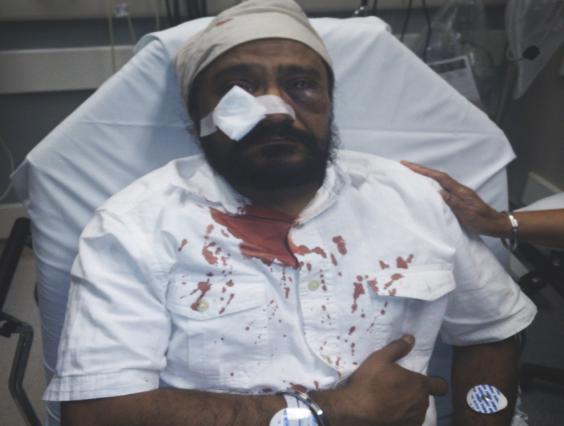 Mr Mukker came to the US from India 27 years ago.
"For the last 25 years, I have worked as a cab driver and have met many wonderful Americans from all walks of life. But I also know that my American Sikh community continues to face hate and violence because of our religious appearance," he said.
The press conference took place on the 14th anniversary of the killing of Balbir Singh Sodhi, a Sikh American who was shot and killed on September 15, 2001 after a man, yelling similar racial slurs, opened fire on him at his fuel station in Arizona. It took place in the aftermath of the 9/11 attacks on New York and Washington.
"From Balbir Singh Sodhi's tragic death to Inderjit Singh Mukker's assault last week, we are all reminded of how much more we still have to do to combat the problem of hate in our country," said the Sikh Coalition's Legal Director, Harsimran Kaur.
Reuse content