An American woman on trial in Indonesia for allegedly murdering her mother has given birth to a girl on the resort island of Bali.
Heather Mack was detained last summer along with her boyfriend, after police found the battered body of her mother, Sheila von Wiese-Mack, 62, apushed inside a suitcase on the Indonesian island of Bali.
Ms Mack, 19, and her boyfriend, Tommy Schaefer, 21, are currently undergoing separte trials for her murder. They could face execution by means of firing squad if convicted.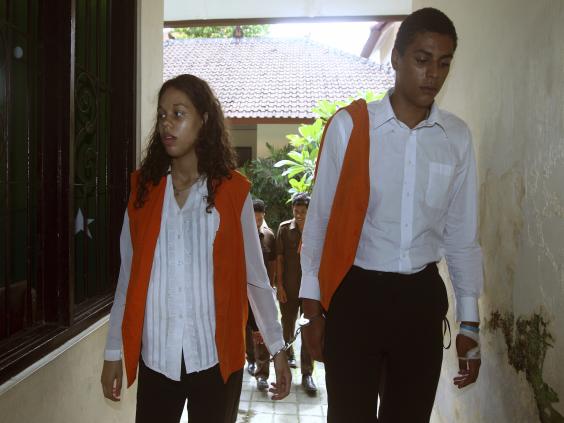 This week it was announced that Ms Mack had given birth to the child that investigators believe may unknowingly have played a part in the killing.
Mr Schaefer testified at Ms Mack;s trial last week that he got angry at von Wiese-Mack because she used a racial slur against him and threatened the unborn baby. He also said the victim strangled him briefly and he struck her with a metal fruit bowl.
Ms Mack testified that they panicked afterward and that she did not want her mother dead.
The teenager admitted to Sanglah Hospital in Denpasar about 1 pm on Tuesday and and gave birth about six hours later, accordig to prison chief Sudjonggo said.
The Associated Press said the hearings for the trials will be rescheduled pending Ms Mack's condition. Their trials are to resume March 24, when prosecutors would submit their sentencing demands.
Prosecutors said Mack had suggested to Schaefer while they were in America that he hire someone for $50,000 to kill her mother.
Reuse content