Pity the poor hijab. Hated by liberals, looked at suspiciously by ordinary members of the public, and obliged to endure an intimate relationship with its owner.
Now, the US military has offered its own considered opinion on the subject, with a suggestion that the headscarves worn by some, but not all, Muslim women, represent a form of "passive terrorism."
This week, it was reported that a policy paper issued by the Air Force Research Laboratory and titled Countering Violent Extremism: Scientific Methods & Strategies, included a chapter that contained some strange and unproven thoughts on radicalisation. The Intercept reported that in addition to the comment about hijabs, is a claim that support for militant groups is driven by "sexual deprivation".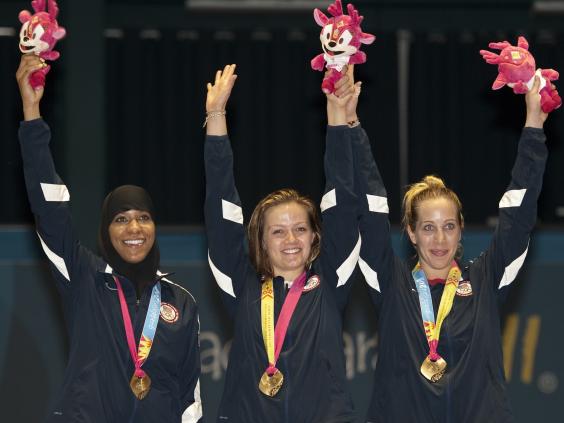 The report said the paper, first published in 2011, was reissued by the Air Force last summer following President Barack Obama's announcement of a national counter-extremism strategy. 
This January, the revised copy was published online by the open source research website Public Intelligence. A preface for the revised report cited a summit convened by Mr Obama on extremism as a reason for revisiting the subject, adding that "the wisdom contained in this paper collection is more relevant than ever", the website reported.
Many of the articles contained in the document were written by academics and researchers in the field of counterterrorism. The chapter that contains the references to the hijab being a form of passive terrorism was written by Dr Tawfik Hamid, a self-described former Islamic extremist and fellow at the Potomac Institute for Policy Studies.
He said support for groups such as Isis was the result sexual deprivation and that terrorism bears relation to religious dress. His ideas for combating terrorism include "addressing the factors underlying [sexual] deprivation" among young men, as well as "weakening the hijab phenomenon."
Hijab is Not #PassiveTerrorism - TAKE ON HATE: https://t.co/3kj7BryJXN via @YouTube

— NNAAC (@NNAAC) February 24, 2016
"[Extremism occurs when] increasing numbers of women begin to wear the hijab, which is both a symptom of Salafi proliferation and a catalyst for Islamism," writes Mr Hamid. 
"In turn, the proliferation of militant Salafism and the hijab contribute to the idea of passive terrorism, which occurs when moderate segments of the population decline to speak against or actively resist terrorism.
"Speaking from my own experience with the radical groups, I believe young Muslims are motivated to join radical groups because of sexual deprivation."
Yet observers have pointed out that hijabs are commonly worn by millions of Muslim women, the overwhelming majority of whom do not support militant groups. Among the high-profile wearers of the hijab are Ibtihaj Muhammad of the US Olympic fencing team, and Pakistani Nobel Peace Prize winner and education activist Malala Yousafzai.
Muslims in America and elsewhere were quick to blast the report on Twitter using the hashtag #PassiveTerrorism.
Reuse content