It has been seven years since Hillary Clinton was in Michigan setting out on her ultimately unsuccessful 2008 bid for the White House, and this Thursday night – to deafening roars of approval in a basketball arena in Auburn Hills, north of Detroit – she was back. Only this time she was campaigning for others. Technically.
Freshly a grandmother – Chelsea gave birth to a girl named Charlotte at the end of September – Mrs Clinton, 66, has embarked on a gruelling grind of stump appearances to support Democrat candidates in races that may make the difference between Democrats being humiliated in midterm elections next month or just about hanging on.
It is a tour which inevitably has a back-to-the-future subtext that has Democrats all over the country titillated in anticipation. The former first lady, senator from New York and Secretary of State, still hasn't said if she means to run again in 2016 – but to many the question is more when than if. A switch of control of the US Senate from Democrats to Republicans on 4 November, a distinct possibility, may prompt her to declare sooner than later.
"If it's today, I've got my camera ready," declared Tina Gloss Finnell, 45. The die-hard Hillary fan was attending a rally on the campus of Oakland University for Gary Peters and Mark Schauer– a current and a former member of Congress – who are seeking election to the US Senate and the state governorship respectively. She wasn't alone in dreaming that Mrs Clinton might end the suspense here, though she knew it wasn't the place or the moment.
Only one speaker, US congressman Sandy Levin – it's the retirement of his brother, Carl Levin, from the Senate that has created a vacancy here – broke the will-she-won't-she taboo of the night. "She is not here because of possibilities in 2016," he insisted, as he warmed up the crowd before she came to the stage. The mere mention of the year caused ripples of knowing laughter. "She is here because of the problems and concerns of 2014."
Hillary Clinton in quotes
Hillary Clinton in quotes
1/11 Hillary Clinton

After losing the 2016 election: 'To all of the little girls who are watching this, never doubt that you are valuable and powerful and deserving of every chance and opportunity in the world to pursue and achieve your own dreams.'

Getty

2/11 Hillary Clinton

On running for President in 2016: 'I'm going to decide when it feels right for me to decide. ... certainly not before then [the end of 2014].'

AP

3/11 Hillary Clinton

On the Monica Lewinsky affair: 'It's liberating to be able to reach the point in your life where you feel you can forgive. Everybody feels they have been trespassed upon and nearly everybody has trespassed on somebody else, maybe not intentionally.'

4/11 Hillary Clinton

On news and hair: 'If I want to knock a story off the front page, I just change my hairstyle.'

Getty Images

5/11 Hillary Clinton

On being asked which fashion designers she preferred: 'Would you ever ask a man that question?'

Getty Images

6/11 Hillary Clinton

On equality: 'Well I'm very conscious of how important it is for us to shatter that glass ceiling in my country. A country that has done so much for so many women and really has set the standard for women's rights and responsibilities, and I do want to see that glass ceiling shattered.'

Getty Images

7/11 Hillary Clinton

On not winning in 2008: 'I think because I really didn't have a good strategy for my campaign. I didn't plan it the right way. ... As a candidate who was already so well known ... I don't think I ever said, 'Yes, you may have known me for eight years, but I don't take anything for granted. I have to earn your support.'

Getty Images

8/11 Hillary Clinton

On self-confidence 'You have to be true to yourself. You have to be enough in touch with who you are and what you want, how you want to live and what's important to you, to make your decisions based on that. Sometimes that's very difficult.'

AP

9/11 Hillary Clinton

On 9/11: 'Every nation has to either be with us, or against us. Those who harbor terrorists, or who finance them, are going to pay a price.'

Getty Images

10/11 Hillary Clinton

On women around the world: 'If women are healthy and educated, their families will flourish. If women are free from violence, their families will flourish. If women have a chance to work and earn as full and equal partners in society, their families will flourish. And when families flourish, communities and nations will flourish.'

Getty Images

11/11 Hillary Clinton

On her political life: 'I suppose I could have stayed home and baked cookies and had teas, but what I decided to do was to fulfill my profession which I entered before my husband was in public life.'

Getty Images
Those are real if you are a Democrat in Michigan which, in spite of its blue-collar traditions of manufacturing, especially in the car industry, has been under unchallenged Republican rule since the current governor, Rick Snyder, was elected in 2010 and Democrats found themselves in the minority in both chambers of the state legislature. Losing Carl Levin's seat would be the ultimate humiliation, winning back the governor's office the sweetest rebuke.
Doubtless, the presence of Mrs Clinton will be a boost for Mr Peters and Mr Schauer, for whom turnout among Democrats on 4 November will decide everything. Both are in tight races; energising voters in the midterms is hard. There was another big-name Democrat on hand last week, Michelle Obama. And Barack Obama, who otherwise is largely absent from the campaign trail, will be here next week.
"Secretary Clinton will be a great motivator to get Democrats out to the polls, which is always critical in a midterm election," commented Guy Cecil, director of the Democratic Senatorial Campaign Committee. Before coming to Michigan, Mrs Clinton also campaigned last week in Kentucky for Alison Lundergan Grimes who is trying to unseat Senate minority leader Mitch McConnell.
Both states speak to the particular strengths Mrs Clinton showed in 2008 when she was narrowly beaten to the nomination by Mr Obama. While it was too late in the primary process, she walloped Mr Obama in Kentucky by wooing a demographic he struggled always to connect with: white and working-class men. And working women.
If Mrs Clinton is rusty after so long off the trail, no one would have known it. Instead she dug deep into her rhetorical repertoire to deliver a roof-raiser, pounding the themes of jobs, family and grit, knowing they would resonate especially well here. She demanded a higher minimum wage and equal pay for women.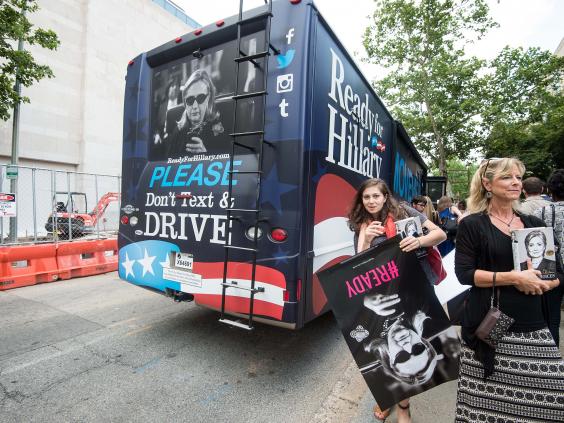 "This is the state where Rosie the Riveter inspired a country," Mrs Clinton offered, in a reference to the mythical icon of the American manufacturing effort during the Second World War, when women lined a converted car-production line in Ypsilanti, Michigan, building B-24 bombers. "Why is it that women still get paid less than men for doing the same work?" she raged. "Why after American women have contributed so much to our economy over the past decades do we still act as if it's 1955?" And she didn't forget the trauma suffered by the car industry in the crash.
"GM and Chrysler teetered on the brink ... more than a million jobs hung in the balance," she declared, noting that Messrs Schauer and Peters had both supported the car-industry bail-out when they were in Congress and Mr Obama was newly elected. "They could have lined up with those saying, 'Let Detroit go bankrupt. Let manufacturing just wither away. They could have been on the side of those who were criticising what they called Government Motors."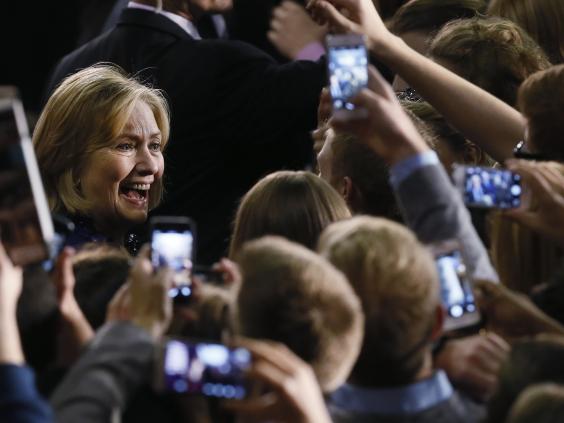 If the reception for her was warm – thunderous even – not everyone in the crowd was sure Mrs Clinton is who they want. Bob Frase, 54, a retired concrete labourer,  would rather see Massachusetts Senator Elizabeth Warren, who made her reputation taking on Wall Street and the banks that helped create the financial meltdown. And he has a long memory. In 2008 Mrs Clinton proposed tackling high petrol prices by tapping into the US emergency oil reserve. "That was a chicken-shit thing to say," he said. "She was just pandering for votes. I can't forget it."
Ken Labelle, 61, a specialist in sleep disorders, says he would normally like to see Vice-President Joe Biden given a shot in 2016 or indeed Senator Warren. But he isn't sure either would be viable. "We are going to need a strong candidate who is going to win. Hillary would be a very strong candidate and I think a very good president."
The speech she gave here was a little reminder of how powerful a candidate she could be. And for her, it was a warm-up. (Just in case, of course.) Before she was done she returned to Rosie the Riveter, who was celebrated, she said, for "cracking the ceiling and showing there's no job a woman can't do." Count among them, being president.
Reuse content