A huge sinkhole has opened up on a US golf course where the world's top golfers competed just last month.
The crater, which is 80ft wide and 35ft deep, swallowed part of a pond, turf and bunkers on the Top of the Rock complex in Branson, Missouri.
Managers told the Associated Press that it would not affect play at the main course, where it costs $135 (£90) to play nine holes.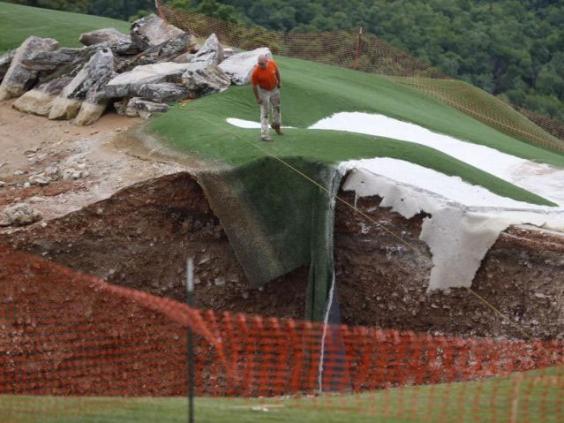 The phenomenon started as two sinkholes near the golf course entrance before they merged into one on Friday, local media reported.
Top of the Rock lies in the Ozark Mountains, which frequently see the appearance of sinkholes thanks to the water wearing away bedrock below the ground.
The chasm has been fenced off for safety but before it is filled in, geologists will carry out research to discover more about the local topography.
In 2013, a golfer was swallowed by another sinkhole at the Annbriar Golf Course in Illinois but survived the fall.
Reuse content