The English in America are often faulted for their excessive humility, and James Corden joked in one recent interview that he would be "a complete disaster" as the new host of The Late Late Show on CBS.
In fact, Corden's US late-night debut on Monday, well received by critics and viewers, was very far from a disaster. Instead, it was an earnest, hour-long exercise in British self-deprecation.
Corden is an actor by training, not a stand-up, and he began the show not with the traditional comic monologue, but with what sounded like an Oscar acceptance speech. He welled up while thanking his parents, and deferred to his Late Late Show predecessor Craig Ferguson, saying it was "an honour" to follow in his footsteps.
"I'm from a place called High Wycombe," Corden informed his US audience. "Which you almost certainly will never have heard of."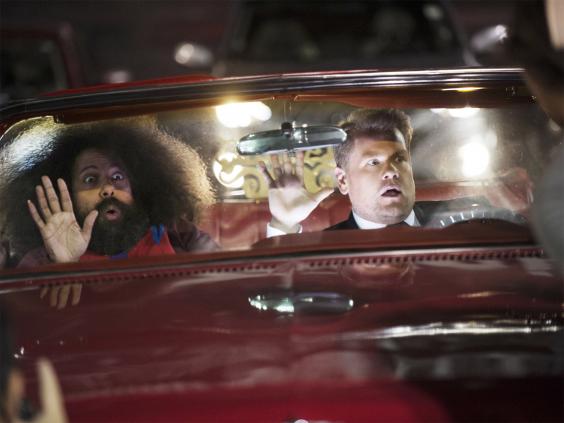 At 36, Corden is the youngest late-night host on US network television, and CBS surely expects him to attract some millennial viewers back to the timeslot. One key to drawing in that valuable demographic is the viral sketch, and Corden's first was a star-studded re-enactment of how, exactly, he got the job. The pre-taped clip included a training montage in which he was primed for the role by Jay Leno, Arnold Schwarzenegger and Meryl Streep.
At first glance, the new Late Late Show looks much like any other US late-night talk-show: a house band, celebrity guests, a whooping audience and a man in a suit behind a desk. But look again and it's clear Corden has tinkered with the format in some subtle (and some not-so-subtle) ways.
He has a working bar in the studio and emerges from behind his desk to chat to his guests, who are interviewed all at once à la Graham Norton. Those celebrities arrive through the audience – debut guests Mila Kunis and Tom Hanks both seemed a little uncomfortable high-fiving the crowd as they came through.
The desk is a late-night convention, but Corden's breaks from the norm by being located to his guests' right – unlike his fellow late-night hosts David Letterman, Jimmy Fallon, Jimmy Kimmel, Seth Meyers, Jon Stewart and Conan O'Brien, who all sit to their guests' left. "I must say, I'm a bit thrown," said Hanks. "It's on the other side from where we're used to having them in America. Of course, you guys do drive on the other side in England."
Corden was lucky to have Hanks on the couch: unlike his host, the double Oscar-winner is a late-night television veteran, and he expended almost as much energy as Corden to help make the show a success. The viral high point of the evening was a five-minute rehearsed skit, in which Hanks and Corden recreated 29 movies from his storied career.
So far, Corden's interviews are neither as funny as Norton's nor as polished as Letterman's, and they are punctuated a little too often by his high-pitched cackle. But he did squeeze a sort-of scoop out of Kunis, who half-admitted she and her other half, Ashton Kutcher, had got married.
CNN gave him a glowing review, calling the show "one of the smoothest first episodes of any new talk-show host's in recent memory." Variety critic Brian Lowry was more circumspect, calling Corden "natural and likeable", but describing his debut as "a slightly uneven premiere with moments of inspired lunacy and some clear areas for the newbie host to work on."
New York Times critic Alessandra Stanley was less enthusiastic, describing Corden as "portly" and his performance as "energetic, amiable and cheerfully self-assured, but not particularly special."
Tim Goodman of The Hollywood Reporter wrote: "This much was clear... he's different. The glaring difference is that he comes without almost any snark, which is a modern American late-night talk-show host must-have quality that was only recently spurned by Jimmy Fallon." Talk-show titan Leno agreed, telling Today on Radio 4: "He's a very funny guy and he's an especially likeable guy... I think the era of ironic snarkiness is over in America."
Corden played out his first night's show with a reflective piano ballad, singing: "From tonight I undertake to do all that's in my power, to entertain those still awake at this ungodly hour. From the worker home from second shift who still has got his suit on, to the stoner who can barely lift her face from off the futon."
If nothing else, it answered one key question: who, exactly, is still watching television by 1.30am on a weeknight?
Reuse content