Hundreds of starving sea lion pups are being washed ashore in California – inundating rescue workers and creating something of a mystery about the cause of their hardship.
Animals rescue centres along the coast have been taking special steps to try and deal with the unprecedented number of stranded animals. Such is the situation that the celebrated SeaWorld last week shut down its sea lion shows that staff could assist in the rescue effort.
"These animals are coming in really desperate," Keith Matassa, executive director at the Pacific Marine Mammal Centre which is currently rehabilitating 115 sea lion pups, told the Associated Press.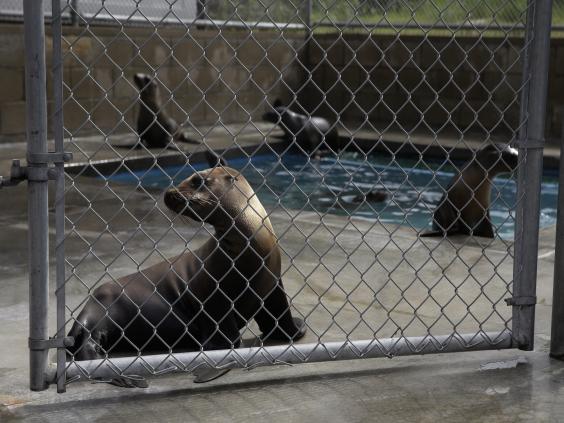 He added: "They're at the end of life. They're in a crisis and not all animals are going to make it."
Officials say it is not usual for some sea lion pups to wash up on the beaches of southern California during the spring. But the total saved so far this year - 1,450 – is more than five times the total in 2013, of the previous worst year.
Warming oceans have flooded California with starving sea lion pups http://t.co/2jB0Iie75f

— PacificMMC (@PacificMMC) March 5, 2015
Reuters said that while the precise cause of the crisis is not known, scientists have said the sea lions are suffering from a lack of natural prey. As a result, mothers are being forced to venture further out to sea to hunt for food and leaving their pups along for longer periods.
"As facilities reach capacity, it will likely not be possible to rescue and rehabilitate every impacted animal," said Justin Viezbecke, stranding coordinator for the National Oceanographic and Atmospheric Administration, the government agency that is overseeing the effort.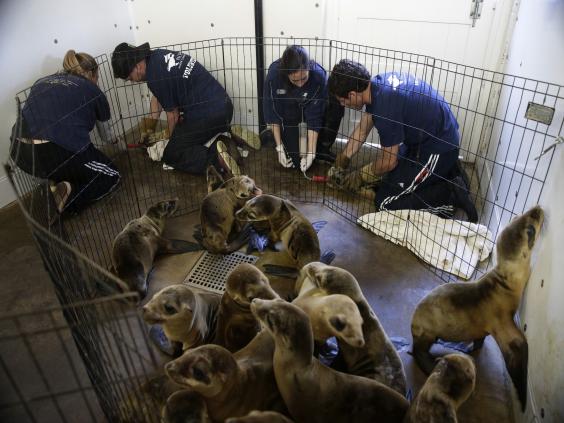 The pups are usually born in June and July, and nurse until January. They remain on the shoreline while their mothers go to sea for food, according to David Bard of the Marine Mammal Care Centre in San Pedro, California, which has taken in more than 330 of the starving pups since January.
Reuse content