Police in New Mexico are looking for a man who, they say, punched his wife after she started breastfeeding their newborn in front of a male doctor.
Rafael Orozco became angry when his wife, who had given birth earlier that day, started breastfeeding their baby girl, exposing herself to a doctor who had walked in to check on her and the infant, according to a police report.
Orozco, 22, punched his wife in the mouth as she was carrying the baby in her arms, the report said. He also slapped the infant on the head before hospital staff confronted him.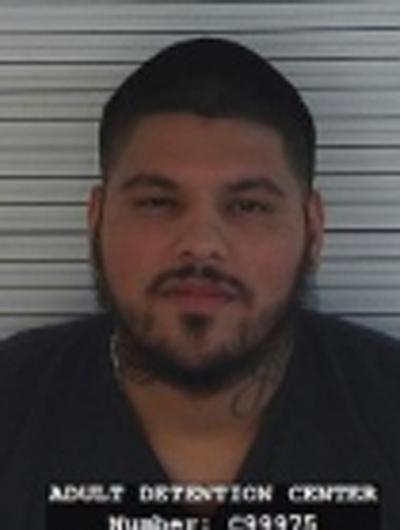 The incident occurred late at night on Sept. 21, at a hospital in the town of Taos, N.M., about 130 miles northeast of Albuquerque.
Iesha Hartt told police that her husband is a very jealous man, according to the report. He called her names after she began breastfeeding their daughter and grabbed her by the throat, leaving scratches on her shoulder area, the report said.
Orozco ran out of the hospital's labor and delivery room after being confronted by hospital staff. When a security guard caught and restrained him, Orozco reached to his side and told the guard that he had a gun. He was let go, and he fled the hospital, the report said.
Breastfeeding in public controversies
Breastfeeding in public controversies
1/11

A woman has sparked a heated debate among parents after she revealed that she breastfeeds both her and her friend's son. Jessica Colletti, from Pennsylvania, said nursing Charlie Interrante's son "seemed like the natural thing to do" because she was already breastfeeding her son. Colletti told the Mama Bean parenting blog that she asked permission to nurse Interrante's son when she began looking after him, after they met at a photoshoot for new mothers. Interrante agreed as her son had not taken to formula milk

2/11

New Hampshire State Rep. Josh Moore said on Facebook that men should be allowed to grab the nipples of breastfeeding mothers if the law banning women exposing their breasts did not pass

3/11

When Gemma Colley's photo of her son with fake tan on his fake after she breastfeed him went viral, she also saw that no parent is alone when they make a silly mistake. Over 100,000 people liked and 40,000 people shared Ms Colley's photo of her son's sleepy face with fake tan encircling his mouth and nose, after she posted it to the Unmumsy Mum Facebook page

4/11

A candid image of a mother breastfeeding her young child while using the toilet has divided parents online, as some argue it's an honest depiction of parenthood, while others have labelled it "disgusting"

5/11

The exclusive Claridge's hotel has been widely criticised for asking a woman to cover herself with a "ridiculous shroud" while breastfeeding her three-month-old daughter. Lousie Burns said she burst into tears when staff members at the five-star venue asked her to cover herself and her baby with an oversized napkin in order to avoid "causing offence" to other guests

6/11

An Australian café has been praised for sticking up for a breastfeeding mother after a customer told her to cover up. Jessica-Anne Allen, owner of Cheese and Biscuits Café in Queensland, Australia, has described how she was approached by a male customer in the café to complain that he was upset by a woman in the coffee shop breastfeeding her child nearby. The customer asked the café owner, 29, to tell the mother to cover up. When Mrs Allen refused to do so, he took matters into his own hands and challenged the woman himself. Staff at the café then asked the man to leave

7/11

A woman who claimed a Primark security guard had forcibly removed her child while she was breastfeeding has admitted to perverting the course of justice. Caroline Starmer sparked a series of headlines after claiming on Facebook that a store guard had taken her nine-month-old daughter Paige away from her. The mother from Leicester then repeated her claims in a number of interviews, before Primark denied the incident and handed CCTV over to the police to show there was no evidence to support the allegations. Appearing in Leicester Crown Court, she admitted the charge of perverting the course of justice by not telling the truth

8/11

Pope Francis has become an unlikely advocate for public breastfeeding, by encouraging mothers to feed their babies in the Sistine Chapel. During a ceremony in Vatican City on Sunday, the Pope baptised 32 babies and told their mothers: "If they are hungry, mothers, feed them, without thinking twice, because they are the most important people here"

9/11

Facebook has changed its community guidelines to allow users to post photos of breastfeeding. The change comes as the wide-ranging #FreeTheNipple online campaign has built pace in its attack against guidelines used by social media websites to regulate nudity – from photos of breastfeeding to topless photos post by singer Rihanna's on her now defunct Instagram account. Facebook's Community Standards, which outline what users are allowed to post, never included a outright ban on photos of breastfeeding

10/11

The manager of a public swimming pool at the Lux Park centre in Liskeardhas been forced to apologise after he told a mother to stop breastfeeding her son by the waterside. 23-year-old Rebecaa Hough of Torpoint, Cornwall, was feeding 10-month-old Max a few steps from the main pool, when the manager told her to carry on in the changing rooms in case the infant was sick into the water. She was also told that she should not to return for half an hour to ensure the milk was fully digested

11/11

A Conservative MP has claimed allowing women to breastfeed in the House of Commons chamber would expose politicians to "tabloid ridicule". Sir Simon Burns, a former transport minister, spoke on what he called a "controversial subject" in a debate in making Westminster more family-friendly
The guard told police that he was hit in the ribs while trying to restrain Orozco, the report said.
The hospital was placed on lockdown overnight amid the search for Orozco, according to media reports. Police also checked Orozco's home and the residence of Hartt's mother, but he is yet to be found.
Taos Police Chief Randy Palmer was not available for comment on Tuesday.
According to ABC affiliate KOAT, Orozco was already wanted on a parole violation stemming from a charge of receiving stolen property.
The Washington Post
Reuse content