Google has unveiled a new doodle to celebrate the journalist, suffragist and civil rights campaigner, Ida B Wells' 153rd birthday.
But unlike her predecessor Harriet Tubman and successor Rosa Parks, she is largely unknown outside the US.
A prominent campaigner for rights of the African-Americans in the years after the abolition of slavery, later as a suffragist and one of the earlier pioneers of investigative journalism, Ms Wells has been neglected by history.
Here's why more people need to know her story:
1. Despite leaving school at 16, she kept her family together working as a teacher after her parents died: Wells was born in Mississippi in 1862 at the height of the American Civil War. Her parents were born slaves but freed by the Emancipation Proclamation abolishing slavery in 1863.
They were able to support Wells and her six siblings working as a cook and a carpenter but were killed in a Yellow Fever outbreak when she was just 14.
In order to keep the family together she found a job as a teacher and later moved to Memphis, Tennessee to continue her career and continued her education at summer school in Nashville, Tennessee.
2. She refused to get off the bus 71 years before Rosa Parks:  In Memphis in 1884, Wells refused when a bus conductor told her to give up her seat for a white man and move to the crowded smoking carriage as part of the South's "Jim Crow" laws.
Incensed by the incident she took the bus company to court but a decision in her favour under the 1875 Civil Rights Act which banned discrimination on the basis of race was overturned by the Tennessee Supreme Court in 1887.
This was 12 years before the doctrine of "separate but equal" was adopted by Southern states in 1896- a doctrine which the civil rights movement in the 1960s was fighting against. 
3. She became one of the earliest female investigative journalists: Her lawsuit against the bus company inspired her to do more to fight for the equality rights of African-Americans.
After the incident she was offered a job at the Evening Star newspaper in Washington DC and also wrote weekly article for The Living Way about race and in 1889 she founded her own anti-segregation newspaper in Memphis called the Free Speech and Headlight.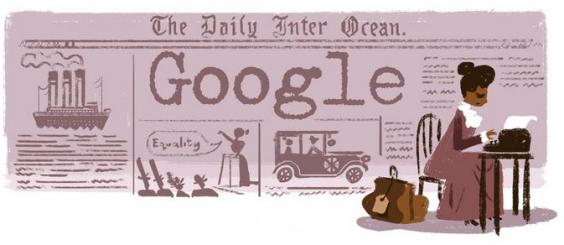 4. She started a campaign to highlight the brutal realities of lynching after her friends were murdered: In 1889, her friend, Thomas Moss, opened a successful grocery across the road from a white-owned store in Memphis.
When Moss was out of town, a white mob invaded and smashed up his story and three white men were injured. Moss and two other black men were arrested and jailed pending trial. A lynch mob stormed the jail and hanged the three men.
Investigating her friends' murders and other attacks she found black people were being murdered for failing to pay debts, not appearing to give way to white people on the road or having more successful businesses.
A mob smashed her newspaper offices in 1892 but she was unafraid and toured America and the UK giving talks about what it really meant to be black in the southern states.
Dan Budnik's images of the Selma march
Dan Budnik's images of the Selma march
1/7 On the road to civil rights

Budnik captured an indelible image of young Do-Right carrying a hand-stitched US flag through rural Alabama on the historic voting-rights march from Selma to Montgomery. It shows Do-Right and his Stars and Stripes being saluted by a sergeant from the Alabama National Guard

Dan Budnik

2/7 On the road to civil rights

The Alabama National Guard lines the route, federalised by President Johnson to protect the marchers

Dan Budnik

3/7 On the road to civil rights

Segregationists watch the marchers walk by as they leave Selma on the 54-mile walk to Alabama's state capital

Dan Budnik

4/7 On the road to civil rights

Civil-rights leaders including King enter Montgomery

Dan Budnik

5/7 On the road to civil rights

'Foot-soldiers' rest along the way

Dan Budnik

6/7 On the road to civil rights

Members of King's Southern Christian Leadership Conference greet the city fathers of Montgomery on the balcony of the Jefferson Davis Hotel

Dan Budnik

7/7 On the road to civil rights

Alabama state troopers guard the steps of the State Capitol where Jefferson Davis had been sworn in as President of the Confederacy in 1861

Dan Budnik
5. She was active suffragist and one of the first black women to keep their own last name when she married in 1895: After marrying black newspaper editor Ferdinand Barnett in 1895 she became known as Ida Wells-Barnett.
She took part in the suffragist march demanding equal votes in Washington DC in 1913 and was one of only two Black women to join the National Association for the Advancement of Coloured People (NAACP) in 1909.
Reuse content