In 2012, Ben Chambers' son was killed in a road accident. This week, his teenage daughter perished after becoming engulfed in flames – perhaps after an assailant poured lighter fuel on her and set her alight.
"I had a son who died two years ago in a car crash. That was a tragedy," said Mr Chambers, speaking to The Independent from his home in Courtland, Mississippi. "But this does not make any sense. She was 18 years old. She was a bundle of joy."
In the days since his daughter was found by an emergency team, stumbling along a road, her body covered in flames and fatally injured, the teenager's family has joined with police in trying to ascertain, or ponder, who may have wanted to harm her.
Her friends and family have said they were not aware she was facing any problems. Her best friend said she had not been in a relationship. Mr Chambers also said that he could not think of anyone who had a grudge against his daughter, a keen cheer-leader and who was due to go to college next week.
He asked that anyone with any could information that could help detectives in their hunt to make themselves known. "Please come forward. Please come forward," he said.
On Thursday, police admitted they had so far made limited progress in the case. John Champion, the local prosecutor, told a press conference that there had not been an arrest. "And we don't anticipate one in the near future at this point, he said, according to a report in the The Clarion-Ledger.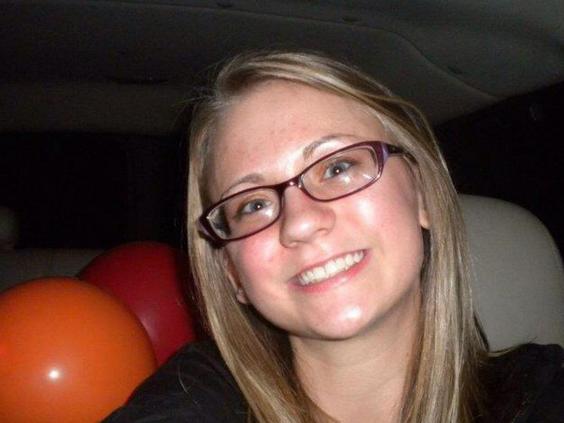 Mr Champion said there had been little "street talk" about the incident and officers had failed to locate useful witnesses. So far, they were struggling to identify a motive.
"For lack of a better word, this is just a really great mystery right now," he said. "[The gruesome nature of Ms Chambers made it appear to be] a personal crime, but we have not ruled out that it was a random act."
Ms Chambers' family said the young woman had left home alone around 6pm on Saturday evening. She was planning to fill her car with fuel, get something to and then drive to the neighbouring town of Batesville to get her vehicle cleaned.
Police have been examining CCTV footage from the petrol station where the young woman was seen filling up her car at around 6.30pm on Saturday evening.
She was found two hours later, stumbling down a road in flames. Police initially said they believed lighter fluid or another accelerant may have been poured down her throat and she was then set ablaze, but are still awaiting the results of forensic tests to confirm this.
Ms Chambers was flown to a hospital in Memphis but later died from her injuries. The authorities said initial results of post-mortem tests revealed that burns had covered 98 per cent of her body.
On the forecourt footage being examined by officers, she is seen on the talking to a man who detectives say has been cleared. Yet the police believe there could be other clues on the recording that could help them identify her killer or killers.
"They squirted lighter fluid down her throat and in her nose, and apparently they knocked her out," Mr Chambers told the WDBD­TV channel earlier this week.  "She had a big gash on top of her head.  When the fire department got there, she was walking down the road on fire. The only part of her body that wasn't burned was the bottom of her feet."
Mr Chambers has told reporters that he was informed by fire officials that his daughter was able to mutter a few words before she died. "She told them, she told them, told him who done it," he said.
Reuse content