A Jewish student has been stabbed in the head inside a synagogue in New York by an attacker who was shot dead by police.
Levi Rosenblat was at the Chabad-Lubavitch World Headquarters in Brooklyn when he was attacked at 1.40am this morning, police said.
His suspected assailant, a 49-year-old man, was shot at the scene after he allegedly refused to drop his knife and was later pronounced dead in hospital.
He had burst inside the synagogue and shouted "I want to kill the Jew!" and "kill the Jews", witnesses said, before stabbing Mr Rosenblat seemingly at random.
Other members of the synagogue intervened and a tense standoff ensued where worshippers and growing numbers of police attempted to persuade him to put down his weapon.
In a video from the scene the attacker is seen walking up to a group of men dressed in Orthodox Jewish clothing and asking each of them: "Want me to kill you?".
Later footage shows police ordering the attacker to "drop the f****** knife" as the man initially complied and put it on a chair.
Members of the synagogue tried to mediate between the suspect and the police, pleading with him to put the weapon down while urging police not to shoot him.
But moments later, the man walked back and picked up the knife, before charging at an officer, according to police. He was shot once in the torso.
BREAKING Stabbing in a synagogue in Brooklyn 770 eastern parkway, suspect shot by PD pic.twitter.com/q4IPJE0B8h

— YossiW (@Yossi718) December 9, 2014
As the injured suspect lay face down on the floor, officers were heard telling him to "put your f****** hands out" so they could handcuff him.
A nine inch knife, with a four inch wide blade, was recovered at the scene.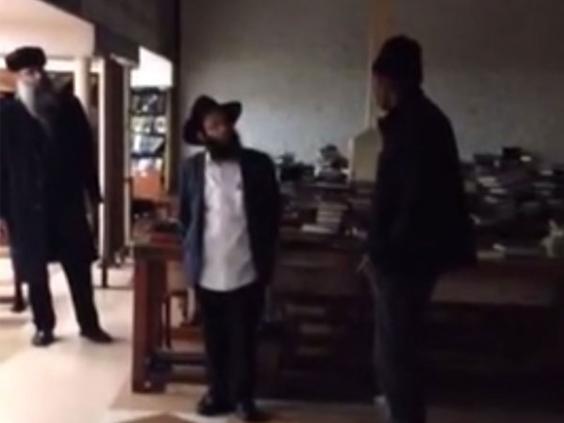 Rabbi Motti Seligson said Mr Rosenblat had travelled from Israel to continue his rabbinical studies. He is in a stable condition in hospital being treated for wounds to his left temple.
The motive of the attack, at the Hasidic sect's world headquarters, has not been confirmed.
Police confirmed that the suspect shot dead was black and the officer involved Hispanic, in the wake of continuing public demonstrations against the deaths of Michael Brown and Eric Garner.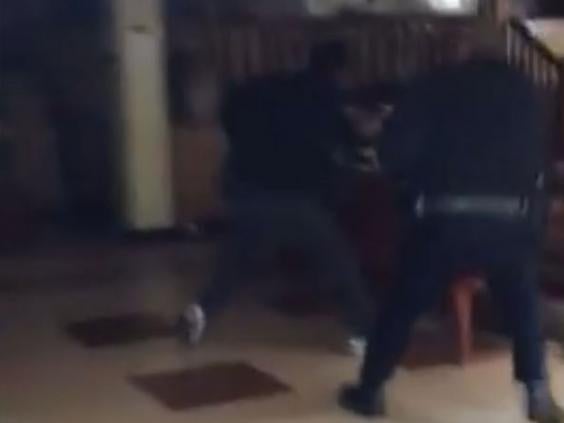 The suspect's identity has not been released but a spokesperson for the NYPD said he was from New York and known to police.
Dov Hikind, a New York state assembly member, said the man had visited the synagogue earlier in the evening, reportedly asking for a book.
"He was stalking the scene. Thank God he didn't inflict more harm nor do more damage to more people," he added.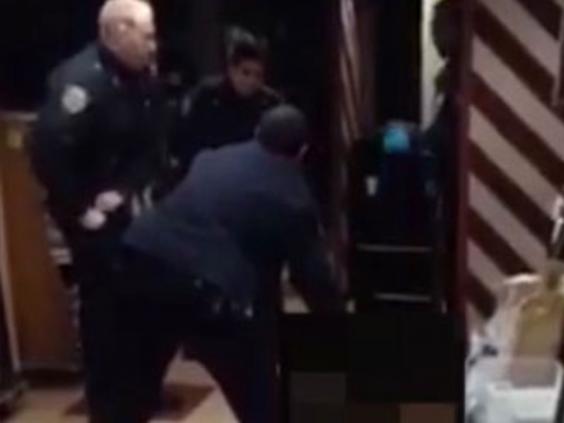 Rabbi Chaim Landa, a spokesperson for Chabad-Lubavitch, said the other worshippers present had a lucky escape.
"We commend the heroic efforts of the individuals who were present and took immediate action. If not for their intervention the outcome could have been, God forbid far worse," he added.
Last month in Jerusalem, two Palestinian cousins wielding knives, meat cleavers, and a handgun stormed a synagogue killing four worshippers and a policeman before being shot dead by police.
Additional reporting by agencies
Reuse content