Hundreds of people bearing banners and chanting gathered outside the jailhouse where the court clerk who refused to issue same-sex marriage licences is being held.
Reports said that up to 300 people stood outside the Carter County Detention Centre on Saturday, where Rowan County Clerk Kim Davis spent her third day as an inmate. She had been sent there earlier in the week after being found guilty of contempt of court.
On Friday, with Ms Davis behind bars, a number of same-sex couples were able to obtain permits from other members of staff a the Rowan County office.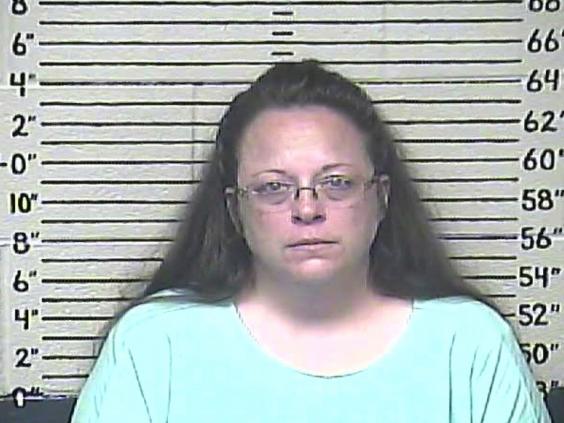 But while supporters of same-sex marriage celebrated, with some saying Ms Davis belonged behind bars, support for the 49-year-old has grown among Christian conservatives and others who share her literal interpretation of the bible.
Harry Mihet, a lawyer for the Christian group Liberty Counsel, which is representing Ms Davis, said she had not wanted to be the topic of headlines around the world.
He said her faith did not permit her to grant licences to same-sex couples and argued that despite the ruling this week by a federal judge against her, the US Constitution did allow exceptions on matters of personal faith.
He said Ms Davis was not opposed to other members of the Rowan County office issuing permits if she was not involved, but at the moment the permits bore her name.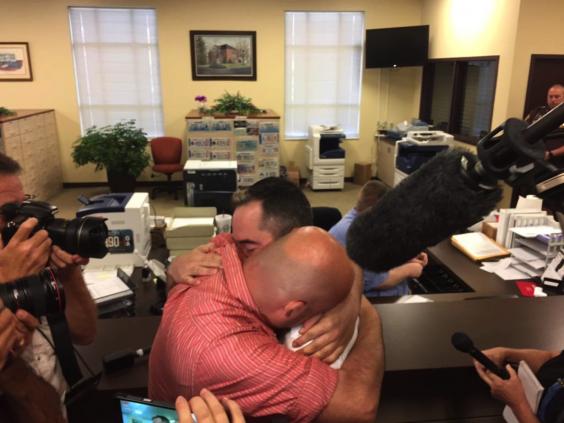 "She did not ask for this," he told The Independent. "Exceptions can be made. Doctors at government hospitals are not required to carry out abortions if they do not agree with them. The prison warden who is opposed to the death penalty is not required to pull the lever or turn on the electric chair."
The Associated Press said protesters spend the day chanting "Thank you, Kim, Thank you, Kim",  and prayed that Ms Davis could hear them.
Her husband Joe Davis told the crowd: "She won't bow, I promise you. She sends her love to each and every one of you all. And this is what she said, 'All is well. Tell them to hold their head high because I am'."
A series of speakers denounced the government and the judiciary, and hailed Ms Davis a Christian hero in a war against the godless. They waved signs that read "Kim Davis for President", "no to sodomite perversion" and "God gives his hardest battles to his strongest soldiers".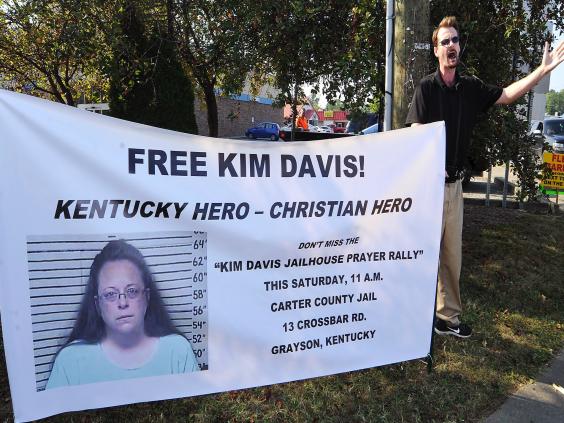 Some traveled from states away to support of the embattled clerk, held in contempt of court by US District Judge David Bunning on Thursday and sent to jail until she agreed to follow the court's order. She has pledged she never will.
"More fear man, they don't fear God," Matthew Trewhella, a pastor from Wisconsin, preached from the stage.
"She said that she was doing this under God's authority. She is 1,000 per cent correct. She is echoing what western man has said for over 1,500 years now. And that is that divine law trumps human laws."
Local evangelist Randy Smith called on the judge to "get saved and repent from his sin".
He asked Christians across the globe to spend Thursday fasting and praying for Ms Davis, to mark "one week of unlawful tyranny". He asked them to be ready for war against religious oppression.
Reuse content