When Lauren Hill took to the basketball court last November in front of 10,000 cheering spectators they billed it as One Last Game, because doctors did not believe her inoperable brain cancer would let her survive until Christmas.
As it was, the 19-year-old whose story moved people around the world, did more than that; not only did she run out and play that day before a standing ovation and score her team's first and final points in a 65-55 victory, but the 19-year-old raised hundreds of thousands of dollars for cancer research as she used her confrontation with the disease to raise awareness.
"What's happening now is not going to help me and it's not going to help everybody else right away," she said a few months ago. "But it's going to help in the future, and it's eventually going to make something happen."
On Friday it was reported that Ms Hill, who played college basketball for Mount Saint Joseph University in Ohio, had passed away.
"God has a new game plan for Lauren Hill," Dr Tony Aretz, the president of Mount St Joseph University, said in a statement.
He added: We are forever grateful to have had Lauren grace our campus with her smile and determined spirit. She has left a powerful legacy. She taught us that every day is a blessing; every moment a gift."
RIP, Lauren Hill: Lauren Hill touched a nation with her desire to play basketball for Mount St. Joseph's, even... http://t.co/Kj1EczCLs4

— Social In Cincinnati (@SocNCincinnati) April 10, 2015
Ms Hill was diagnosed with cancer during her final year of high school but went ahead with her dream of attending university and playing basketball. Her college brought forward its basketball schedule by two weeks to make it easier for her to play.
"It was a dream come true to play on the college court. And it was so thrilling to get there and be able to put my foot down and feel the roar of the crowd and the vibrations of the floor boards and I love it so much," she said.
USA Today said that Ms Hill, who came from Lawrenceburg, Indiana, was diagnosed with Diffuse Intrinsic Pontine Glioma shortly after her 18th birthday. The rare form of brain cancer typically affects young children ages four to nine and that that there is current cure.
"When I was diagnosed I remember kind of feeling lonely because nobody understood. And now that more people know about this story and the awareness of DIPG," she said last year. "I'm so happy that people know about it now and that we can get some research going and hopefully find that home run cure for cancer."
► Lauren Hill makes it through full season despite tumor: CINCINNATI (AP) — The Mount St. Joseph's women's bas... http://t.co/btAInsu4N7

— MicrosoftGuy4U (@follower1) February 26, 2015
Dr Mariko DeWire, Mr Hill's doctor at Cincinnati Children's Hospital Medical Centre, said fund-raising has allowed doctors to study DIPG more closely in the last five years. The condition is incurable.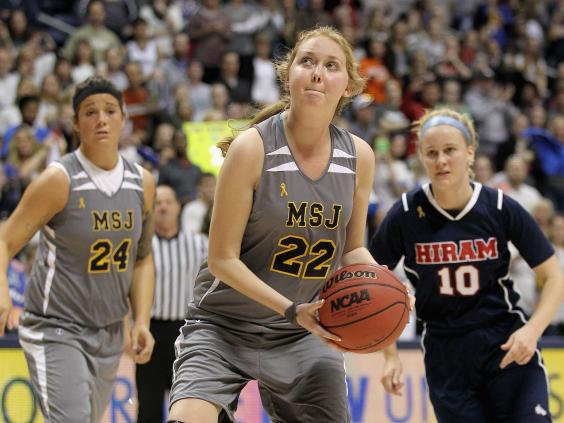 Ms Hill said of the fund-raising effort: "Even though I'm probably not going to be around to see it, it's going to help a lot of people. And that's why we need to keep staying with this and not end it with this game, and keep supporting research."
Reuse content