Archie Andrews may not wear a Spandex outfit, but he is as enduring and all-American a comic book hero as Captain America. Both characters were created in 1941, which means that Archie – still a teenager on the page but 73 years old in real terms – has survived the Second World War, the Cold War, the Summer of Love and the rise of the internet.
Yet, as Captain America's latest blockbuster movie rakes in record box-office receipts, his beloved contemporary is about to be killed off. Archie Comics announced this week that its friendly, freckled namesake will be shot dead in a forthcoming issue, sacrificing himself to save a friend.
The Life With Archie series, which follows the course of Archie's life as an adult, will reach a climax when its hero meets his end in issue No 36, to be published on 16 July.
Jon Goldwater, the chief executive of Archie Comics, told CNN: "Archie dies as he lived – heroically… He dies saving the life of a friend, and does it in his usual selfless way. Archie has always been a representation of us – the best of us – our strengths and our faults."
Mr Goldwater added that the character's demise would "allow us as a company and the world to take a moment to look at Archie's life as a whole and recognise him as one of the most important characters – not in just comics – but in popular culture".
Archie has long been considered a nostalgic artefact of the post-war years. Co-created by artist Bob Montana, and based in large part on his own high-school experiences in the small town of Haverhill, Massachusetts, the comics take place in the fictional town of Riverdale.
Archie, his friend Jughead and his duelling love interests – posh Veronica and middle-class girl-next-door Betty – spend much of their time hanging out in Pop Tate's Chocklit Shoppe, a mid-century soda shop based on the high-school haunts of Haverhill teenagers in the 1930s. The four main characters play together in a band, The Archies, which also features Archie's rival, Reggie.
Archie comic book
Archie comic book
1/9 Archie

He appears to panic in the helicopter

Archie Comic Publications

2/9 Archie

A front cover of the 'Archie' comic

Archie Comic Publications

3/9 Archie

Archie gets into an argument with Betty

Archie Comic Publications

4/9 Archie

A commemorative issue of Archie

Archie Comic Publications

5/9 Archie

Archie gets stuck in an old helicopter

Archie Comic Publications

6/9 Archie

Archie works with the students on the play

Archie Comic Publications

7/9 Archie

Archie has an awkward encounter with Gwen

Archie Comic Publications

8/9 Archie

Archie takes charge of the play

Archie Comic Publications

9/9 Archie

Archie gets frustrated at Betty for having to take the lead

Archie Comic Publications
Over the years, Archie Comics has sold more than two billion of its publications worldwide. Yet much like Steve Rogers – the man beneath Captain America's Spandex outfit – Archie is a character who needed updating for the modern world. The Life With Archie comics have explored several potential futures for its venerable hero. The final issue, No 37, will pick up with his friends a year after his death to see how Betty, Veronica and Jughead have dealt with bereavement.
"Life With Archie shows what happens when Archie becomes an adult and starts dealing with grown-up issues," said Mr Goldwater. "We've been building up to this moment since we launched Life With Archie five years ago and knew that any book that was telling the story of Archie's life as an adult had to also show his final moment."
Though the adult Archie's days are numbered, teenage Archie will live on in other series. His death is part of a headline-grabbing shake-up at Archie Comics, led by Mr Goldwater, the grandson of John L Goldwater, one of the firm's founders. Last month, Roberto Aguirre-Sacasa, a former writer for the telelvision shows Glee and Big Love, was named the company's chief creative officer, with a remit to draw a larger and younger audience to the Archie titles.
Lena Dunham, the creator and star of the sitcom Girls, has signed up to write a four-issue Archie storyline that will be published next year. Mr Aguirre-Sacasa told The Daily Beast that Dunham's plot would revolve around a reality TV programme filming in Riverdale. "It's going to be both a quintessential Archie story and a quintessential Lena story," he said.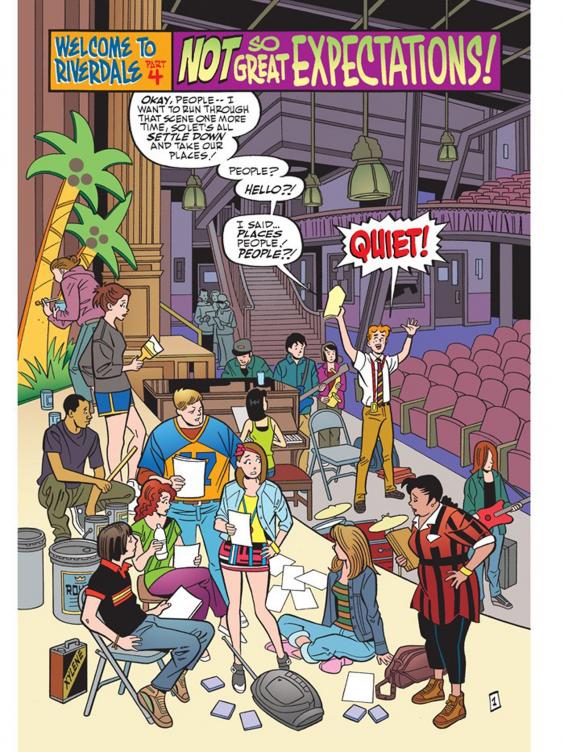 Mr Aguirre-Sacasa's appointment comes after Archie published a crossover comic featuring characters from Glee, as well as a series called Afterlife With Archie, in which Riverdale is invaded by zombies. That title has had a galvanising effect on the bottom line: in 2011 and 2012, Archie Comics sold an average of 60 per cent of the copies it printed, but every issue of Afterlife has so far sold out.
Mr Aguirre-Sacasa's first encounter with the company came in 2003, when Archie Comics issued a cease-and-desist order over his play Archie's Weird Fantasy, which was due to open in Atlanta. The play depicted Archie coming out as gay and moving to New York. The title of the play was changed to Weird Comic Book Fantasy, and the characters renamed. In 2010, however, Archie and Co encountered Riverdale's first openly gay resident, Kevin Keller, who now has his own bi-monthly comic. Last year, the company won a media award for the character from the Gay and Lesbian Alliance Against Defamation Award.
The company's other comic book properties include Sabrina the Teenage Witch and Josie and the Pussycats, which have been adapted for TV and film. Mr Goldwater has said he hopes to expand the Archie Comics universe further into other media, including more movies. If he really is as great a hero as Captain America, Archie could easily be resurrected – or perhaps he'll just come back as a zombie.
Reuse content