A man has been arrested after he threw coffee at a protester picketing outside the funeral of Beau Biden, the son of US Vice-President Joe Biden.
The brief scuffle occurred when three demonstrators from the archly conservative Westboro Baptist Church protested outside St Anthony of Padua Roman Catholic Church where the funeral was taking place in Wilmington, Delaware.
The protesters carried signs saying 'America is doomed' and sang anti-gay songs. Westboro is know for staging controversial and often homophobic protests.
Crowds of people, some carrying pink signs, moved to block the demonstrators.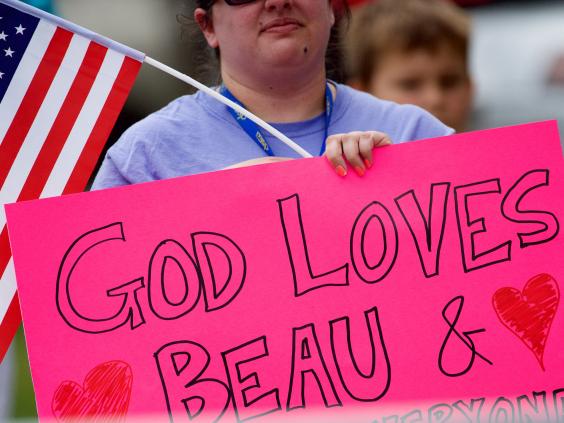 The protesters were vastly outnumbered by the more than 1,000 people who packed the church to pay their respects to Biden, a former Delaware attorney general who died aged just 46 after a two-year battle with brain cancer.
President Barack Obama, alongside politicians and celebrities from across the US, paid tribute to the vice-president's son.
"He did in 46 years what most of us couldn't do in 146," Obama said. "He left nothing in the tank."
Addressing Joe Biden and his wife, Jill, Obama reflected on their friendship: "Michelle and I thank God you are in our lives. Taking this ride with you is one of the great pleasures of our lives. Joe, you are my brother."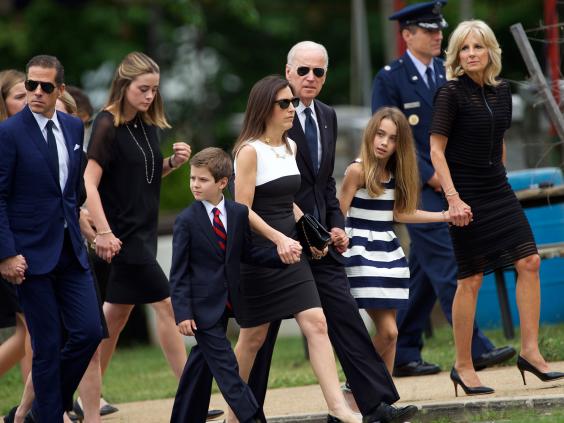 Beau Biden's death was a further loss for his father whose first wife and baby daughter were killed in a car accident in 1972, just weeks after the now vice-president was elected to the US Senate.
Vice-President Biden did not speak at the funeral, but was seen embracing President Obama before going into the church.
Hillary Clinton, former President Bill Clinton and Loretta Lynch, the US attorney general, were also present at the funeral.
General Ray Odierno, who was the top US commander in Iraq when Beau Biden served there, called Biden a dedicated soldier and selfless friend.
Chris Martin, the lead singer of the band Coldplay, performed 'Till Kingdom Come' at close of the service. Biden had been a fan of the band, according to the White House.
(Additional reporting by agencies)
Reuse content