The man accused of shooting dead a Kentucky police officer was himself killed after an eight-hour man hunt in the west of the state, officials have revealed.
The suspect, Joseph Johnson-Shanks, 25 from Missouri, had fled by foot after opening fire at the Kentucky State Trooper Joseph Ponder, 31, on Sunday night at the conclusion of a nine-mile car chase. He was eventually found in a wooded area not far from the scene.
Early on Monday, the police officer's sister, Kelly Ponder, posted a message on Facebook about her brother, calling him the "best man in the world" who "did not deserve what happened to him".
"Please pray for us, this was an enormous loss. #Heartbroken," she wrote.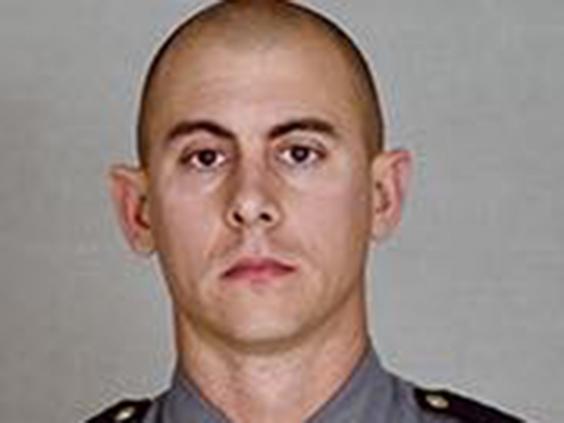 Police said they opened fire when Johnson-Shanks refused to obey their verbal commands to lower his gun.
"We're all just holding it together the best we can and continue to do our jobs," Kentucky State Police Trooper Jay Thomas told reporters at a morning news conference.
He added: "It's tough on us, and it's tough on our families."
Johnson-Shanks, an African American man who was driving with a woman and two children, was stopped by Mr Ponder who "conducted a traffic stop on interstate 24 around the 58 mile marker westbound," in Lyon County around 10.20pm, according to details provided by the Kentucky State Police.
The report said after Mr Ponder made contact with the driver, the car sped from the scene, and the police chased it for nine miles. When the suspect braked, the police officer struck the back of his car.
Johnson-Shanks opened fire at the officer, firing multiple shots that struck the "hood, windshield and Trooper Ponder multiple times," according to the report.
Mr Ponder, a US Navy Veteran, was taken to the Caldwell Medical Centre in Princeton where he died.
Reuse content