Students will legally be allowed to take cannabis in school after a town's landmark legislation change.
Schools in Ridgefield Park, a district in New Jersey, USA, will permit parents and guardians to administer medical marijuana to pupils while on school grounds, on a school bus or at school-sponsored events.
It is the latest development in the US' gradual adoption of medical marijuana laws.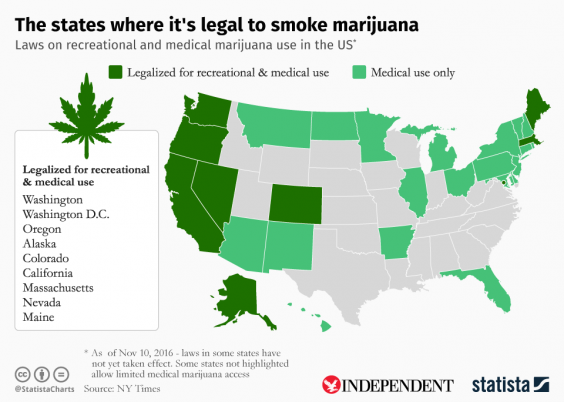 Twenty eight states permit medical marijuana usage and four states, including New Jersey, Colorado, Maine and Washington, have legislation for schools.
"We received the mandate fairly recently," said Ridgefield Park's Superintendent of Schools Eric Koenig, as quoted by NorthJersey.com.
The medicinal marijuana legislation for New Jersey requires that, in schools: students must have a valid medical recommendation; marijuana must not be administered by smoking in the school grounds; only primary caregivers administer and; students cannot be punished for the marijuana usage.
Under the 2010 ammended New Jersey Compassionate Use Medical Marijuana Act, medicinal marijuana can be taken by people with debilitating conditions - diagnosed by a physician - including cancer, glaucoma and severe nausea.
There are no restrictions in the legislation on how marijuana has to be ingested to qualify it for medicinal purposes, but it cannot be smoked on public transportation, in a private vehicle, in school grounds, in any correctional facility, in a public park or in any place where smoking is prohibited.
Parents will need to submit written requests to the principal, and the principal, school nurse and superintendent will review each request.
The UK government's medicines and healthcare regulatory agency this year found Cannabidiol had a "restoring" effect.
A US think-tank earlier this year claimed federal government was strangling medical marijuana research.
Cannabis was partially legalised in Nevada, California and Massachusetts on election night last month.
Reuse content