Possession of small amounts of marijuana for personal use has been decriminalised in Jamaica after a drugs law that was passed on Friday was debated by senators for five hours.
Having up to two ounces (around 56 grams) will only be punishable by a fixed penalty ticket, instead of a criminal charge.
The amendment of the law happens to have been passed on the birthday of reggae legend Bob Marley, who died of cancer aged 36 in 1981. He is well-known to have praised weed as "the healing of a nation."
Cannabis around the world
Cannabis around the world
1/13 Morocco

Farmers destroy cannabis plantations under Moroccan police supervision in the northern Moroccan Larache region, pictured here in 2006

AFP/Getty images

2/13 Colorado

Growing business: Cannabis on sale at River Rock Wellness

Sam Adams

3/13 Oakland

Oaksterdam in Oakland, California, is the world's only university dedicated to the study and cultivation of cannabis

Alain Jocard/AFP/Getty Images

4/13 Seattle

A cannabis smoker marks the start of the new law by the Space Needle in Seattle

Getty Images

5/13 China

Cannabis growing wild in China, where it has been used to treat conditions such as gout and malaria

6/13 Uruguay

Uruguay has voted to make the country the first to legalize marijuana

AFP/Getty

7/13 Colorado

A groundswell of support from the public led to full legalisation in Colorado

Getty Images

8/13 Berlin

A man smokes licenced medicinal marijuana prior to participating in the annual Hemp Parade, or 'Hanfparade', in support of the legalization of marijuana in Germany on August 7, 2010 in Berlin, Germany. The consumption of cannabis in Germany is legal, though all other aspects, including growing, importing or selling it, are not. However, since the introduction of a new law in 2009, the sale and possession of marijuana for licenced medicinal use is legal.

Sean Gallup/Getty Images

9/13 UK

The UK latest figures show 2.3 million people used cannabis in the last year

AP

10/13 Amsterdam

Tourists visiting Amsterdam will not be banned from using the city's famous cannabis cafes

Getty Images

11/13 Merseyside

These 25 cannabis plants, seized in Merseyside police, could have generated a turnover of £40,000 a year

12/13 San Francisco

April 20, 2012: People smoke marijuana joints at 4:20 p.m. as thousands of marijuana advocates gathered at Golden Gate Park in San Francisco, California. The event was held on April 20, a date corresponding with a numerical 4/20 code widely known within the cannabis subculture as a symbol for all things marijuana.

Reuters

13/13 Spain

A cannabis users' association will pay the town of Rasquera more than €600,000 a year for the lease of the land
The new penalty will cost, or if it would be a criminal offence to not pay the amount, is not yet known.
The old Dangerous Drugs Act stipulated that possession of cannabis carried a sentence up to five years and a penalty fine of up to $100 (around £57) per ounce, or up to three years in prison and a fine.
Senator Marlene Malahoo Forte had described the new legislation, piloted by Justice Minister Senator Mark Golding, as "very, very badly drafted, and incomplete" due to uncertainties regarding new penalty fine consequences.
The new legislation will also pave the way for a scheme of licences and authorisations for medical, therapeutic and scientific purposes, The Jamaica Gleaner reports.
The previous law was not always fully implemented in practice on small-time smokers, however a criminal record showing convictions can make it extremely difficult for Jamaicans to secure visas for the US or to land jobs at home, The Economist reports.
Pressure grew on the Caribbean island to decriminalise the possession and smoking of cannabis, officially referred to as ganja by Jamaican law-makers and residents, after some states in the US made it legal to use for medicinal purposes with a licence.
Importing, exporting, selling and growing marijuana carries much harsher criminal convictions and sentences.
Senator Keith Desmond Knight had taken issue with Clause 7 in the bill, which allows the minister to authorise any Rastafarian person to grow marijuana on designated lands, The Jamaica Gleaner reports.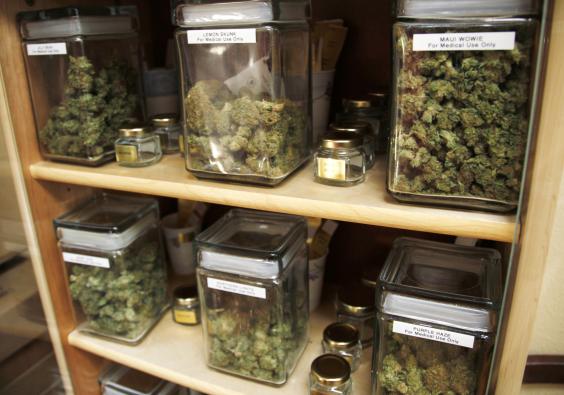 According to the newspaper, he questioned the exclusivity of rights allocated to followers of religion by saying: "Why is the cultivation of ganja limited to someone of the Rastafarian faith?"
Opposition Senator Robert Montague said that the legislation gives the minister too much power to determine who is allowed to cultivate and use cannabis.
According to The Jamaica Observer, he said: "The minister is setting up himself to be the pope of rastas, not the hope."
The passing of the amended Dangerous Drugs Act will not impact negatively on any international treaty that Jamaica has signed, said foreign business minister Arnold Nicholson, who also has responsibility as foreign affairs minister.
The bill will be debated by members of the House of Representatives in the new parliamentary year later this month. It is expected to pass and be supported by Prime Minister Portia Simpson Miller.
Reuse content