If the carrots looked unusually large, it was because they were not real. And there was also something rather unusual inside them.
Border agents in Texas revealed they have discovered almost 2,500lbs of marijuana hidden inside a commercial shipment of fake vegetables last weekend.
A total of 2,817 carrot-shaped packages, complete with orange coloured wrapping, were seized at the Pharr International Bridge cargo facility. The drugs have an estimated street value of around $500,000.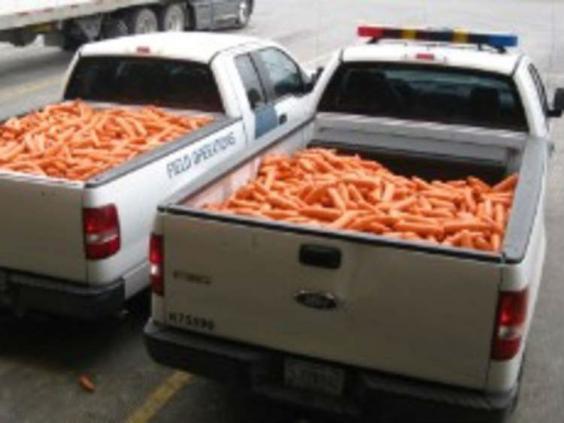 Officers conducted a non-intrusive inspection before referring the vehicle to a secondary inspection on the enforcement dock. It was then - with the help of a canine team - that the fake, weed-containing carrots were revealed.
"Once again, drug smuggling organisations have demonstrated their creativity in attempting to smuggle large quantities of narcotics across the US-Mexico border," said Port Director Efrain Solis.
"Our officers are always ready to meet those challenges and remain vigilant towards any type of illicit activities."
According to CNN, this was not the first attempt to smuggle drugs disguised as vegetables at the Pharr crossing. Cocaine and pot worth $2m was found in November hidden in packages of cucumbers and carrots.
Reuse content