Mark Udall, US Senator for Colorado, looks almost born into the job. He has the rangy cowboy build – his jeans' back pockets reveal a pair of shades and a water bottle – and on the stump he hits every progressive policy button you think would tickle the state's high plains and mountain voters. Climate change is real, fracking is tricky.
As it happens, politics and the Udall name have gone hand in hand in the American West for a very long time. Mark's father was a congressman from Arizona who ran for president, his uncle was interior secretary for John F Kennedy, and one of his cousins, Tom Udall, is currently a US senator for New Mexico. But if voters hold that against him as he runs for re-election after just one term it doesn't much matter. He has other problems.
As the Democrats ponder the possibility of losing control of the Senate to the Republicans in next month's midterm elections, they know that Senator Udall is among their most vulnerable incumbents. It's why Hillary Clinton came running to stump with him on Tuesday and why Michelle Obama did the same today.
Mr Udall, who in Washington has taken the lead demanding reforms at the National Security Agency, is partly at fault for his plight. The Denver Post, which supported Mr Obama twice, and indeed Mr Udall six years ago, endorsed his Republican opponent, a congressman with telegenic looks, Cory Gardner. The paper berated Senator Udall for fixating too much on women's reproductive rights and attacking Mr Gardner for his anti-abortion stance.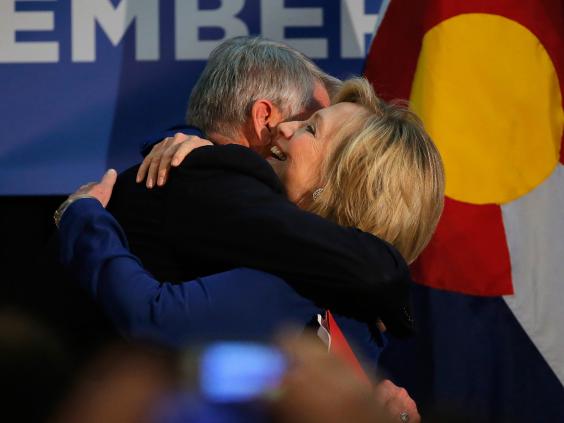 "Udall is trying to frighten voters rather than inspire them with a hopeful vision. His obnoxious one-issue campaign is an insult to those he seeks to convince," the paper said. It has not been alone in suggesting Mr Udall might talk about something else. He has now earned a nickname in this campaign he can't shake: Senator Uterus.
As a member of the Senate Intelligence Committee, Mr Udall seized on the NSA and what precisely it was doing to trawl people's private communications in the name of security even back in 2011, long before Edward Snowden came forward with his revelations that shook the entire intelligence community. Civil-liberties groups and Mr Udall himself fear that legislation to bring the NSA to heel may never come into being if he isn't returned to Washington.
"It would be a significant loss," Laura Murphy, head of the American Civil Liberties Union in Washington, told The Hill newspaper. "What Udall has is the institutional memory and the relationships in the civil liberties community, in the Democratic Party and in the tech industry so that we don't have to start over again with someone new."
He doesn't raise this risk much on the trail, believing it won't resonate with voters. But last week, after being hustled back on to his shiny campaign bus after a campaign stop at Colorado State University here in Fort Collins, he did discuss it with The Independent, confirming that he and Senator Ron Wyden of Oregon had in effect acted as a tag team to keep the pressure up for reform, before and after Mr Snowden came forward.
"I have literally been out there in the wilderness crying from the mountaintop that we needed to take action here," Mr Udall explained. "There is much more that needs to be done. Without Senator Wyden's and my leadership I don't believe we are going to get the reform package we need. We ought to be collecting information on the bad guys, but not on Americans or our British cousins and not on the Chancellor of Germany.
"This also is economically important for our American companies. They are being shut out of foreign markets because of the concern that the NSA has infiltrated their technology," he went on. "We need to be very clear that American companies are offering these services and hardware without the NSA involvement"
If the senator is articulate speaking with a foreign reporter he has not always been so with the local media. He delivered a gift to the opposing side this week when he stuttered and stumbled during a hardly high-flown television interview, unable to name three books that had had the most influence on him or the most recent piece of music he had listened to. "We can play this over, right? Let me re-tape this," he pleaded. "Uh, I'm brain dead today."
It may be his misfortune that the re-emergence of overseas threats, in particular Isis in Syria and Iraq, in the final weeks of this campaign, may have undercut the case for shackling the NSA. But conversations with students on the Fort Collins campus suggested that perhaps he should not be shying away from the subject. "No one wants their privacy violated," said Kira Mazzola, 21. "We are a generation continually using our phones and our laptops and you don't want government getting access to what we're doing. That is violation of our privacy rights."
Another awkward truth is that Colorado is not the blue state it once was, throwing up Democrat Gary Hart as a presidential candidate twice in the 1980s and overwhelmingly electing Bill Clinton in 1992. Indeed today it may be the most purple of US states, a near-precise even mix of blue and red, Democrat and Republican.
On top of that, in Mr Gardner, the Republicans have found a candidate who has carefully eschewed extreme positions on social issues that in previous election cycles have lost the party what should have been winnable seats in the Senate and the House. His deliberate tacking to the centre has infuriated Mr Udall.
"There is a clear choice," Mr Udall said on the bus. "My record is a progressive one. With all due respect to Cory Gardner, when it comes to women's reproductive rights, climate change, on immigration reform, LGBT rights and to supporting working-class and middle-class Americans, he is on the wrong side of all those issues."
It's a message that once would have been music to the ears of most Coloradans. Today, it's a tougher sell.
Reuse content