Chicago man Daniel Kowalski, charged with running a crystal meth lab, has posed for a police mug shot wearing a t-shirt bearing the logo of Los Pollos Hermanos, Breaking Bad's fried chicken restaurant turned drug empire front.
There has been no shortage of 'real life Breaking Bad' stories in the news over the past couple of years, but this might be the most brazen yet.
The Cook County Sheriff's Office said deputies acted on a tip and searched Kowalski's La Grange Highlands home on Monday, discovering beakers, burners, chemicals and instructions for cooking  methamphetamine.
Clearly the man's interest in the AMC show extended beyond mere entertainment, and Kowalski even wore a Breaking Bad t-shirt as he posed for a police mug shot.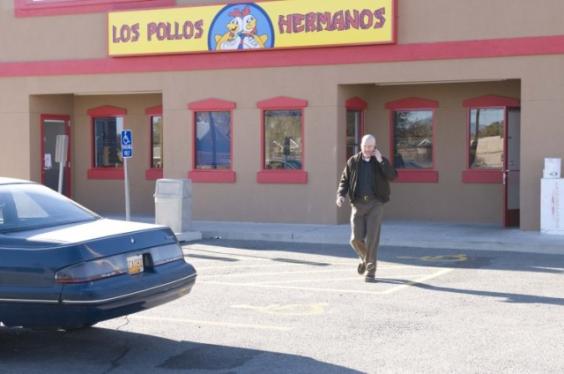 Los Pollos Hermanos was the restaurant chain owned by Gustavo Fring, the show's drug kingpin villain who served as meth cook Walter White's boss for several seasons.
The 21-year-old was charged with felony possession of a controlled substance, methamphetamine manufacturing materials and precursors, with his bond being set at $100,000 on Wednesday.
The Breaking Bad universe will see a new show in 2015, with Better Call Saul centring around crooked lawyer Saul Goodman.