Mexican authorities have announced the capture of the gang leader believed to have colluded with corrupt police officers in the disappearance of 43 college students.
Sidronio Casarrubias' arrest was announced just hours after thousands of protesters took to the streets of Acapulo to demand the safe return of the male students who vanished in the southern state of Guerrero three weeks ago.
Attorney general Jesus Murillo Karam said Casarrubias' arrest, along with one of his lieutenants, would open a "new line of investigation that can quick and more easily get us closer to the truth" in the case.
However, Al Jazeera's Rachael Levin said from Mexico City although the arrest was significant, the government's effort to end drug-related violence in the Mexican state remained in doubt.
"They are trying to show that they are cracking down," she claimed. "But cleaning up the government and the system here – that takes a lot longer."
Authorities have also arrested 22 police officers, who are believed to have links to the Guerreros Unidos, or 'United Warriors', gang which Casarrubias is alleged to lead.
The students, who were all from poor backgrounds training as teachers at the left-wing Ayotzinapa training college, disappeared in a haze of horrific violence in the town of Iguala on 26 September.
In addition to the 43 students who vanished, six civilians died and at least 25 were wounded. One student was found with the skin stripped from his face and his eyes gouged out.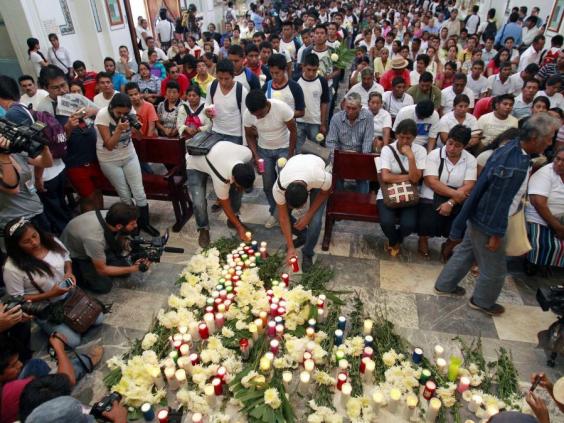 The authorities claim that Iguala's officers shot at the students' buses and then handed them over to their neighbouring Cocula colleagues, who delivered them to the Guerreros Unidos.
The mass disappearance has sparked international and national outrage protests held across Mexico last week and a new demonstration in the Pacific resort of Acapulco on Friday.
Magdalena Catalan, a 34-year-old teacher taking part in the Acapulo march, said: "We are angry because this is not an isolated event. Many of us are parents and we see very ugly things in this country that we want to fight".
The case has undermined President Enrique Pena Nieto's pledge to restore order to Mexico. Drug violence exploded during the rule of his predecessor, Felipe Calderon, and has claimed about 100,000 lives since 2007.
Reuse content