The mother of Michael Brown, the unarmed black teenager whose death sparked weeks of protests in Missouri, led hundreds of people at the "Ferguson October" demonstrations this weekend, marching down the streets of St Louis in protest against police violence before taking stand outside the force's headquarters.
Lesley McSpadden walked at the front of Saturday's evening rally, held in the St Louis suburb, where more than 1,000 people eventually gathered in protest against the recent police shootings.
Ms McSpadden, whose 18-year-old son was shot and killed by police while he was unarmed on 9 August, has rarely participated in protests, but she took a prominent place in Saturday's events, which were part of a weekend of planned demonstrations.
She led a prayer near the Canfield Green apartments where police shot her son, and eventually left the group to join demonstrators outside Ferguson's police headquarters, where more peaceful protests saw people sat on the ground in silence.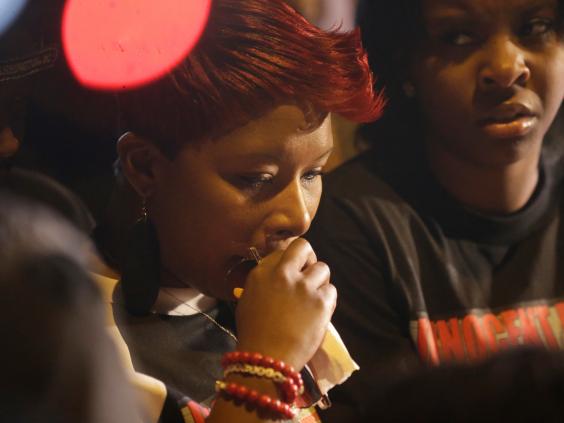 Later on, the protesters began shouting insults at a line of police in helmets and shields.
The protests come days after an off-duty police officer shot and killed black teenager Vonderrick Myers, whom protesters claim was shot 17 times and was holding a sandwich, not a gun. Police have said they recovered a weapon from the scene.
In an open letter written by demonstrators calling for people to support the four-day movement , the group claimed that that "here in Ferguson, our community has come to know terror on American soil".
"Michael Brown's bloodied, lifeless body, left to lay in the street for more than four hours, a glaring reminder of the value of black life.
In pictures: Michael Brown shooting nationwide protests
In pictures: Michael Brown shooting nationwide protests
1/10 Ferguson, Missouri

Protesters ride on top of a car as they gather on West Florissant Avenue in Ferguson, Missouri

2/10 Ferguson, Missouri

A protester holds the banner as he joins the protest on West Florissant Avenue in Ferguson, Missouri

3/10 Ferguson, Missouri

Missouri Governor Jay Nixon ordered state police to patrol a St Louis suburb, sidelining local police who had clashed with protesters after an unarmed black teenager was killed by an officer

4/10 Ferguson, Missouri

People demonstrate in front of a burned down Quik Trip gas station on West Florissant Avenue in Ferguson, Missouri

5/10 New York

Thousands of people peacefully gathered in Manhattan's Times Square and Union Square, invoking the rallying cries "hands up, don't shoot" and "I can't breathe," alluding to the deaths of Michael Brown in Ferguson

6/10 New York

People protest in front of police officers in New York's Times Square

7/10 New York

Protesters march in New York City's Union Square. Vigils are being held across the country for people organizers say died at the hands of police brutality

8/10 Portland, Oregon

People take turns speaking in Pioneer Courthouse Square in Portland, Oregon during a vigil for Michael Brown

9/10 Los Angeles, California

A protester holds a sign that reads 'Black Lives Matter' as she joins hundreds of demonstrators who gathered in Leimert Park in South Central Los Angeles, California

10/10 Omaha, Nebraska

With his hands raised above his head, University of Nebraska criminal justice senior Aron Sanders, of Omaha, Nebraska, kneels in front of the Nebraska State Capitol building, as he and more than 30 others students gathered for a vigil
"Peaceful protesters, attacked by waves of gas and bullets meant only for war. Daily violent reminders that our black skin renders us unsafe in our own community. No human, no American citizen, no child could look upon this scene and not unequivocally know: enough is enough," the group wrote in the St Louis American.
The "Ferguson October" protests are into the third of four planned days of demonstrations, where on Sunday organisers are scheduled to train protesters in non-violent civil disobedience tactics.
"We are still knee-deep in this situation," Kareem Jackson, a St Louis rap artist and community organiser said. "We have not packed our bags, we have not gone home. This is a fly-by-night moment. This is not a made-for-TV revolution. This is real people standing up to a real problem and saying, 'We ain't taking it no more."
On Monday a "direct action" planned by local and visiting clergy members will take place in Ferguson, but details of the action will not be released by protest leaders until shortly ahead of time, to avoid alerting police.