A Michigan resident has contracted the rare, life-threatening bubonic plague – amid what officials said is an unexplained surge in cases of the disease across the country. Four people have died.
Health officials in Michigan said the unidentified adult from Marquette County was recovering after apparently contracting the flea-borne illness during a trip to Colorado. It is the first time Michigan has reported a case of the disease.
The Detroit Free Press said officials have reassured the public there is no cause for alarm, despite the disease's connection to the microorganism that caused the Black Death plague in Europe in the 1300s, killing millions.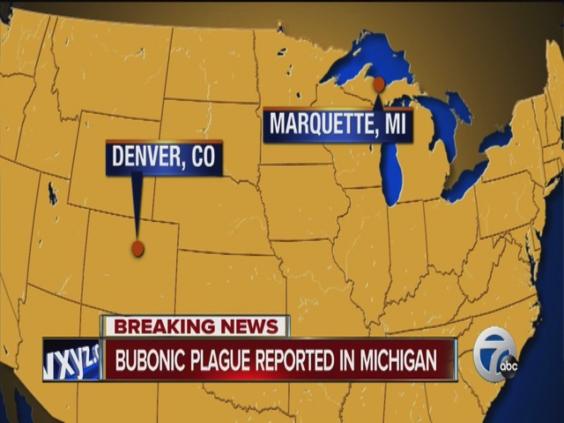 "It's same organism but, in this case, the infection resides in a lymph node," said Dr Terry Frankovich, medical director for the Marquette County Health Department.
The patient had been traveling to an area of Colorado in which the plague had previously been reported. In early August, an unidentified person died from the plague in Pueblo County, Colorado.
The case was the first in this county since 2004. It is believed this person contracted the plague from fleas on a dead animal - a dead prairie dog in Turkey Creek in Pueblo County tested positive for the plague, according to the Pueblo City-County Health Department. 
"Nationally, an average of three human cases of plague are reported annually," said a statement from the Michigan Department of Health and Human Resources.
"The western United States is experiencing an increase in reported cases of plague in 2015, with 14 human cases including four deaths reported. The reason for the increase is not known."
The bubonic plague is notably marked by one or more swollen, tender and painful lymph nodes, usually in the groin, armpit or neck, officials said.
With the bubonic plague, people are most often infected by bites from infected fleas or when they have direct contact with the tissues or body fluids from an infected animal. The highest risk is in settings that offer food and shelter for rodents — campsites and cabins, for example, according to the US Centres for Disease Control & Prevention.
Reuse content