A mother has been cleared after spending 22 years on Arizona's death row for the murder of her own four-year-old son.
Debra Milke is now 51 years old, and after the case against her was formally dismissed on Monday lawyers said she had spent nearly half of her life in a "living nightmare".
Two men are now in jail for the death of Ms Milke's son Christopher, who was told he was going to meet Santa Claus in the winter of 1989 when he was taken out into the desert and shot.
The case against his mother rested largely on claims by the case's lead investigator, Phoenix police Detective Armando Saldate, that she had confessed to him during unrecorded interrogations.
Ms Milke staunchly refuted that claim, and at a press conference on Tuesday responded quickly to the suggestion that prosecutors still believe she had a role in her son's death with the question: "Based on what?"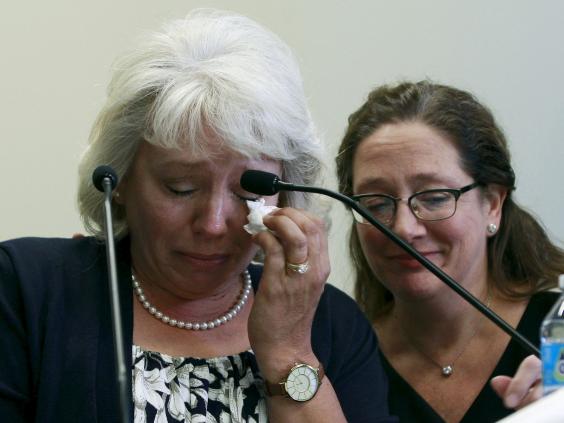 It was the first time she had spoken at length publicly since a federal appeals court overturned her conviction two years ago. That process revealed that Detective Saldate had a history of misconduct, including cases where he had either lied under oath or failed to properly observe the legal rights of suspects during questioning.
One of the men now in jail for Christopher's murder was Ms Milke's roommate, and Maricopa County Attorney Bill Montgomery insisted this week that he believed the conviction could have been made to stand regardless of Detective Saldate's credibility.
Prosecutors sought to retry Ms Milke, but the state's highest court rejected that bid last week, leading to the case's dismissal.
In pictures: Controversial executions
In pictures: Controversial executions
1/5 George Stinney Jr, 14

George Stinney Jr became the youngest person to be executed in the US in the 20th century when he was sent to the electric chair in 1944 during the trial that lasted less than three hours and reportedly bore no evidence and barely any witness testimonies.

Reuters

2/5 Clayton Lockett, 38

Convicted of the murder and rape of 19-year-old Stephanie Neiman in 2000 and sentenced to death. Lockett died of a heart attack after a failed execution by lethal injection in April 2014

3/5 Roy Blankenship, 55

Killed by lethal injection in 2011 after he murdered an elderly woman. Witnesses saw him grimace and jerk as he became the first person put to death in that state with pentobarbital. Medical experts said he "suffered greatly"

4/5 Michael Wilson, 38

Executed by lethal injection in January 2014. Wilson was convicted of murdering co-worker Richard Yost during a robbery at a convenience store in 1995. He is one of three people executed for the crime

5/5 Dennis McGuire, 53

Sentenced to death following the rape and murder of pregnant 22-year-old Joy Stewart in 1989. After spending 25 years on death row fighting the order to end his life, McGuire was executed by lethal injection in January 2014
Speaking at the press conference, the mother said she still doesn't know the reason for her son's killing "because there wasn't a proper investigation".
At one point, she was asked about a box of ammunition police found in her purse when they first spoke with her, which was of the same caliber as the bullets used to kill Christopher.
She said she found the bullets in a roommate's clothes while doing laundry, and put them in her purse. "Clearly, I forgot they were in my purse," Milke said. "That's the answer."
She read out a statement saying she suffered two tragedies — the death of her child and the detective's false claim that she confessed to killing him.
Additional reporting by agencies
Reuse content