A mother has explained why she posted a photo with her children next to her dead husband.
Eva Holland's image alongside children Lucas and Ava and late spouse Mike Settles has been shared more than 270,000 times on Facebook.
Mr Settles died aged 26 on September 2nd from a suspected heroin overdose, following years of addiction.
The picture shows Ms Holland, with her son and daughter, next to Mr Settles's body in an open coffin.
Ms Holland, who lives in Cincinnati, Ohio, said she published the image to "raise awareness".
Explaining her decision to post the image, she said: "the main reason I took it was to show the reality of addiction. If you don't chose recovery every single day this will be your only way out.
"I know a lot of people may be upset I'm putting it out in the open like this but hiding the facts is only doing to keep this epidemic going. The cold hard truth is heroin kills.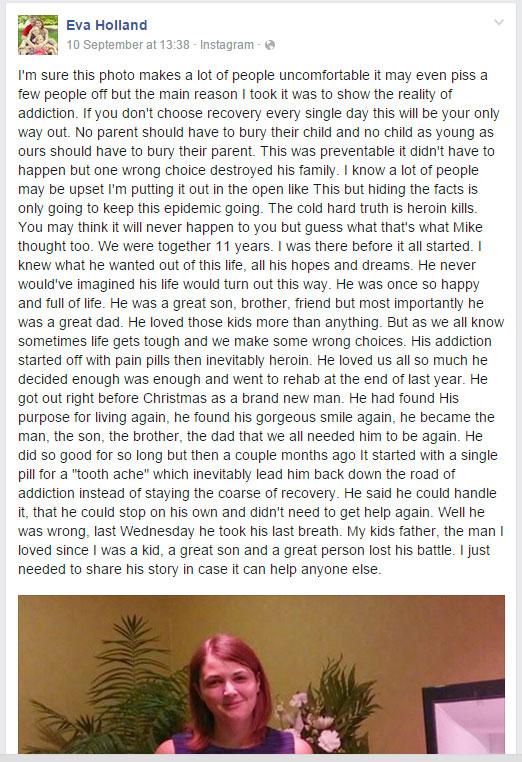 Ms Holland, who was in a relationship with Mr Settles for 11 years, explained how his addiction developed after becoming hooked on painkillers.
Mr Settles spent time in rehab at the end of last year, which Ms Holland credited for helping him find "his purpose for living again, he found his gorgeous smile again; he became the man, the son, the brother, the dad that we all needed him to be again."
Tragically, Ms Holland then details how following a clean period, he took a painkiller for a toothache which led him to relapse and use heroin again.
"He said he could handle it, that he could stop on his own and didn't need to get help again. Well he was wrong, last Wednesday he took his last breath," she wrote.
Drug addiction, overdoses, and a very brief history of Heroin
Drug addiction, overdoses, and a very brief history of Heroin
1/14 Heroin – the chemical name for which is diacetylmorphine – was originally synthesized by British chemist C.R.Alder Wright (pictured overleaf) in 1874, by adding two acetyl groups to the molecule morphine, which is naturally found in the opium poppy.

2/14 Bayer, the German pharmaceutical company behind Alka-Seltzer and Aspirin, bought the rights to diacetylmorphine, marketing it under the name "Heroin" in 1895 because early testers said that it made them feel "heroisch" or "heroic".

3/14 By 1898, it was ready for mass marketing. It was originally sold as an over-the-counter cough suppressant that didn't have problematic side effects, like addiction (the irony) - while alternative treatments morphine and codeine did. This was before they realised that, when taken into the body, it actually converts into morphine, and is ferociously addictive. Thus defeating the object and defining what was to become a historically embarrassing moment for the company in later years.

4/14 By 1899 Bayer was producing a ton of Heroin and exporting the drug to 23 countries, while free samples sent to doctors and studies appeared in medical journals. It was also around this time that early reports of addiction began to surface. The company wisely released Aspirin this year, which would go on to become one of the most popular and widely used pain relief drugs in the world.

5/14 US medicines containing heroin were available over the counter from 1907, after the American Medical Association gave it its stamp of approval.

6/14 As Heroin dependency became a torrent and overdoses began to be reported, Heroin was made illegal to obtain without a prescription from a doctor in the US in 1914. Bayer lost some of its trademark rights to Heroin and Aspirin under the Treaty Of Versailles in 1919, after the German defeat in World War I.

7/14 In the early 1920s, a number of addicted users in New York supported themselves by collecting and selling scrap metal retrieved from industrial dumps. It was from this that the label "junkies" was born. The behavior of Heroin addicts was soon, however, to cause a concern to the public and the authorities. In 1924, it became completely illegal, and doctors were told they could no longer prescribe the drug.

8/14 By this point, Heroin had become popular among creative industries. Pictured left is famed actress Jeanne Eagels, who died of a Heroin overdose in 1929. Its outlawed use had pushed manufacturers underground, and the purity of the product illegal traders now used varied in quality.

9/14 In the UK, the Rolleston Committee Report in 1926, illegal Heroin dealers were prosecuted, but doctors could prescribe diacetylmorphine to users when they were withdrawing from it, if it would cause harm or severe distress to the patient to go without it. This would be the law until 1959 when the number of diacetylmorphine addicts doubled every 16 months between 1959 and 1968.

10/14 The Brain Committee recommended that only selected, specially approved doctors at specialized centres were allowed to prescribe diacetylmorphine to users in 1964. The law was further restricted in 1968, and by the 1970s, the emphasis shifted to encouraging abstinence and the use of substitute methadone.

11/14 In the 1980s, the UK experienced a surge in Heroin supply because of a sudden cheap influx from Pakistan (the main supplier had been – and is now – Afghanistan). Cues from popular culture – and a social downtown caused by the economic and industrial crisis in the late 1970s – created the perfect environment for the Trainspotting generation.

12/14 In the 1990s, Heroin use was again popularized by the rise of grunge and Britpop, while the emergence of 'the waif' in fashion, of which Kate Moss is often cited as the originator, would give rise to the term 'Heroin chic'. In 1994, the Swiss began to trial a diamorphine maintenance program for users who had failed multiple withdrawal programs. It aimed to maintain the health of the user, by discouraging the use of illicit street Heroin. It was deemed a success.

Kate Moss and Johnny Depp, together in 1994

13/14 Today, the largest producer of opium, needed to create Heroin is Afghanistan. This is closely followed by Mexico, who increased their rate of production sixfold between 2007 and 2011. Diacetylmorphine is a controlled, Class A substance in the UK, but continues to be used in palliative care for the treatment of acute pain, such as in severe physical trauma, post-surgical and chronic pain, as well as relieving sufferers of terminal illnesses.

14/14 Key figures continue to campaign for greater sympathies and better treatment of Heroin addicts as they attempt to rehabilitate themselves and re-enter society. Russell Brand's Give it Up Fund, run in conjunction with Comic Relief, aims to provide financial aid to help people remain free from substance abuse by setting up support groups. "It's integral that people entering a life of abstinence after the chaos of addiction have stability, support and a role to play in the wider community," he said.
Ms Holland posted yesterday to clarify "that although we know he struggled with addiction, they [Mr Settles' parents] have not gotten a coroner's report back yet with the official cause of death".
Anyone struggling with addiction can contact Talk to FRANK on 0300 123 6600 or visit www.talktofrank.com.
Reuse content